Shiba Inu's correlation to Bitcoin has noted a "V-shape" recovery over the past week. On 10 July, the asset shared a negative correlation of 0.12 with the king-coin. At press time on Monday, however, the said metric's reading was already in the positive territory and flashed a healthy 0.7.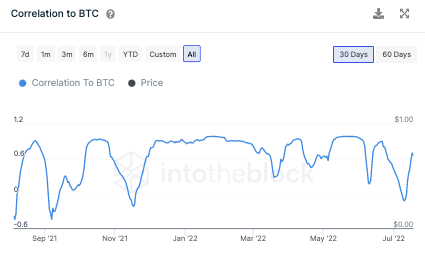 The collective sentiment in the crypto market remains to be bullish at the moment. Post noting a 4% incline over the past day, the global crypto market cap re-claimed the 1 trillion mark today after a one-month dry spell. The recovery, as such, was led by Bitcoin tagging onto the $22k mark.
However, as analyzed in a recent article, the path for Bitcoin to continue rallying is not completely clear. Net flows on exchanges have been positive of late, indicating that the sell-bias is in its formative stage at the moment. So, if the king ends up tumbling, it would drag Shiba Inu alongside.
The same sentiment is present even in the Shiba Inu market. Per data from ITB, short-term selling has started gathering steam. Just over the past 3-hours, the buy-sell-trade difference stood at a negative 87 billion tokens, indicating that bears are trying to assert their dominance.
Can whales rescue Shiba Inu?
Well, it is a known fact that Shiba Inu is a whale-dominated token. Close to 69% of its supply is held by large market participants. Usually, whenever they spring up in action, SHIB's price acknowledges the same. During the beginning of the month, transactions worth >100k noted spikes here and there and SHIB's price did briefly rally.
At the moment, however, both the number and volume of such transactions have been on the decline. As illustrated below, the curves of both the metrics currently stand at local lows, indicating that whales are inert as a group.

Even though the trumpet has started playing bearish music, it doesn't mean that a Shiba Inu rally is completely out of the equation. As indicated in a recent article, the doors to a 70% rally remain to be open. However, there is just not enough thrust at the moment for the same to materialize over the short term.
Read More: Shiba Inu Prediction: A 70% spike is on the cards; Here's Why