The Shiba Inu [SHIB] ecosystem has been consistently carrying out token burns for quite some time. However, the rate at which burns occur and the quantity of SHIB tokens transferred to dead wallets can vary. The previous week proved to be particularly eventful for the meme coin network as the community burned a remarkable amount of 4.17 billion SHIB tokens.
Shibburn reported that a significant total of 4,175,261,803 SHIB tokens were burned through twenty-seven separate transactions. This surge marked a substantial increase of 53% compared to the previous week, during which 2.73 billion SHIB tokens were transferred to inactive wallets. The recent burn activity reveals a notable rise in the burning process within the Shiba Inu network. However, this notion wasn't carried on this week.
The Shiba Inu network commenced the week on a rather disheartening note. This was due to the burn rate of the asset which witnessed a significant dip of 96.38% at press time. Consequently, only a modest amount of 4,503,910 SHIB tokens were removed from circulation.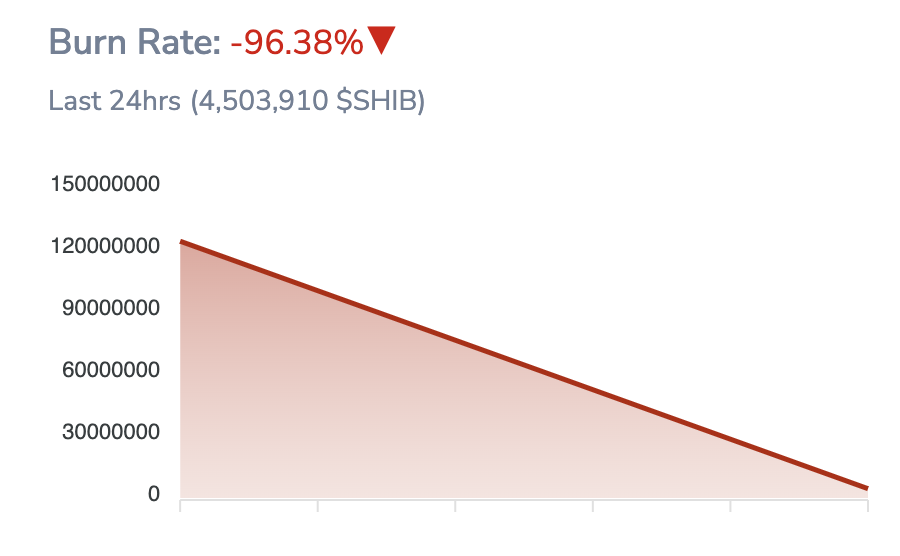 The latest data shows that a total of 410,648,951,673,150 SHIB tokens have been removed from the initial supply of SHIB. This represented a substantial reduction in the circulating supply of the token, pointing out the removal of a significant number of SHIB tokens from the market. However, the community has been yearning for burns of bigger magnitudes.
In addition to the burn rate, the price of the meme coin was also seen slumping. Along with the rest of the market, the price of SHIB plunged. At press time, Shiba Inu was trading for $0.000008491 with a 2.08% daily drop. This further led to 79% of the asset's holders maintaining a loss.
Large transactions in the SHIB network dip by over 50%
The Shiba Inu ecosystem has gained a reputation for its notable volume of large transactions. The relatively low price of the asset makes it affordable, adding to an increased frequency of whale transactions. However, the network saw a significant drop of 51.07% in large transactions, which amounted to a total value of $6.96 million. This decline indicated a temporary shift in the pattern of large-scale transactions within the SHIB market. While it is only the beginning of the week, the community hopes to see more optimistic signals for the next couple of days.