The founder of Shiba Inu, Ryoshi has deleted all his previous tweets and his Twitter handle has nothing to show. In addition, Ryoshi has also deleted all Shiba Inu blogs including the first one- 'All Hail the Shiba'. All the four SHIB blogs have been deleted on the Medium platform and the webpage shows "410. User deactivated or deleted their account."
Read More: Shiba Inu 'Buying Pressure' Reaches New Highs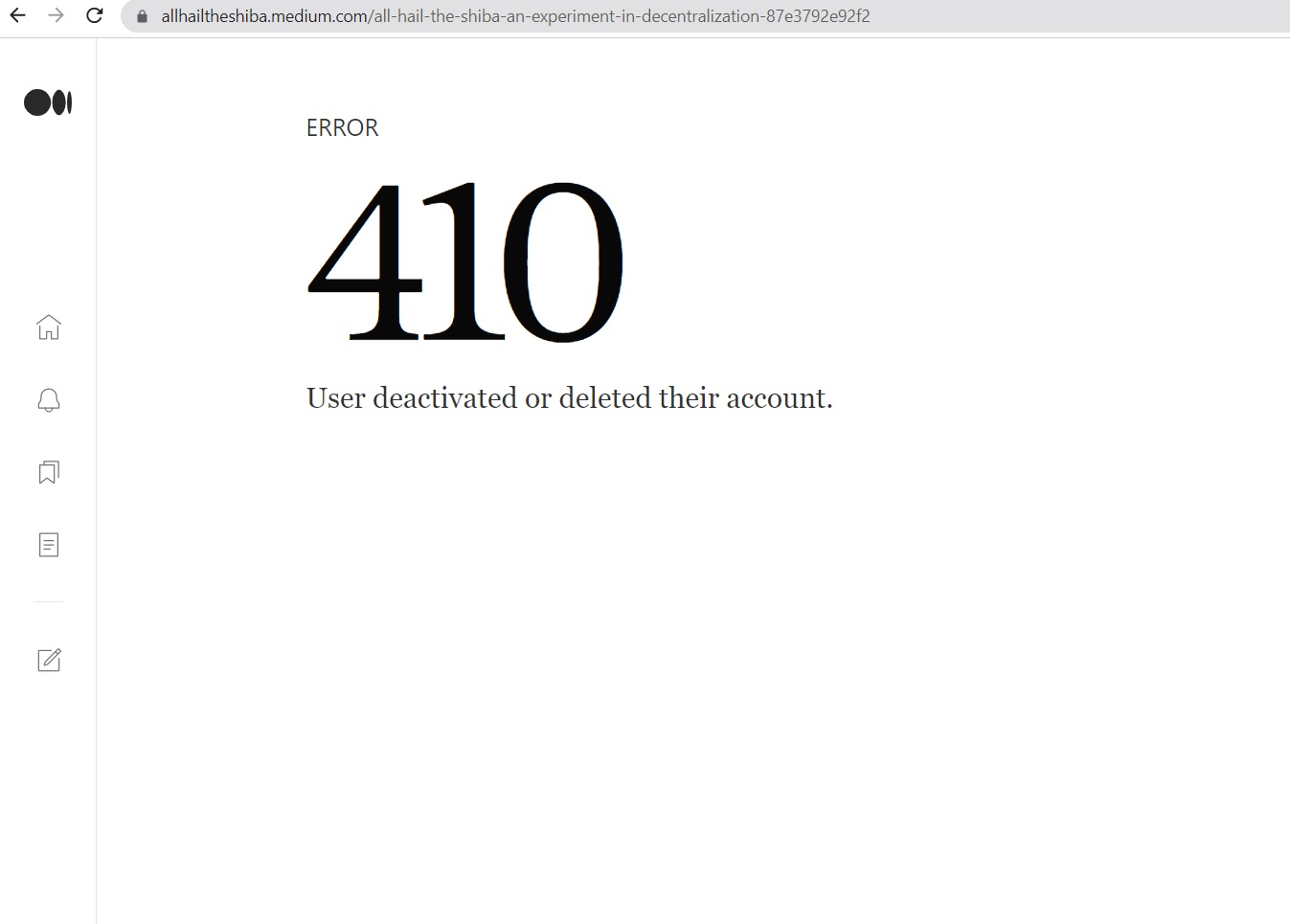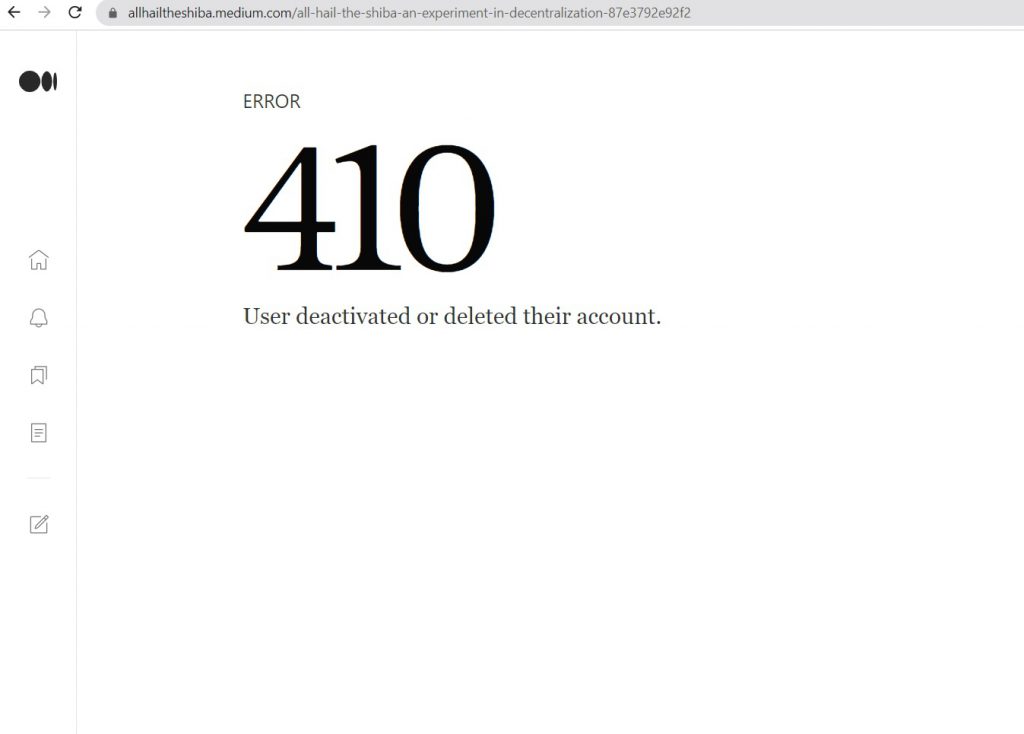 Surprisingly, at the same time last year on May 30, 2021, Ryoshi had published his fourth blog, and now a year later, all of it is deleted. Also, Ryoshi had tweeted his last during May last year and has mostly stayed away from posting. A year later, the founder has come back only to delete all his posts, and blogs and changed his profile picture.
Read More: Shiba Inu Suggests Possibility of a Near-term Price Movement
Ryoshi's profile picture has been changed to Buddhist Jetsun Milarepa, a famous Tibetan poet, and yogi. Similarly, his header picture has also been changed to 'half moon' above the cloud. The SHIB founder's bio previously read, "SHIB and LEASH Founder. We Do it for teh ppl." The Twitter bio is now empty as he deleted the old bio, along with tweets and blogs.
The deleted posts suggest that Ryoshi has almost disappeared on social media. His sudden deletion of posts has confused the community as there's no information about his whereabouts. It is not known if the deletion of posts is according to an upcoming announcement or has left for good.
Could Shiba Inu's Ryoshi Be Returning?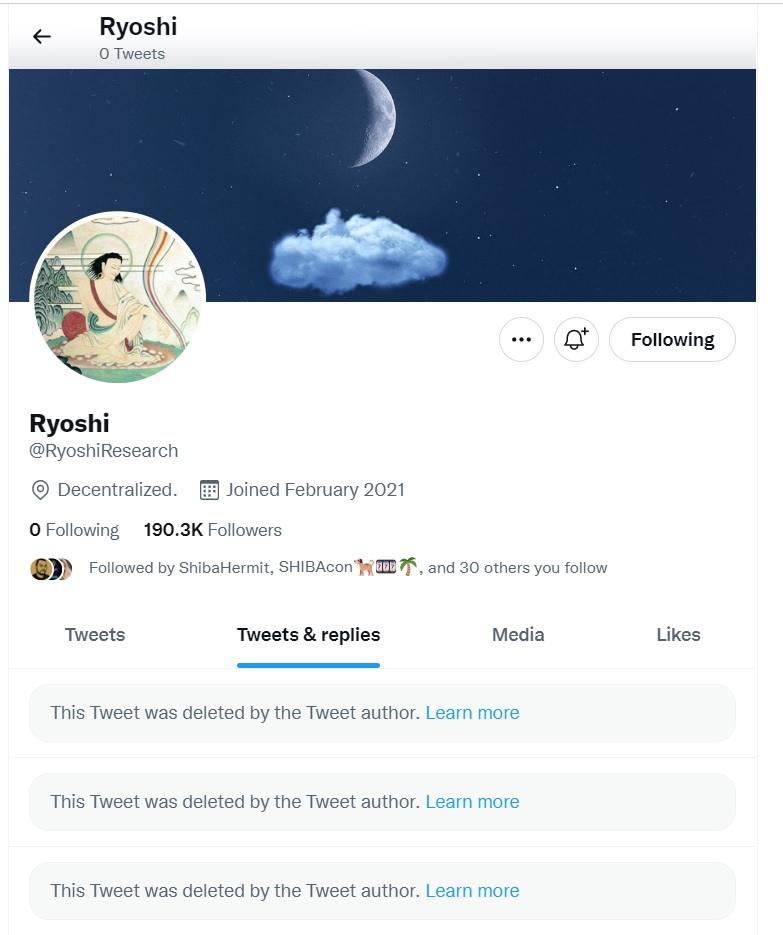 Social media users claim that Ryoshi might have a comeback and announce something new for Shiba Inu. However, none of it is confirmed and we'll have to wait and watch if his Twitter account comes back to life with a tweet. The only thing significant is the timing- All of this happened exactly a year after his last tweet and last blog.
Read More: Here's How Many 'Zeroes' Shiba Inu Deleted From May 2021 to 2022
It is not known if a scammer has broken into Ryoshi's Twitter handle and Medium blogs and deleted everything. The official Twitter handle of Shiba Inu has not tweeted anything about a hack at the time of press.
At press time, Shiba Inu was trading at $0.00001184 and is up 9.50% in the 24-hour trade. The token is down 46.7% in the last 30-trading days. It is also down 86.3% from its all-time high of $0.00008616 which it reached in October last year.