Upon the rollout of Shibarium, the Shiba Inu [SHIB] community held great expectations, yet neither SHIB nor its offspring, BONE, experienced significant price rises. Besides its price performance, Shibarium was anticipated to accelerate the token burn rate of the meme coin. Prior to its launch, there were expectations that the network would burn 5 trillion tokens every month, but the actual number fell significantly short of this target.
Shibarium made its debut on Aug. 16. According to data from Shibburn, a total of 5 billion tokens were taken out of circulation in the month of August. A whopping 5,715,986,938 SHIB worth $45,899.37 were burned in 763 transactions.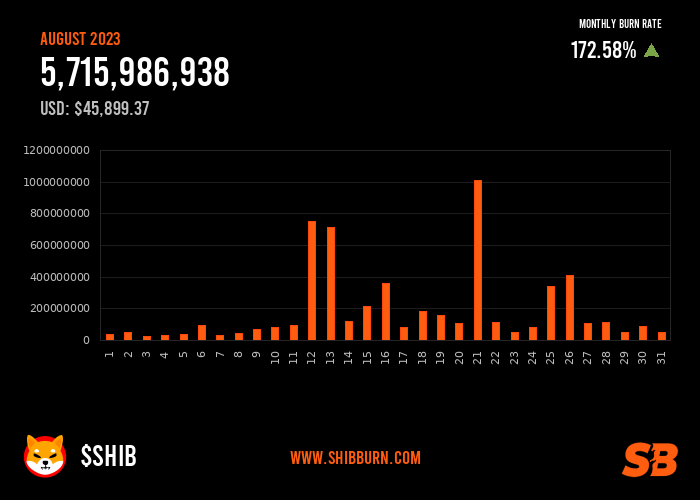 Additionally, the monthly burn rate went up by 172.58%. In July, the community carried out a significant SHIB token burn, amounting to a total of 2,094,566,264 tokens. These tokens were transferred to inactive wallets through a sequence of 412 transactions throughout the month. Currently, the burn rate is down by 43.16%, and a total of 49,406,329 SHIB were burned.
Furthermore, over the course of the month, the meme coin saw minimal growth, and instead, it experienced a 3.7% decline. As of the current moment, SHIB is being traded at $0.00000796, reflecting a daily decrease of 3%. However, one might wonder if the meme coin is supposed to rise in value considering the rising number of token burns.
Also Read: Shiba Inu: When Will Shibarium Start Burning SHIB Tokens?
Shiba Inu's Burn Mechanism
In a recent post, Lucie, a member of the Shiba Inu team, shared a portion of the "SHIB paper." This excerpt highlighted that the introduction of Shibarium would lead to a reduction in the available SHIB tokens. However, she emphasized that this reduction doesn't guarantee an increase in the token's price.
Nonetheless, the document also stated that while a significant reduction in the circulating supply theoretically implies increased scarcity and potential price appreciation. However, there are no assurances from the SHIB team regarding this outcome.
Also Read: Shiba Inu: How High Can SHIB Go in September 2023?