The Shiba Inu [SHIB] ecosystem is actively demonstrating its significance beyond being a mere meme coin. The dedication directed towards Shibarium, the layer-2 network, serves as evidence of this evolution. Despite facing heckles during its initial launch, it has steadily advanced over time, as evidenced by an increased adoption rate.
However, some individuals remain confused about the mechanics of the layer-2 network. As Shibarium isn't yet compatible with all decentralized applications or exchanges, certain users might be interested in understanding how to transfer their assets back from Shibarium to Ethereum. This article aims to provide a step-by-step guide for the same.
Also Read: Shiba Inu's Shibarium Records 100K Wallet Addresses Post Relaunch
Transferring funds from Shibarium to Ethereum
To begin, it is essential to make sure that users possess an adequate amount of ETH in their accounts. For those planning to withdraw to Ethereum, it's crucial to do so so that the associated gas fees are covered. The cost of gas fees can fluctuate based on the level of network congestion and demand. There are a total of seven steps to withdraw funds from Shiba Inu's Shibarium.
To start off, go to the official Shibarium website. Following this, select the Menu icon located at the top of the page. This action will assist in transitioning to the Bridge section. Please ensure that your wallet is already connected beforehand.

Once you are in the Bridge section, two options will appear: Deposit and Withdraw. Select Withdraw, then pick the token you intend to withdraw and input the desired amount.
An overview of the withdrawal procedure will be provided. This overview displays the withdrawn amount, the estimated time for the withdrawal to be completed, and the anticipated fee.
To facilitate the transition from Shibarium to Ethereum, it's necessary to initiate a cap request. This request enables assets to be transferred until the specified amount is reached. Users are advised to input a rounded figure in this step.
Your transaction will appear as pending as it goes through three stages: initialized, checkpoint, and challenges.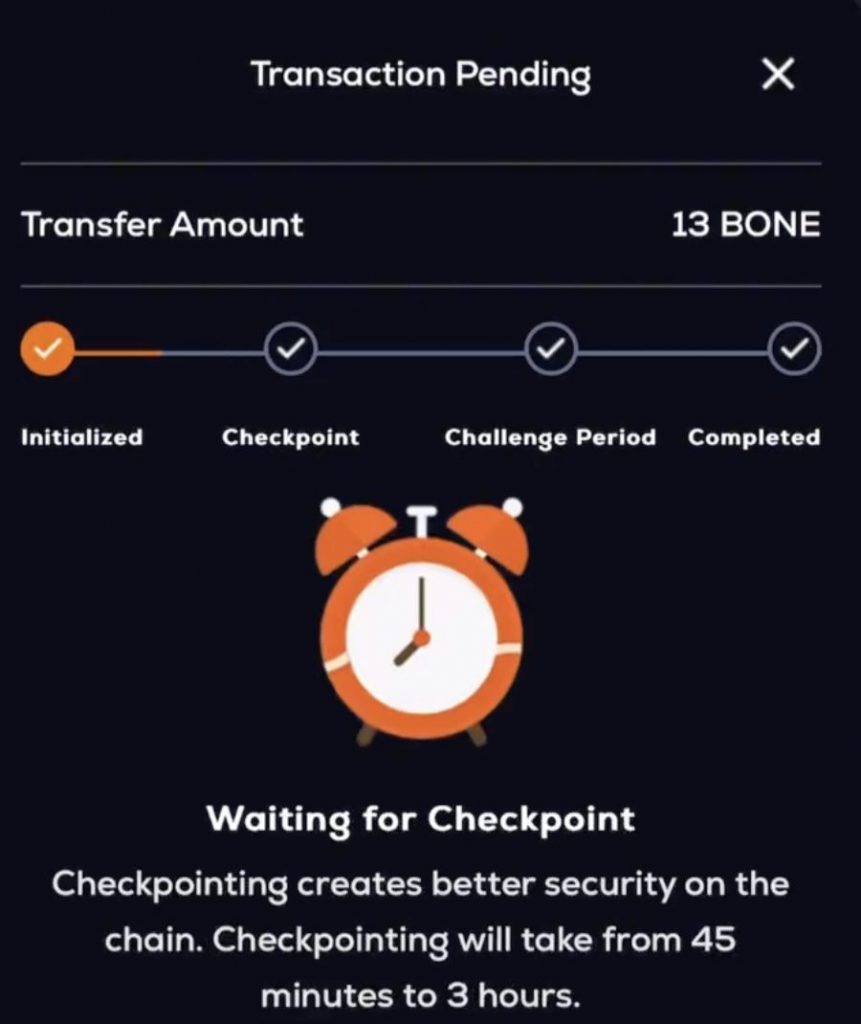 Once the transaction reaches the final stage, it will enter the processing queue and might take up to seven days to be fully processed.
Things to keep in mind
Shibarium employs a plasma bridge, which can result in a longer process. The plasma bridge functions as a security mechanism. It has regular checkpoints and exit challenges to guarantee the safety and accuracy of transactions. Consequently, withdrawals from Shibarium to Ethereum are not instant as they require some time to be fully completed. Lucie, a member of the SHIB community, elaborated on the same and said,
"Patience is Key: Why the wait? When moving from Layer 2 (L2) using a plasma bridge, delays are common. It's not just Shibarium—this happens with all L2 solutions using plasma bridge."
Also Read: Shiba Inu: Shytoshi Provides Last & Final Updates About Shibarium