Cryptocurrency fervor has spread across the globe, reaching various regions including Africa. Throughout the years, the continent has consistently demonstrated a strong bullish attitude toward the industry. However, major interest originated from a single country. A recent report revealed that Nigeria has emerged as the African country with the highest level of cryptocurrency interest in 2023. South Africa also displayed interest, but it trailed significantly behind Nigeria.
According to CoinGecko's most recent report, Nigeria accounted for 66.8% of the cryptocurrency industry in Africa. In comparison, South Africa held the second position with a share of 8.36%. This indicated that Nigeria's level of interest in cryptocurrency is nearly eight times higher than that of South Africa.
However, the most popular currencies in the market were relatively less familiar. Peepo [PEEPO], Liquity [LQTY], and Conflux [CFX] emerged as the three most favored assets in the Nigerian market. Liquidity and Conflux have gained prominence as notable borrowing protocols. On the other hand, in South Africa, Truebit Protocol [TRU] and Dodo [DODO], the native token of a decentralized exchange, took the lead in popularity due to their computational technology. It is worth noting that Shiba Inu stood as the second most popular cryptocurrency asset in the country.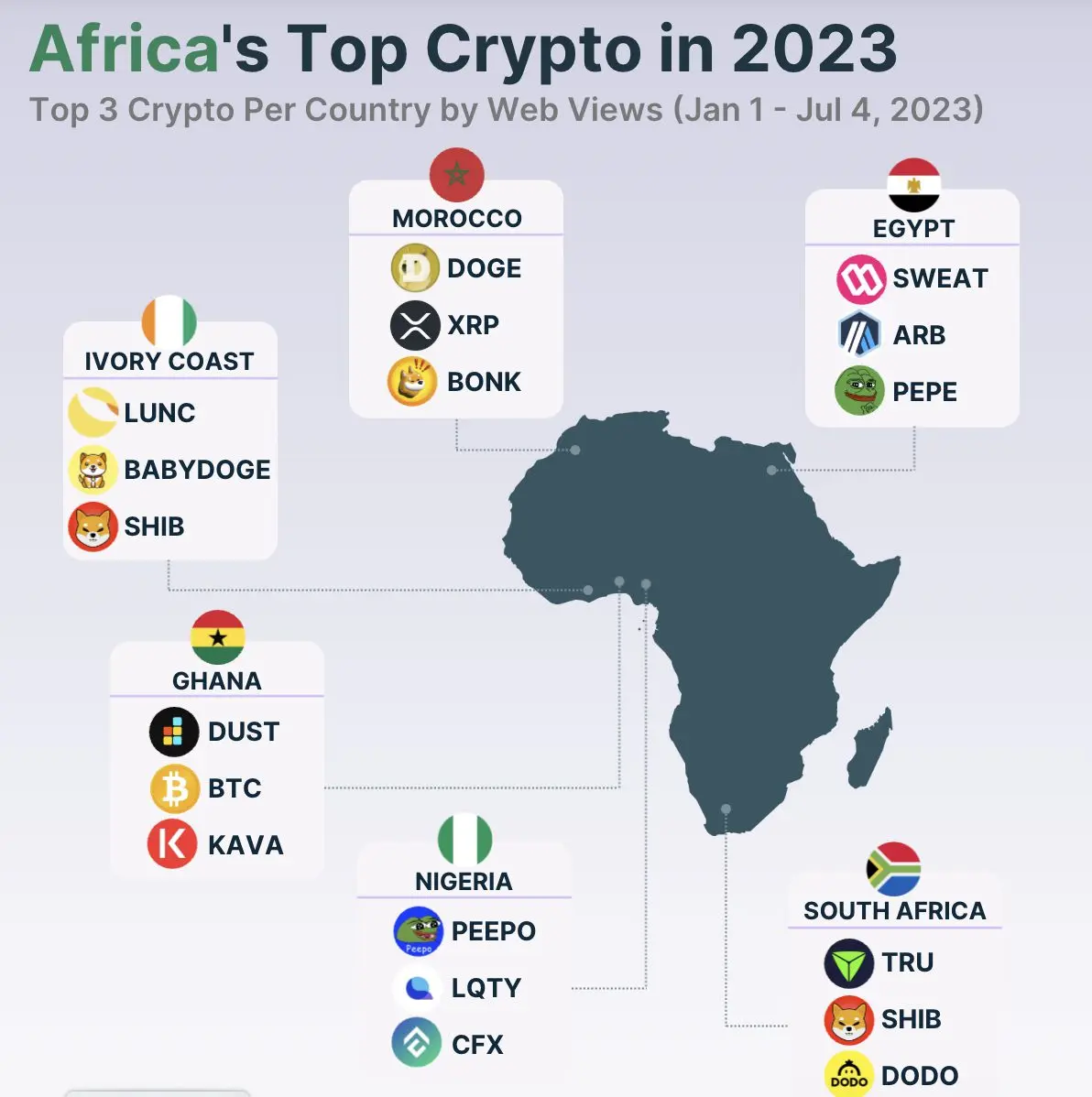 African countries have shown a notable affinity for meme coins. Shiba Inu has been experiencing increased adoption across the continent. In addition to South Africa, Shiba Inu has also gained popularity as one of the preferred crypto assets in the Ivory Coast. Other meme coins, such as Dogecoin [DOGE], Baby DogeCoin [BABYDOGE], and Pepe Coin [PEPE], have also been popular choices among crypto enthusiasts in Africa.
Also Read: South Africa Mandates Crypto Exchange Licensing by End of 2023
Why is Nigeria on top while other African countries have taken a backseat?
As mentioned earlier, Nigeria continued to lead the charts. Previously, Nigeria and Kenya were recognized as the most crypto-curious countries globally. However, Kenya has now dropped to the 11th position, with a modest interest of 0.59% originating from the region.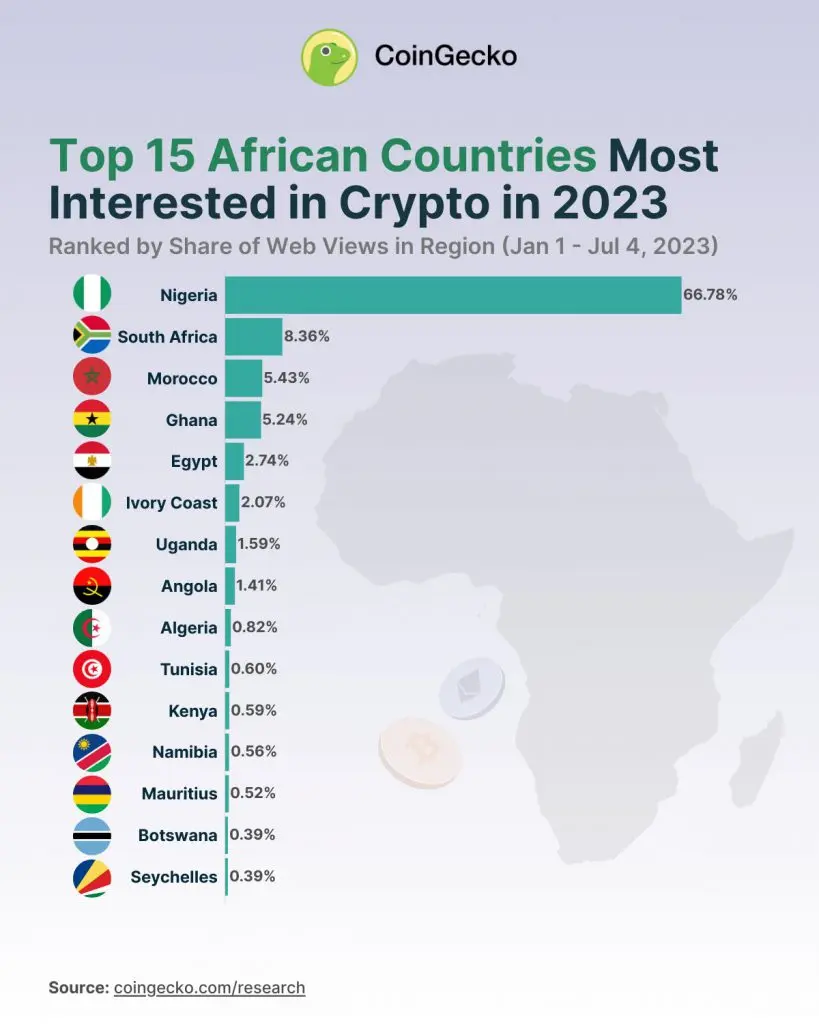 As observed in the above image, the remaining 48 countries in Africa exhibit relatively low levels of cryptocurrency interest compared to other regions on the continent. Each accounted for less than a 2.0% share year-to-date [YTD].
The disparity in cryptocurrency interest across Africa can be attributed to pressing issues, particularly in Nigeria. The country has faced significant challenges such as cash shortages, leading to disruptions in traditional financial systems and violent protests throughout the region. Amidst this turmoil, the Nigerian government promoted the use of e-naira to its citizens. However, instead of embracing the government-backed digital currency, the people of Nigeria have shown a preference for exploring cryptocurrencies.
However, the percentage of Nigeria's overall population that possesses cryptocurrency is only around 5.75%, whereas in South Africa, the second-ranked country, about 10% of its population is engaged in crypto ownership.
Also Read: Nigeria's Crypto Payment Firm Shuts Shop: Will eNaira Gather More Steam Now?