Shiba Inu's whales have been notably active in the market, as seen by SHIB's remarkable surge in large transaction volume. This surge could potentially mean that whales are accumulating SHIB, a development that could have a bullish impact on the asset's price.
According to data from IntoTheBlock, Shiba Inu experienced a noteworthy 2187% daily increase in transaction volume. The network's total volume amounted to $67.22 million, marking a significant rise from its previous low of $2.94 million.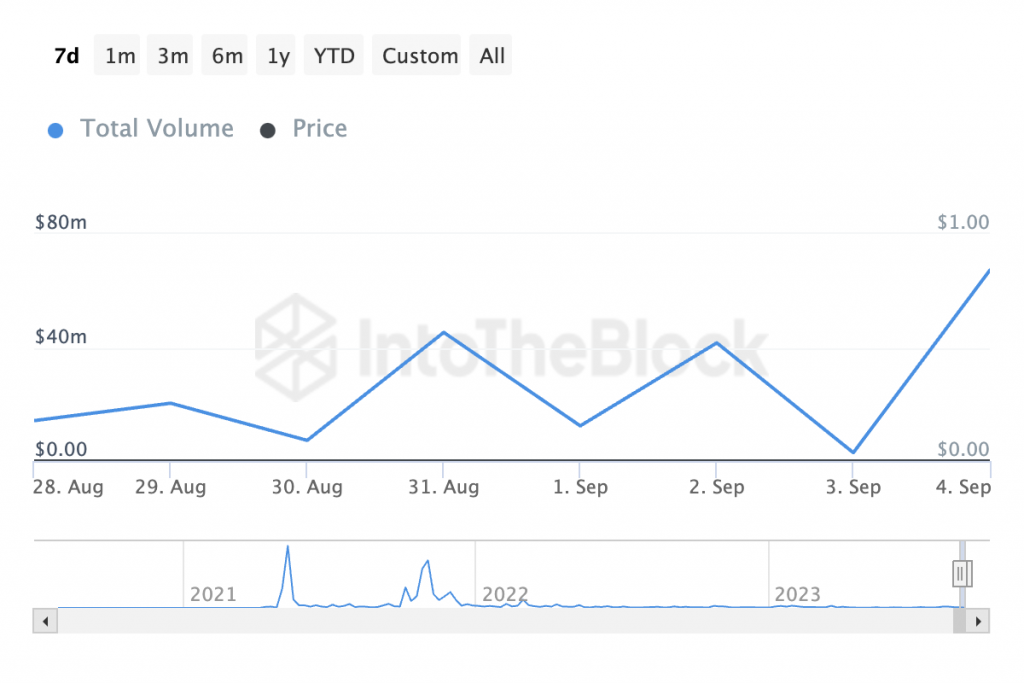 Furthermore, this surge appears to be linked to a series of transactions. Over the weekend, the network recorded only 13 large transactions, but this trend shifted as the increase was substantiated by 63 transactions.
Surges in significant transaction volumes often signify heightened engagement from large-scale traders, either making purchases or sales. Several factors are likely behind the recent upswing in substantial transaction volume. To begin with, SHIB has recently experienced a significant decline of 22% in its price in the past month. This decline may be stirring whales to acquire SHIB at a reduced cost. However, the real reason might be associated with an exchange moving funds.
Also Read: Shiba Inu: Shytoshi Kusama Advocates for Adoption Instead of Burns
The reason behind SHIB's increased whale activity
According to WhaleAlert, a large transfer of 4,615,530,677,374 SHIB tokens valued at $35,694,206 occurred from Bitvavo, a staking firm in the Netherlands to an undisclosed wallet on the previous day. This sizeable movement of SHIB tokens has notably aided in a substantial increase of 1,512% in the inflow of tokens held by major investors
Interestingly, the recent transfer from Bitvavo is not an isolated occurrence within this month. In summary, Bitvavo has facilitated the movement of a staggering 9,246,061,354,748 SHIB tokens. This was done over the course of the past three days. This is a notable increase compared to the firm's activity in August. During that period they moved a total of 4.6 trillion SHIB tokens in a single transaction.
The latest movement barely affected the price of the meme coin. At press time, SHIB was trading at $0.000007568 with a 1.86% daily drop.