The recent market downturn has affected the Shiba Inu [SHIB] market, along with other crypto assets. However, SHIB has shown relatively better resilience compared to assets like Solana [SOL], Binance Coin [BNB], and Dogecoin [DOGE]. At press time, the meme coin was trading at $0.000007931, experiencing a 6.45% decline in daily value.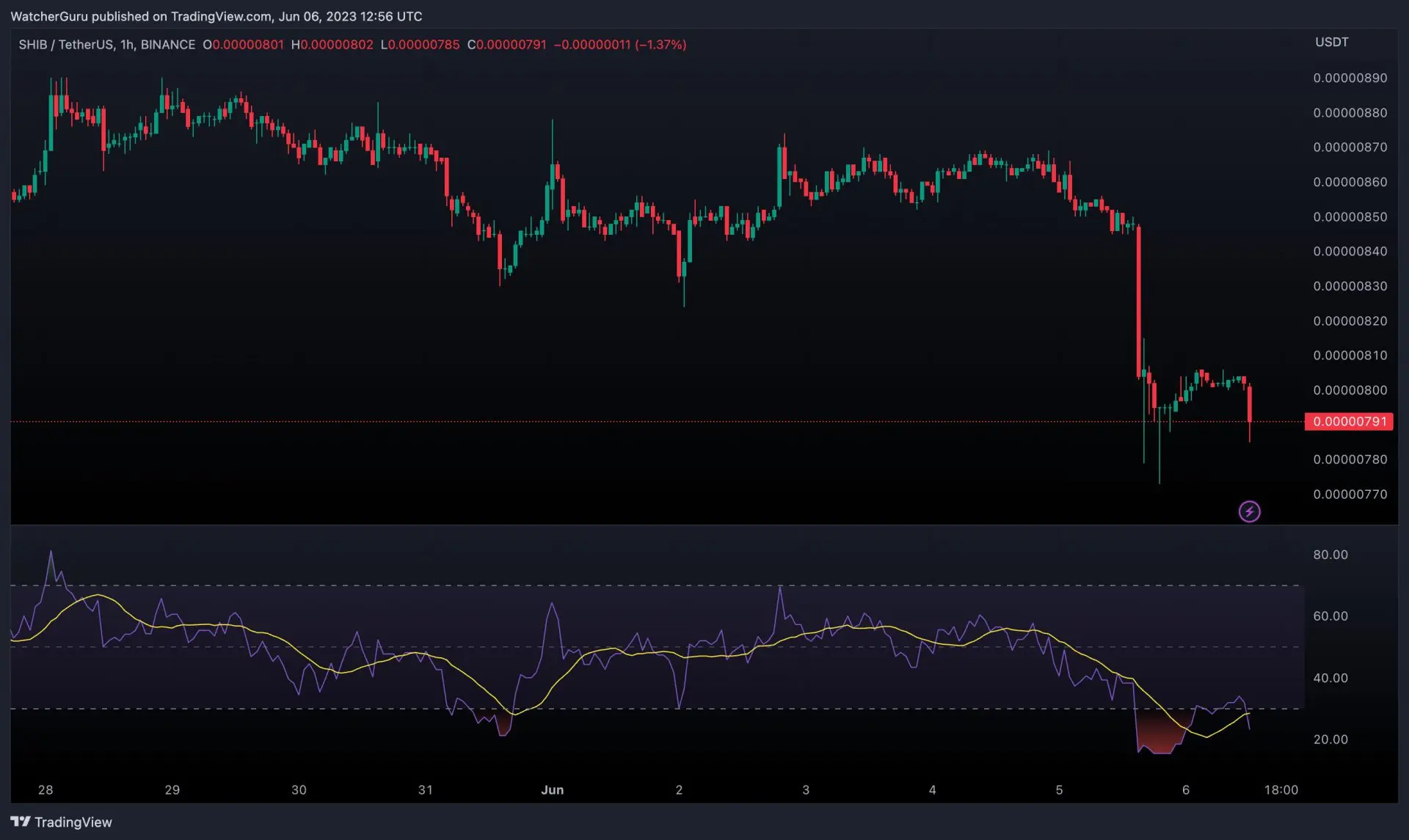 As seen in the above chart, the meme coin witnessed a significant decline in its price. The Relative Strength Index [RSI] indicator further suggested that SHIB was being oversold at the moment.
According to data provided by IntoTheBlock, the Shiba Inu ecosystem has witnessed a notable rise in large transactions, experiencing an impressive surge of 85.79% in the past 24 hours. The total volume of these substantial transactions has reached $12.92 million at the time of writing. This significant increase in large transactions suggested that there has been heightened activity in terms of both selling and buying within the SHIB ecosystem.
Additionally, during this significant price decline, Shiba Inu experienced an unexpected occurrence as bullish investors initiated a remarkable buyback campaign. IntoTheBlock revealed that these investors successfully acquired an astonishing 2.49 trillion SHIB tokens. Interestingly, during the same period, reports indicated that big players sold 2.58 trillion Shiba Inu tokens. This further highlighted a dynamic interplay between different market participants.
Over 85% of SHIB holders are now at a loss
Shiba Inu holders have been facing prolonged losses as the price of the asset continues to decline, creating a sense of turmoil in the market. In the wake of its recent downfall, the percentage of SHIB holders experiencing losses has escalated to 86%. This means that the majority of investors in the meme coin are currently at a loss, while only a small portion, around 11%, are able to generate profits from their investments. The unfavorable market conditions have contributed to the widespread struggle among Shiba Inu holders.
Furthermore, it is worth mentioning that whales, or large-scale investors, hold approximately 67% of the total supply of Shiba Inu tokens. On the other hand, retail investors make up around 20% of the ownership. Other types of investors represent approximately 12%. The dominance of whales in SHIB ownership highlighted the potential influence they can have on the market dynamics and price movements of the asset.