The Shiba Inu [SHIB] community hosts a diverse range of whales, encompassing both significant and minor investors who make varying levels of substantial purchases. While it is not unusual for whales to engage in substantial buying, there has been a surprising development in the market. A massive whale has accumulated an impressive fortune of $33.6 million. The whale has set up a wallet that remains undisclosed and was only created a few days ago, currently possessing a notable 4.596 trillion SHIB tokens.

Currently, this wallet holds the rank of the 25th largest holder of Shiba Inu tokens. This recently emerged whale is gaining attention for multiple reasons, with the most significant being its exclusive focus on SHIB tokens. Furthermore, it seems to have no connections to any crypto addresses, and the only confirmed transaction it has engaged in is with another undisclosed wallet. This further facilitated the transfer of trillions of SHIB tokens.
Additionally, reports reveal that the destination wallet is an unfamiliar address. However, on-chain data notes Bitvavo's ownership. Nevertheless, the motive behind this transfer remains undisclosed.
Data revealed that the tokens were valued at $33.37 million when the transaction took place. This implies that the whale acquired the assets at a rate of $0.00000726 per SHIB. Subsequently, Shiba Inu experienced a 1.37% increase right after the transaction.
Also Read: Shiba Inu: Machine Learning Tool Predicts SHIB Price For Oct. 1
Shiba Inu's weekly burn records surge
The rate at which SHIB tokens are being removed from circulation has been steadily on the rise in recent weeks. The network saw a 37.14% increase in its weekly burn rate. Over the past seven days, a total of 782,347,341 SHIB tokens were taken out of circulation through 75 transactions.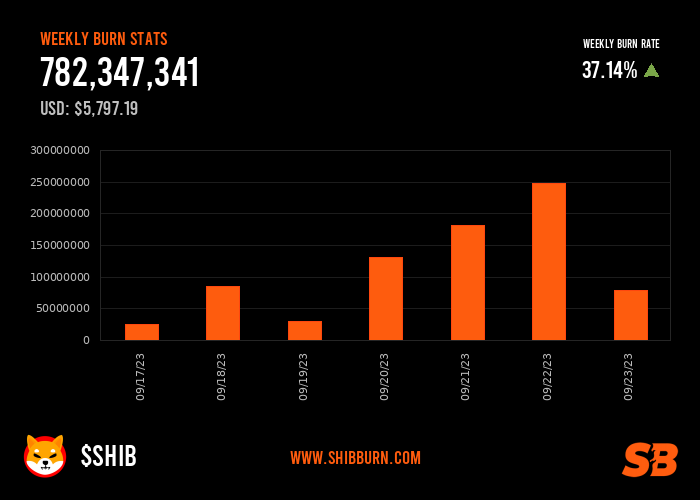 Also Read: Shiba Inu Burn Tracker Reveals New BlockChain to Burn SHIB