The Shiba Inu [SHIB] ecosystem has been making headlines on a daily basis. Ever since the launch of Shibarium, the meme coin network has been under the spotlight. More recently, a tweet from the blockchain tracker Whale Alert revealed that nearly five trillion SHIB meme coins have been transferred among unidentified Shiba Inu whales.
The tracker mentioned earlier documented an astonishing transfer of 4,642,530,677,374 SHIB. This was equivalent to $38,057,145. This notable quantity of SHIB was shifted from a wallet that had initiated its initial transaction merely two hours earlier, to a completely new address.
The aforementioned transaction occurred when several indicators of the Shibarium layer 2 network experienced significant increases. This further coincided with a substantial influx of new participants, indicating new/returning Shiba Inu Whales. Therefore, several speculated the latest movement to Shibarium. This situation could be interpreted as either a sale to a new significant crypto investor or a redistribution of SHIB holdings by an existing crypto holder.
Also Read: Shiba Inu: Investor Tests Shibarium, Here's the Speed, Cost & Much More
Did Shiba Inu react?
It looks like the meme coin barely budged during this transaction. At press time, SHIB was trading at $0.000008165 with a 1.10% daily drop. The asset dipped all the way from a high of $0.000008264 to a low of $0.000008107. Furthermore, there were no other large transactions either. According to data from IntoTheBlock, the number of large transactions dipped to a low of 16.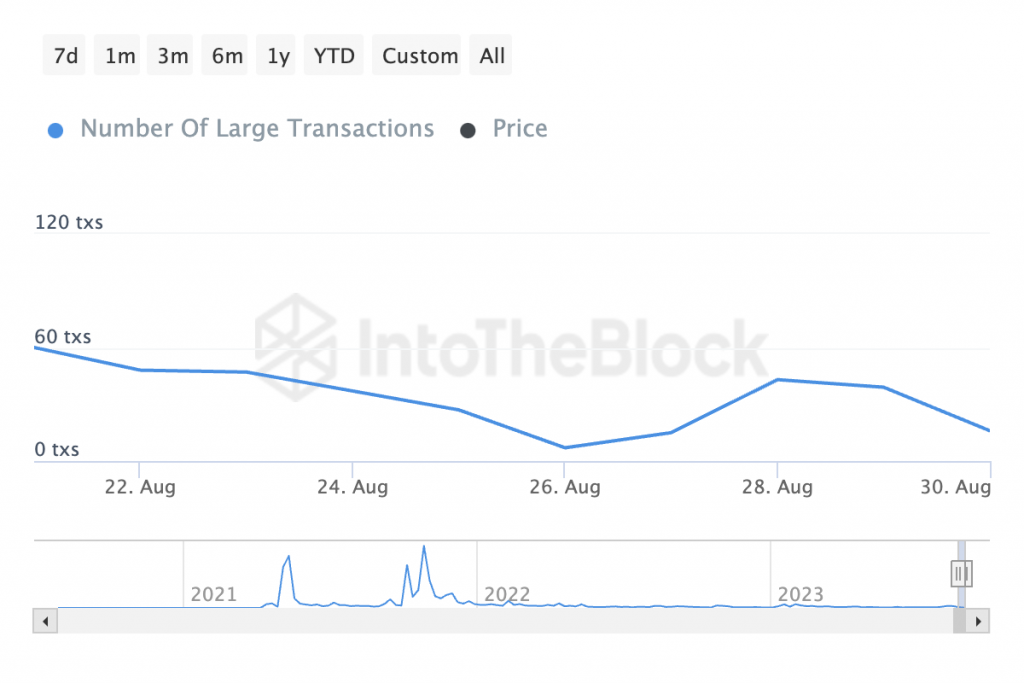 Despite the minimal fluctuations in SHIB's price, Shibarium exhibited a thriving state. The overall transaction count reached an impressive peak of 628,138 as of the current moment. Concurrently, there exist 447,138 distinct wallet addresses. Earlier in the week, the network crossed the milestone of 100,000 addresses, followed by 300,000 just yesterday.
Also Read: Shibarium TVL Reaches $1.4 Million: Wallet Addresses Cross 300,000
The network has experienced substantial expansion in less than a day. Consequently, the community anticipates that this positive outlook within the network might have an impact on the price of SHIB.