In his recent blog post, Kusama emphasizes that the team conducted a meticulous examination to pinpoint the precise location of the issue. They discovered an exceptionally large number of contract creations and standard transactions all within a single block. At this juncture, Shibarium engaged its fail-safe mode, suspending operations to ensure the security of funds. While this is the issue at hand, Kusama highlighted the way forward. Kusama added,
"Knowing the issue, we called in the support of some powerful frens to help, alongside our Shibarium devs and the Unification team who have spent tireless hours working to scale our beloved blockchain. We have identified multiple possible plans of action, and will keep you updated as we execute to bring up the blockchain."
This led to further speculation within the community, with many individuals speculating about the identities of these influential allies. Nevertheless, the Shiba Inu developer revealed that they would be revealed. Furthermore, Kusama noted that the network maintains its assertion that the funds that were temporarily halted on the bridge are secure. Consequently, they have taken the step to securely cover the entire $2 million amount as insurance. This is in the event that any complications arise after Shibarium is reactivated.
Also Read: Shiba Inu: Shytoshi Denies Bridge Issue, Blames Excessive Traffic
Shiba Inu Dips By 12.49%
However, even after Kusama and other developers addressed and dispelled the unfounded concerns, the value of SHIB continued to decrease. At press time, the meme coin was trading at $0.000008116, reflecting a decline of 12.50% over the course of the day. Notably, Shiba Inu emerged as one of the most significant underperformers. Additionally, BONE followed suit and dropped to a low of $1.13. The asset had dipped by 13.97% throughout the last 24 hours.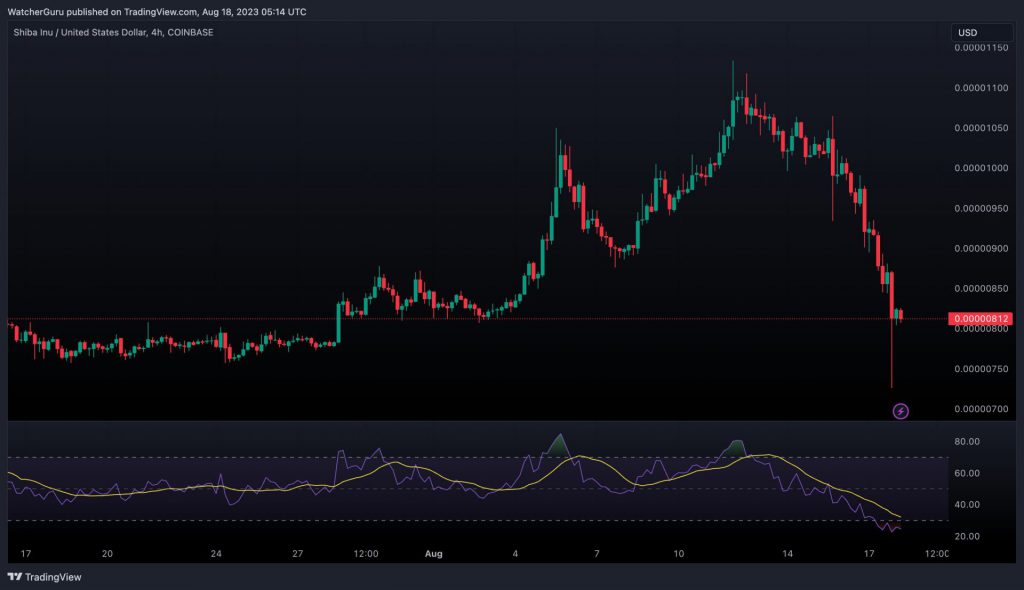 Also Read: Shiba Inu's BONE Sheds 20% Amidst Shibarium Launch