Shiba Inu's eagerly anticipated layer-2 solution, Shibarium, experienced a launch that fell short of expectations. The community became cautious as various accounts emerged discussing potential problems with the bridge. Subsequently, a multitude of tweets emerged, highlighting network issues and the project's apparent setback shortly after its rollout. However, Shytoshi Kusama, the chief developer of the network, dispelled all these rumors and doubts.
Shytoshi Kusama utilized Twitter to share a blog entry titled "Shibarium: ALL IS WELL." Within the blog post, the developer dispelled all fears, addressed concerns that had been circulating, and confirmed that the bridge was functioning without any problems.
In addition to various other speculations, a screenshot of Kusama appearing to acknowledge mistakes started circulating. This added to the chaos in the market. Nevertheless, the developer refuted this claim, asserting that any such statements attributed to him were inaccurate. He went on to provide reassurance that the investments of all investors remained secure.
Also Read: Shiba Inu: SHIB Could Fall to $0.00000850 Before Bouncing Back
So what is the issue with Shibarium?
The lead developer acknowledged that a surge in traffic was responsible for the delay. The significant influx of both transactions and users that coincided with the launch of Shibarium led to a technical challenge. As a result, he clarified that the issue did not stem from Shibarium itself. He added,
"We've seen ShibArmy bring down large exchanges, websites, and other things. For the first time, our decentralized team has felt the power of the ShibArmy in full.[…]Our team has been working tirelessly to scale (even though validators were already on autoscale when we made the announcement) and bring up the chain again to an extent that we can handle the influx of our decentralized nation-state."
Furthermore, under the partnership with Alchemy's enterprise plan, the network has a monthly allocation of 400 million compute units. However, during the launch phase, the system encountered an unexpected surge, consuming over 160 million compute units within a mere 30-minute timeframe. If this pace persists, the network is projected to reach daily figures in the billions of computing units. This will further align with the activity levels of the most active Layer 2 blockchains.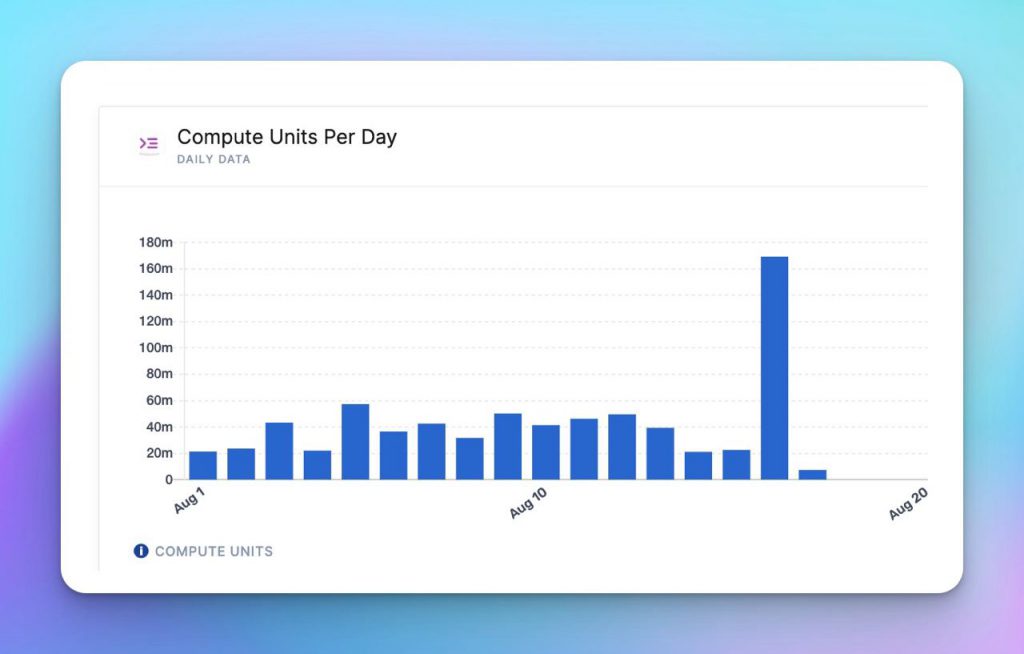 Furthermore, the Shiba Inu developer appealed to the community for patience as the team worked on scaling the network. He also encouraged them to disregard any unfounded FUD. Amidst this, SHIB was trading for $0.000008905 with a 7.63% daily surge.
Also Read: Shiba Inu's BONE Sheds 20% Amidst Shibarium Launch