Shiba Inu is currently trading at $0.00001092 and it is up nearly 2.5% in the 24-hour time frame. The dog-themed token has spiked 77% since the start of January but shed most of its gains in early March. SHIB is unable to delete a 'zero' for the last 15 months and is struggling to climb above the $0.00001600 mark. Coming to the short-term window, Shiba Inu could end March at the $0.00001050 level, which is lower than its current price. In this article, we will highlight what SHIB's price could be on Easter Sunday in April 2023.
Also Read: Shiba Inu: 3 Times SHIB 'Shocked & Surprised' Its Own Investors
Shiba Inu: Easter Sunday 2023 Price Prediction
Easter Sunday is on April 9, 2023. CoinCodex has estimated using their AI tools and algorithms that SHIB could dip drastically in the next two weeks. The forecast claimed that the dog-themed token could add an extra 'zero' in the indices in the coming few days.
According to a recent price prediction from CoinCodex, Shiba Inu's price could fall to $.000009976 on Easter Day of 2023. That's a downward trend of nearly 10% for SHIB in the coming few weeks.
Also Read: Shiba Inu: You Can Now Become a SHIB Millionaire With Only $10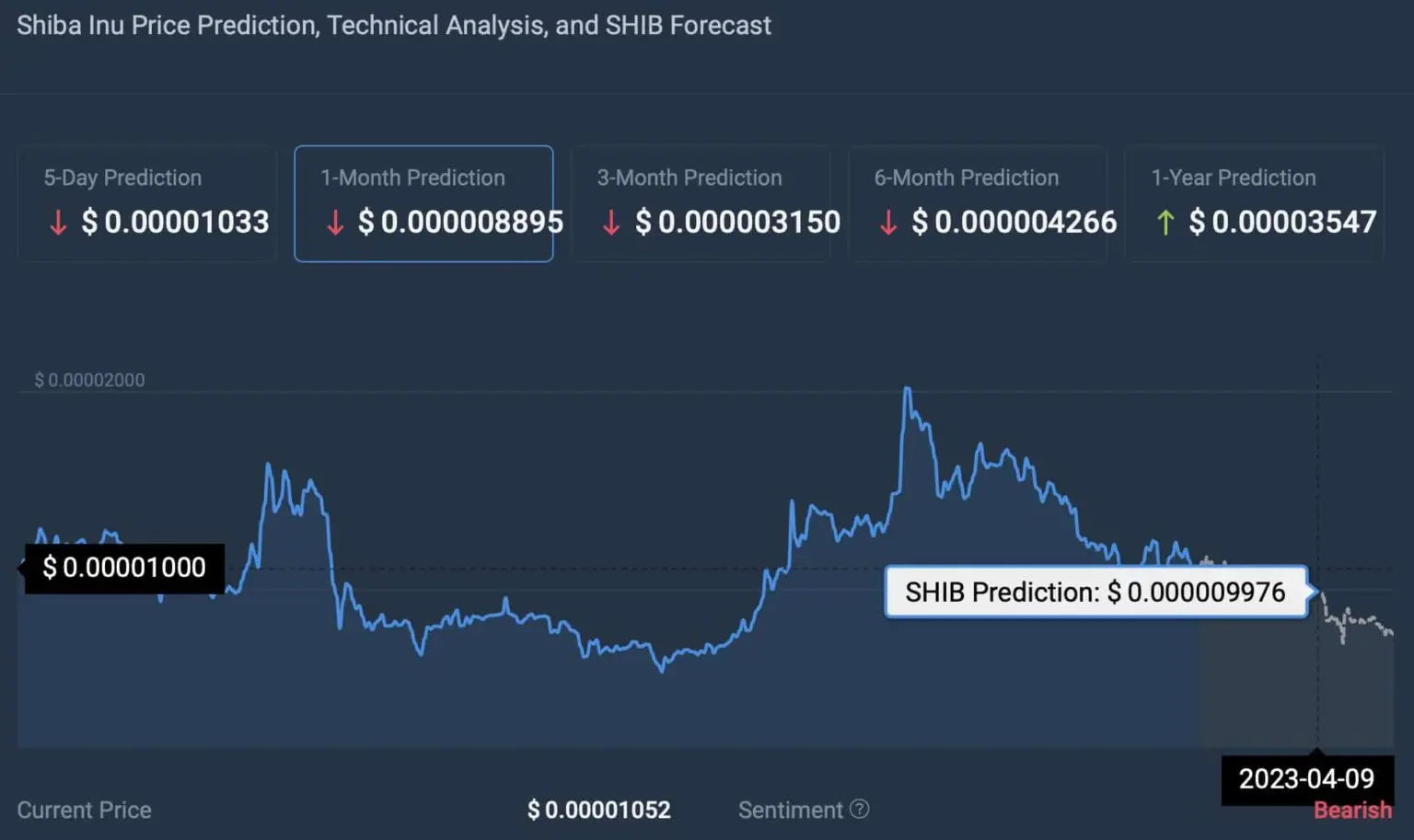 The update comes after CoinCodex took into consideration that Bitcoin could face severe volatility after it reached $30,000. BTC went from a low of $16,000 this year, and is looking to touch the $30,000 mark.
The spike in price could trigger profit bookings and sell-offs making the overall cryptocurrency markets head south. You can read more details about a possible sell-off here. The development could affect Shiba Inu's prospects in the indices, making it bleed in the coming days. In conclusion, the price prediction for Shiba Inu for Easter 2023, remains to be bearish.
Also Read: Shiba Inu Investor Regrets Selling Early: 'I Would Have Made $1 Billion'
At press time, Shiba Inu was trading at $0.00001095 and is up 2.6% in the 24-hour day trade. SHIB is down 87.31% from its all-time high of $0.00008616, which it reached in October 2021.