The crypto markets continue to bleed out as regulatory pressures continue to rise. Shiba Inu (SHIB) has, however, managed to post modest gains, and some members of the crypto community continue to be optimistic about its price in the near term.
According to a poll conducted by CoinMarketCap, SHIB could reach a price of $0.00001111 on June 30, 2023. The poll was conducted with a total of 2092 respondents. The growth would mean a 62.91% rally from current price levels.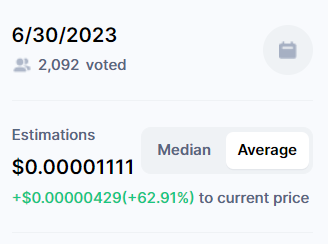 Moreover, the historical average of the predictions made for Shiba Inu (SHIB) by the crypto community over the last six months is currently 83.95%. They actually serve as a viable alternative to existing price forecasting techniques, including those provided by artificial intelligence (AI) platforms.

However, despite projections from CoinMarketCap users, the Shiba Inu (SHIB) has seen an enormous exodus of holders. In just three days, SHIB has lost roughly 40,000 investors.
What could make Shiba Inu rally 62%?
The only thing that has the potential to push SHIB to such levels is the Shibarium launch. Lead developer Shytoshi Kusama has hinted that the upcoming layer-2 network could debut sometime in early July. Even popular SHIB influencer "Lucie" has said that Shibarium will be out sometime in Q2-Q3 this year. Shibarium is one of the most hyped launches in the crypto industry this year. Furthermore, the launch will mean that Shiba Inu (SHIB) will have its own blockchain, and will cease to be an ERC-20 token on the Ethereum (ETH) blockchain
Apart from the layer-2 launch, SHIB is also launching two additional tokens this year. The first is a reward token, TREAT, and the other is the stablecoin, Shi. Additionally, SHIB is also working on its metaverse initiative.
With so many launches lined up, the asset's price could see a healthy rise when the projects begin to roll out. However, delays and development issues can become a barrier to growth. Moreover, people may lose confidence in such events. At press time, Shiba Inu (SHIB) was trading at $0.00000678, up by 0.7% in the last 24 hours.