The collective cryptocurrency market is facing strong corrections at the moment. The likes of Bitcoin, Ethereum, Cardano are all registering their monthly lows and Shiba Inu was no different. After reaching an all-time high of $0.00008870 on October 28th, the meme has declined consistently in the charts.
Many speculators are suggestive that the asset may not survive once the bullish rally is over. However, recent developments are taking an interesting turn for Shiba Inu's long-term credentials.
Shiba Inu Team partnering with Mobile Games pioneer?
According to Watcher.Guru's sources, Shiba Inu will be teaming up with William Volk, Former VP at Activision Studios, to develop a Shiba Inu game. Shytoshi Kusama, Project Lead at Shiba Inu had earlier announced on Twitter about the partnership but kept Volk's name out of the tweet. On 25th November, he mentioned,
A partnership involving William Volk is a huge development. Volk is a gaming developer veteran, who is responsible for and co-designed iWack, the 1st game ever launched on the App store. Volk has over 36 years of experience in the video games industry, dating back to Avalon Hill in 1980.
Moreover, Kusama revealed it to Watcher.Guru that the game will be initially developed by the Shiba company. It will not feature a blockchain initially. However, the blockchain version will be built from it, using the decentralized network.
Similarly, later in 2022, the development will take place to incorporate metaverse functionality. However, Kusuma made it clear that its approach is currently different from one adopted by Facebook.
Blockchain gaming introduction only heightens Shiba Inu's worth
The aforementioned development is huge for Shiba Inu and 2021 is a prime example. Blockchain gaming is reaching new heights in terms of activity. For instance, in October 2021, 1.2 million Unique Active Wallets connected daily to blockchain games. Axie Infinity is a success story with over $3 billion worth of AXS is staked in AXS staking contracts.
Moreover, Metaverse development has already raised the valuation of tokens such as MANA, SAND, ENJ, and ALICE. In comparison, Shiba Inu facilitates a larger community. Shiba Inu carrying an established foundation in the metaverse platform would only allow its valuation to incur higher levels of growth. For example, The price of MANA, Decentraland's native and governance token, tripled since October 1st, reaching $4 on Halloween. The floor price for lands in Decentraland also benefited from this market effect, growing 204% MoM.
The Sandbox and Decentraland are paving the way for decentralized metaverse, and now Shiba may play a prominent role going forward in 2022.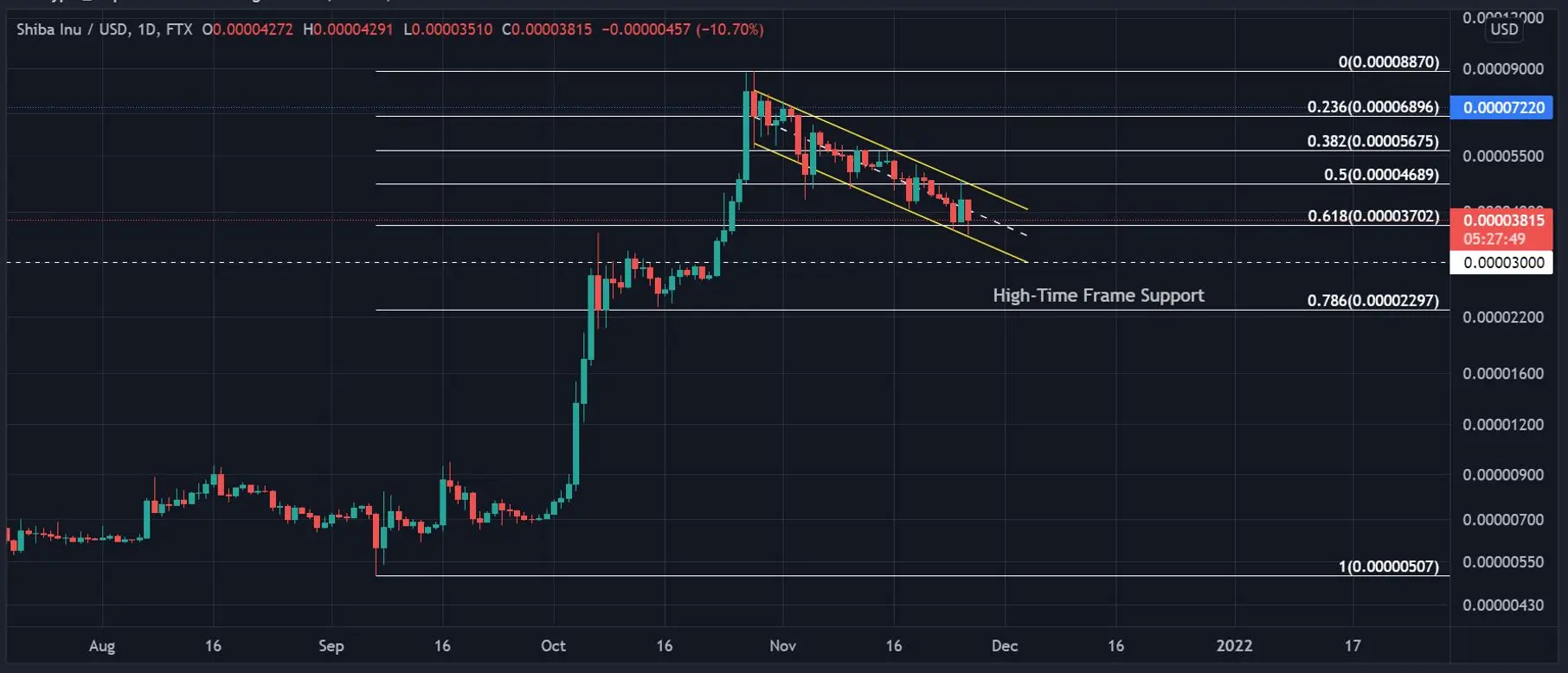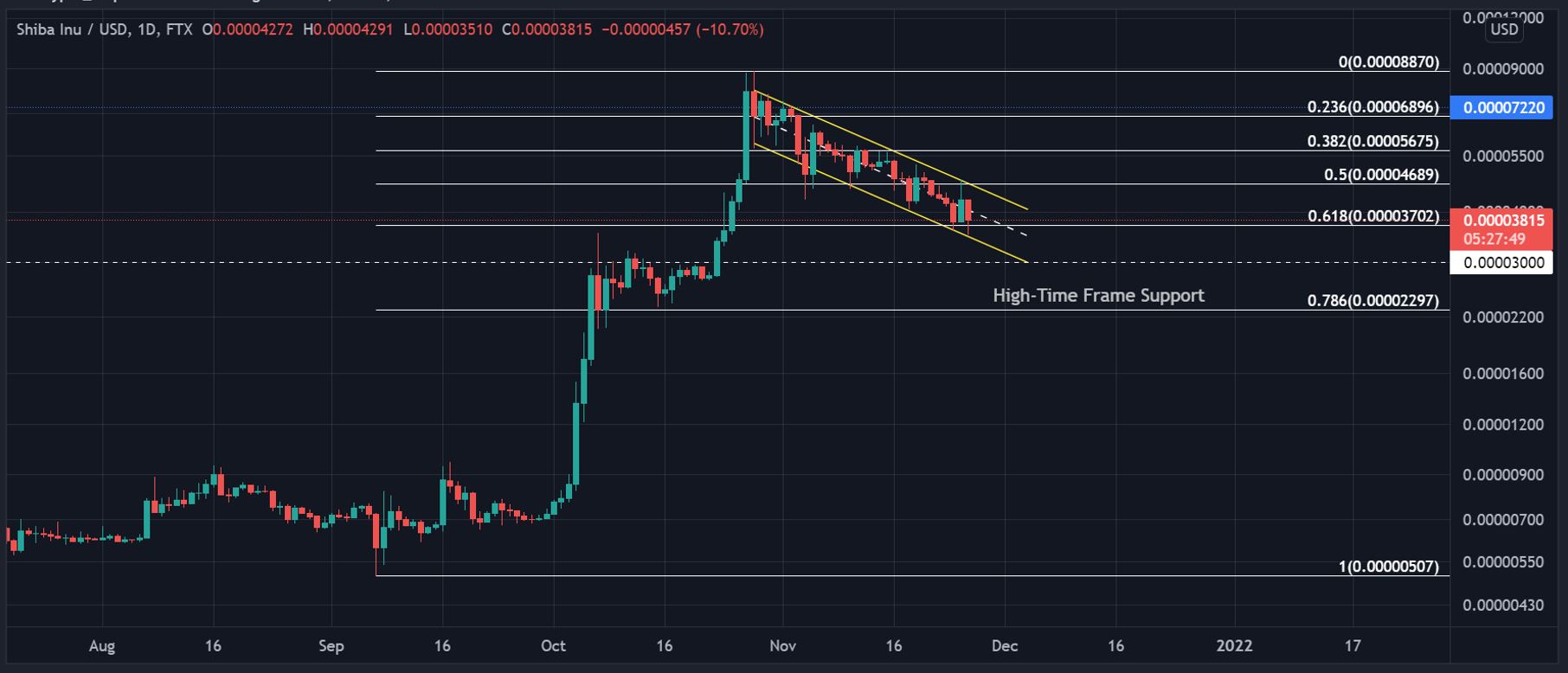 Shiba Inu is currently consolidating within a descending channel pattern. Its valuation declined by 43% in November. However, the pattern forming in the chart is still bullish. A positive bounce back from $0.00003 may kick start its rally again.
The Shiba game announcement may appease the investors as positive sentiment should return with the meme coin. At press time, Shiba Inu registered a market cap of $21 billion. The asset remained ranked 12th in the charts.