Popular crypto exchange OKX recently held a poll to ask its users and followers which memecoin they would like to see listed on the platform. The exchange has revealed that the winners of the poll were Shiba Inu's Bone ShibaSwap (BONE) and ArbDogeAI (AIDOGE).
Furthermore, according to the data on Etherscan.io, OKX's BONE holdings have surged by a whopping 400%. The exchange currently holds around 7.85 million BONE tokens, worth $8.03 million. With the spike in BONE holdings, OKX has become the fourth largest BONE holder in the world, overtaking the Shiba Inu: Migrator address and the Crypto.com 5 address. The exchange's holdings represent 3.41% of the total BONE supply.

Furthermore, Dubai-based exchange Ceto also announced that the platform will list the BONE token, following a similar path to OKX. The exchange held a poll and asked the community which token they would like to see listed on the platform. A majority voted for Shiba Inu's BONE token.
The listings come amid SHIB developer Shytoshi Kusama saying that Shibarium could go live in two to four months. BONE is set to be the governance token of the Shibarium network, and fans and users anticipate a price spike when the network goes live. Shibarium's beta testnet has proven to be very successful, and investors expect a similar performance from the mainnet.
Shiba Inu's BONE price surges
OKX's recent increase in BONE holdings may have led to a spike in the asset's price. At press time, BONE prices had surged by 8.3% in the last 24 hours. However, the token has fallen 2.8% in the last hour. BONE currently faces resistance at $1.1400, with support at $1.0060. If current resistance levels are broken, BONE could face fresh resistance at $1.1930.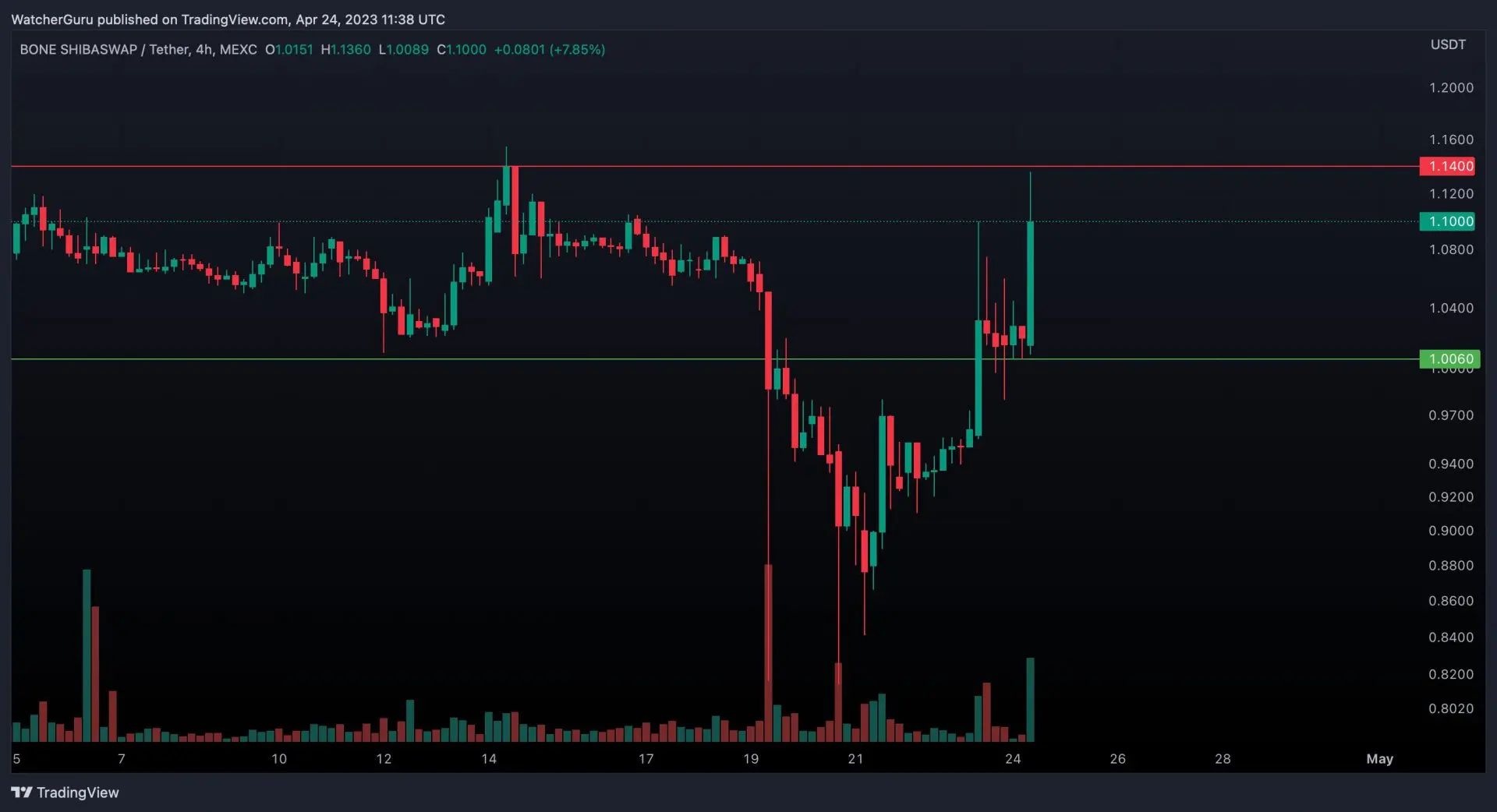 At press time, BONE was trading at $1.1000. Meanwhile, SHIB was trading at $0.00001036, down by 0.6% in the last 24 hours.