Owing to the back-to-back enforcement actions being taken by regulators and episodes like Silvergate's shut down unfolding, the cryptocurrency landscape continues to remain wobbly. Asset prices have evidently been tumbling. Despite being stuck in a rut, adoption has not taken a backseat.
Web3 domain provider Unstoppable recently tweeted that the Shiba Inu token can now be used to make make domain purchases. According to the official tweet, users can replace their SHIB address with a readable Web3 username, thereby claiming a digital identity.
Also Read: 'Shiba Inu' Gimmick Trades in Green: Up 60% in 1 Day
Shiba Inu integration follows after Doge
Like shown in the picture above, the platforms accepts payments via multiple other cryptocurrencies including Bitcoin, Bitcoin Cash, Ethereum, Litecoin, etc. Also, it is worth noting that Unstoppable "let the Doge out" a few days back, in early March, by integrating Dogecoin payments.
Unstoppable domains a typically a kind of domain name that uses blockchain technology. They make use of NFTs and smart contract technology to provide users a self-owned and controlled internet domain. Simply put, Unstoppable domain addresses are proper NFTs. The issued non-fungible tokens are of the ERC-721 standard and allow the implementation of an ideal API for NFTs within smart contracts.
Also Read: Chainlink 'Functions' Can Help Build Spotify, TikTok, OpenAI, Tesla APIs
Additionally, they provide basic functionality to transfer and track these NFTs. The domains are built using the Crypto Name Service technology. Once claimed, Unstoppable loses control and cannot block or restrict any domain access. Users own the private keys of the wallet storing the domain, giving them sole access to it.
Shiba Inu's price has been on a downtrend since last month. Like shown below, it did attempt to break above the trendline a handful of times, but has been unsuccessful in doing so. Alongside, the buying momentum has also been evaporating from the market, making it all the more difficult for SHIB to initiate a recovery. At press time, Shiba Inu was trading at $0.00001097, after noting a minor 0.37% incline over the past day.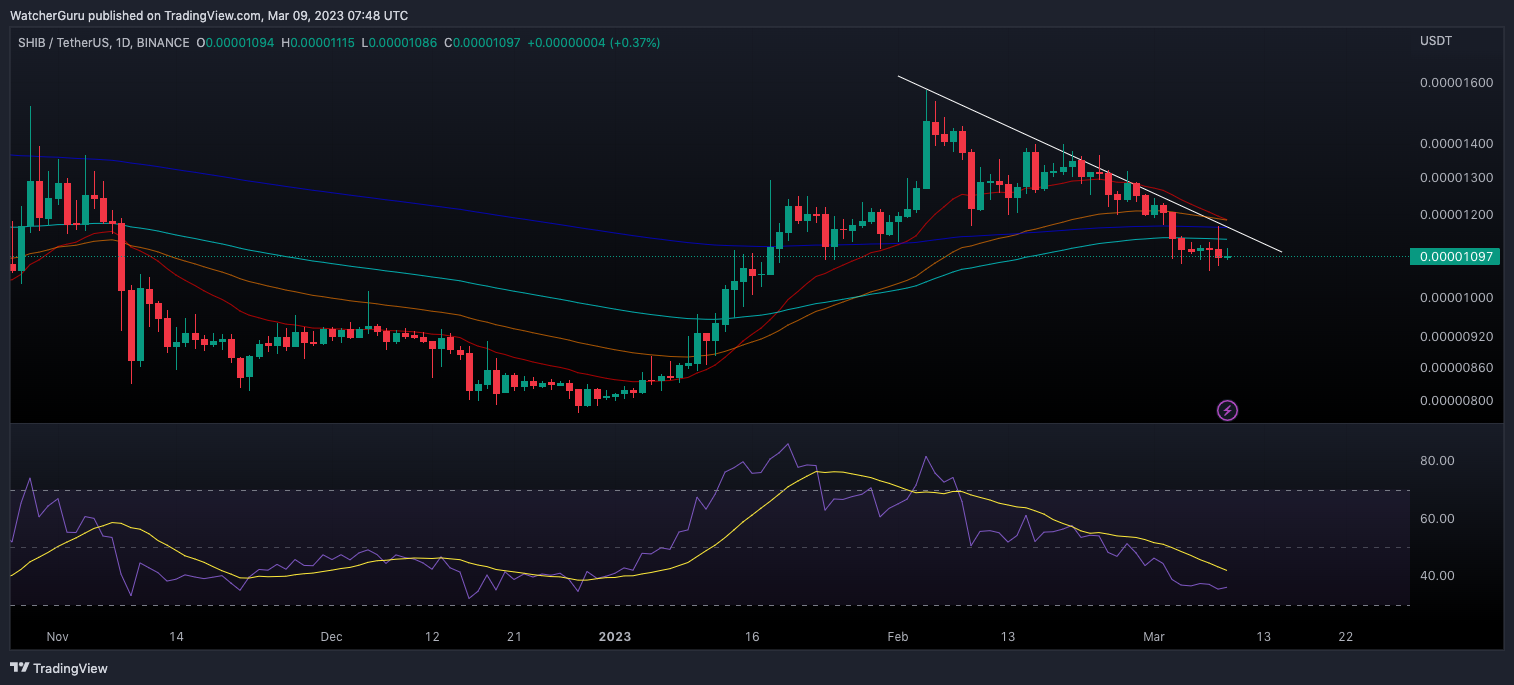 Also Read: Voyager Freshly Dumps 300 Billion Shiba Inu, 4000 Ethereum Tokens