According to the data from WhaleStats, an Ethereum whale bought 229 billion Shiba Inu (SHIB) tokens. The value of the tokens purchased is $2.58 million, at the time of buying. Moreover, the purchase is the second-largest SHIB buy order in the last 24 hours. Previously, a new whale purchased 3.5 trillion Shiba Inu (SHIB) tokens worth a whopping $40.23 million. The new whale purchased the 3.5 trillion SHIB tokens in one giant transaction.
As per the data on WhaleStats, SHIB is currently the third most-held token among Ethereum whales, excluding ETH. The top 100 Ethereum whales currently hold $601 million worth of SHIB tokens. However, the top assets among ETH whales are USDC (15.67%) and USDT (14.03%), both of which are stablecoins. The whales collectively hold $789 million worth of USDC and $706 million worth of USDT.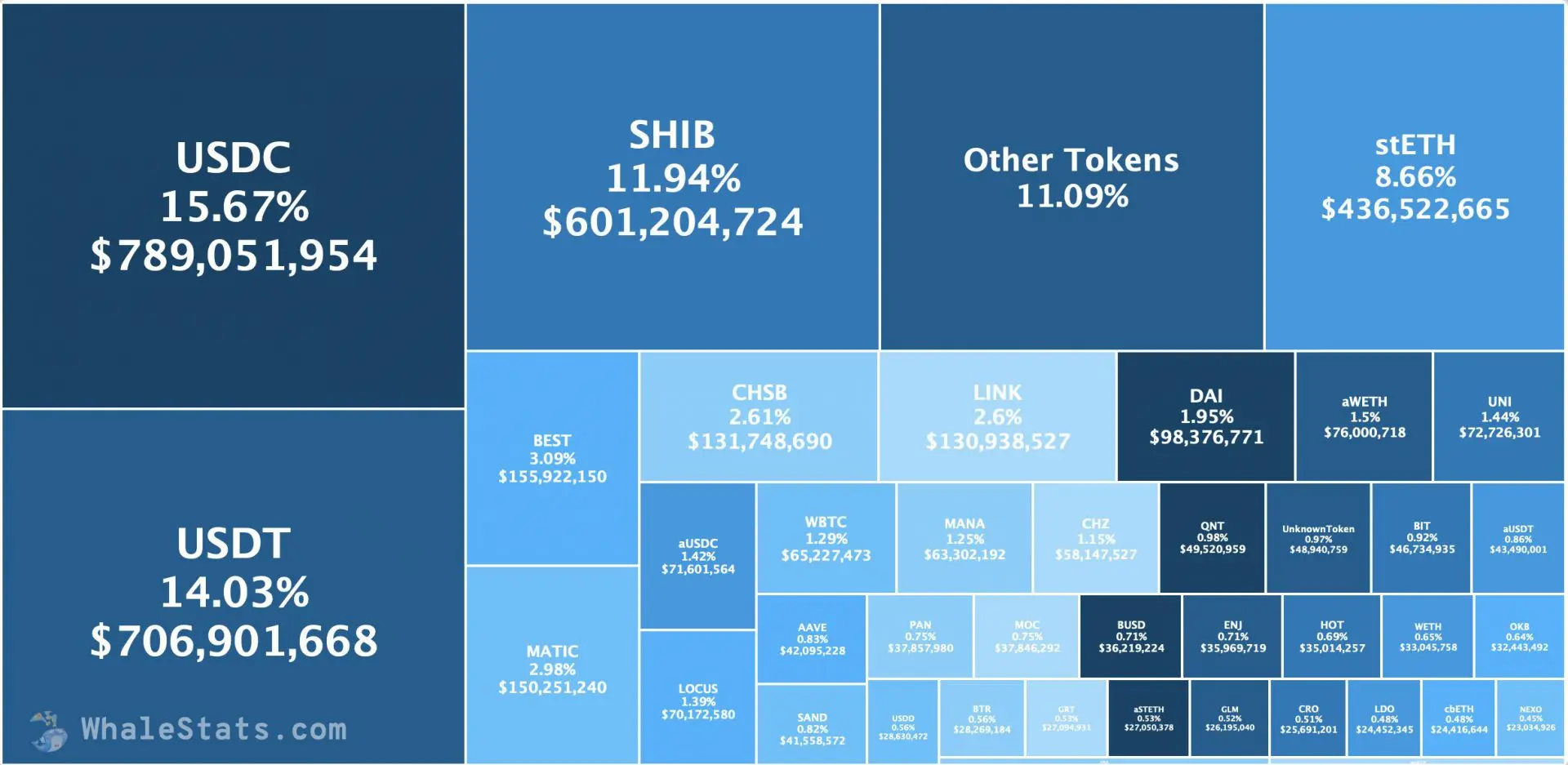 The whale holdings prove that SHIB is the most popular asset among large Ethereum wallets.
Shiba Inu devs reveal a new comic book
The recent whale purchases come amidst Shiba Inu developers teasing the launch of a comic book. The comic book is likely a part of SHIB's "THE SHIBOSHIS" NFT (non-fungible token) collection. THE SHIBOSHIS was launched in October 2021. The collection has 10,000 unique NFTs. The comic book is an attempt for the project to create more utility for NFT holders.
Furthermore, Shiba Inu lead developer Shytoshi Kusama teased the community that he had a surprise for THE SHIBOSHIS holders. Kusama shared a tweet from THE SHIBOSHIS with a caption that said: "interesting."
Moreover, the news has reignited interest in the project. Additionally, some individuals showcased their digital collectibles on the Shibarium Technologies Discord server. Additionally, the floor price of NFTs in the collection also seemed to have changed as a result of the excitement. The floor price for the NFT collection increased by 9.9% in 24 hours.
At press time, SHIB was trading at $0.00001135, down 1.1% in the last 24 hours.