Shiba Inu has managed to steal the spotlight yet again. Latest on-chain data has indicated that new wallets have acquired more than 18 billion tokens in the past two weeks. This surge in activity underscores the enduring popularity of the asset.
These intriguing findings have emerged from data provided by NerdBot, an analytical resource specializing in on-chain data. NerdBot's latest discoveries reveal a consistent pattern of accumulation among newly established wallets, signaling a growing interest in Shiba Inu. According to this data, the trend of accumulation began around Sept. 20. However, between this date and Sept. 24, the rate of accumulation remained relatively modest, with daily cumulative purchases consistently falling below 500 million SHIB.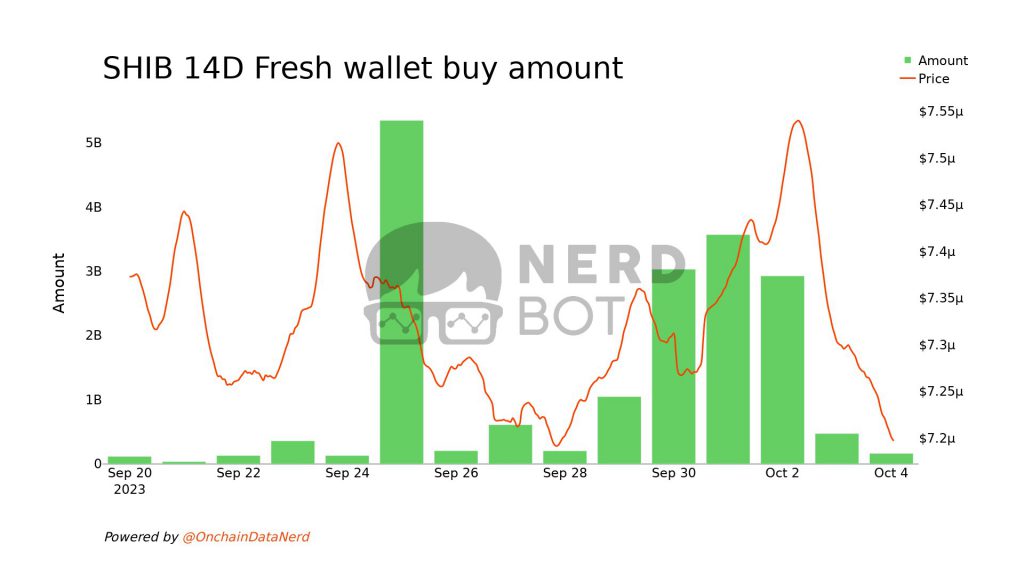 A notable turning point occurred on Sept. 25 when Shiba Inu witnessed a substantial spike in accumulation, surpassing 5 billion tokens in a single day. This significant increase might indicate that investors were poised to take advantage of the cryptocurrency's dip. This came after a surge to $0.00000751 the day before, followed by a setback.
The 5 billion cumulative figure recorded on this day represents the highest daily accumulation observed in the past two weeks. Although accumulation remained relatively stable after this noteworthy day, there were occasional dips. However, there was accumulation at times dropping below the 2 billion SHIB mark. Nevertheless, as September came to an end, accumulation regained momentum. It consistently stayed above the 3 billion mark from Sept. 30 to Oct. 2. Despite occasional fluctuations, the most recent data reveals that over 18 billion SHIB tokens have been accumulated in the past 14 days.
Also Read: Shiba Inu: What's the Value of $100 Monthly Investments Since Sept. 2020?
Shiba Inu's exchange outflows surge, is this a bullish feat?
In conjunction with this accumulating trend, data from NerdBot also indicated that exchange net flows experienced a substantial decline. It reached the highest negative value since Sept. 25. Exchange net flows represent the cumulative value of assets flowing into and out of cryptocurrency exchanges on a specific day.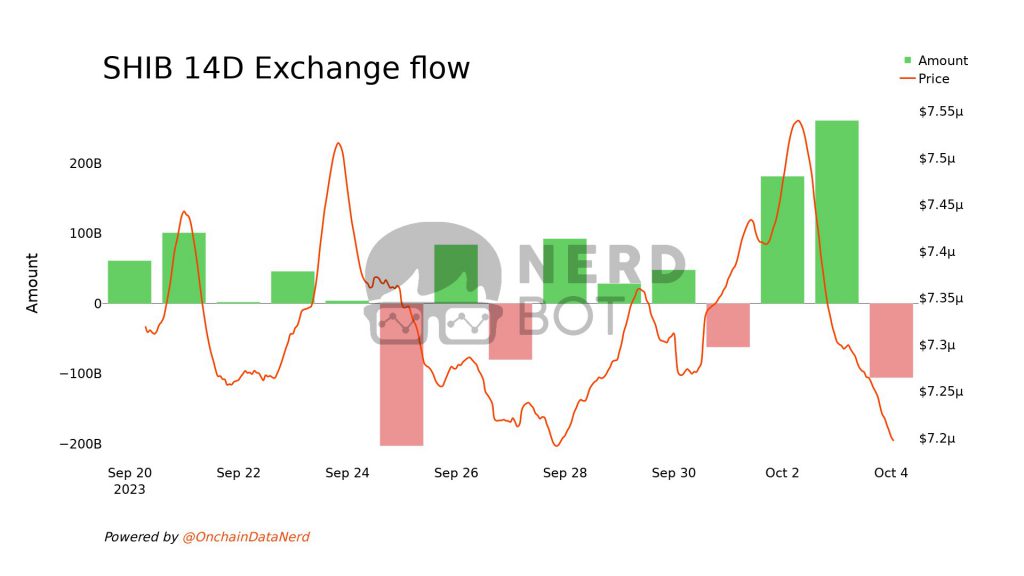 Netflows had stayed in the positive territory for the previous two days before reversing course. Up to this point, the netflows have totaled an outflow value of 120 billion. Conventionally, such a trend is considered to be positive because negative net flows suggest that more investors are moving their tokens out of exchanges. Additionally, NerdBot revealed that a new significant holder, identified as 0xb75, has withdrawn a substantial amount of SHIB. A total of 292.5 billion Shiba Inu tokens left the largest U.S. exchange, Coinbase, in the past three weeks.
At press time, SHIB was trading at $0.000007165 with a 1% daily drop.
Also Read: When Will Shiba Inu Reach 1 Cent?