During a week marked by a remarkable surge in the cryptocurrency market, Shiba Inu [SHIB], the meme-inspired cryptocurrency that has garnered considerable interest, took center stage. Simultaneously, Shiba Inu witnessed a significant increase in on-chain activity which included trading volume. The cryptocurrency wallet addresses facilitating transactions worth over $50 million in SHIB during the same period.
This surge in both trading volume and on-chain activity didn't go unnoticed within the cryptocurrency community. At the time of reporting, SHIB's market capitalization had grown by nearly $300 million between October 23 and October 24. It currently stands at $4.37 billion. This further underscores a clear bullish trend and a prevalent 'fear of missing out' (FOMO) sentiment among investors.
While the increase in trading volume is undoubtedly heartening for SHIB holders, the uptick in on-chain activity is equally noteworthy. A significant increase in whale activity related to SHIB transactions was observed during this period. This was particularly regarding those involving sums exceeding $500,000. These transactions were meticulously monitored through the SpotOnChain platform.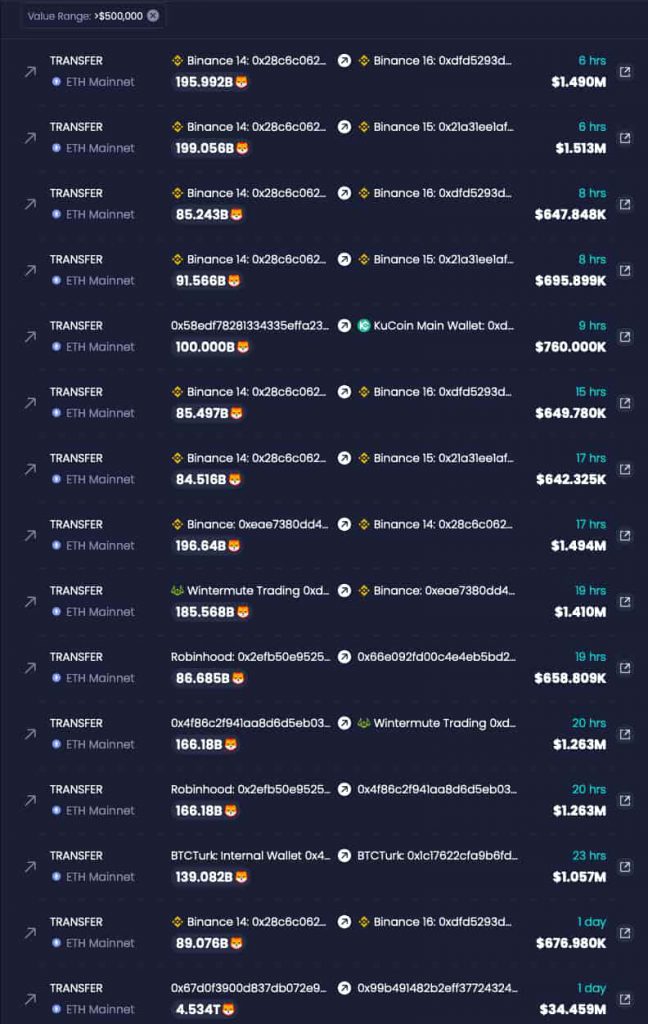 Whales were observed moving a substantial $48.553 million worth of Shiba Inu tokens within a single day. It involved over 6.40 trillion SHIB tokens across 15 transactions. Among the participants in these transactions were major cryptocurrency exchanges like Binance and Kucoin. It also included prominent industry players such as Wintermute Trading, Robinhood, BTC Turk, and a few undisclosed addresses.
Also Read: Shiba Inu: A Driver Makes $1.7 Million With An investment of $650
How is Shiba Inu faring now?
At the time of reporting, SHIB was trading at $0.000007413, indicating a 2.42% price decrease within the past 24 hours. However, over the previous week, SHIB had gained 7.73%. This further came with a 2.4% price appreciation over the last 30 days. This price surge offered a welcome development for the SHIB community, particularly after a challenging period for Shiba Inu holders.
Also Read: Pepe Outperforms Shiba Inu and Dogecoin, Rallies 49%
However, it's crucial to exercise caution during periods of heightened enthusiasm in the cryptocurrency market. FOMO can lead retail investors to enter positions at elevated prices, potentially resulting in financial losses. Additionally, investors need to conduct comprehensive analyses of Shiba Inu's fundamentals and assess the demand for the token to make well-informed decisions.