Lately, the overall cryptocurrency market has been experiencing a positive trend. Almost every asset in the market has been generating profits and recovering from previous losses. Shiba Inu [SHIB], despite previously facing criticism for its stagnant price, has defied this trend and embarked on an upward trajectory.
At press time, the meme coin was trading at $0.000007347, reflecting a daily increase of 3.27%. Shiba Inu experienced a significant surge, rising from a weekly low of $0.00000652 to a high of $0.00000744. This remarkable growth brought much-needed relief to the SHIB ecosystem, as holders who had previously incurred losses were finally able to gain some profits. Data from IntoTheBlock indicates that the profitability rate of SHIB reached 11%. However, it is important to note that despite this positive development, a substantial 84% of holders still find themselves in a loss-making position.
In a similar vein, the market capitalization of the asset also experienced a rebound. Concerns arose among many about SHIB potentially dropping out of the top 20. Nevertheless, SHIB's market cap successfully climbed to $4.33 billion, restoring the asset's position to 17th place.
Shiba Inu and its potential hurdles
Despite the asset's price growth, there are persisting concerns about potential challenges ahead. Recent analysis suggests that the meme coin may face three significant obstacles in its path.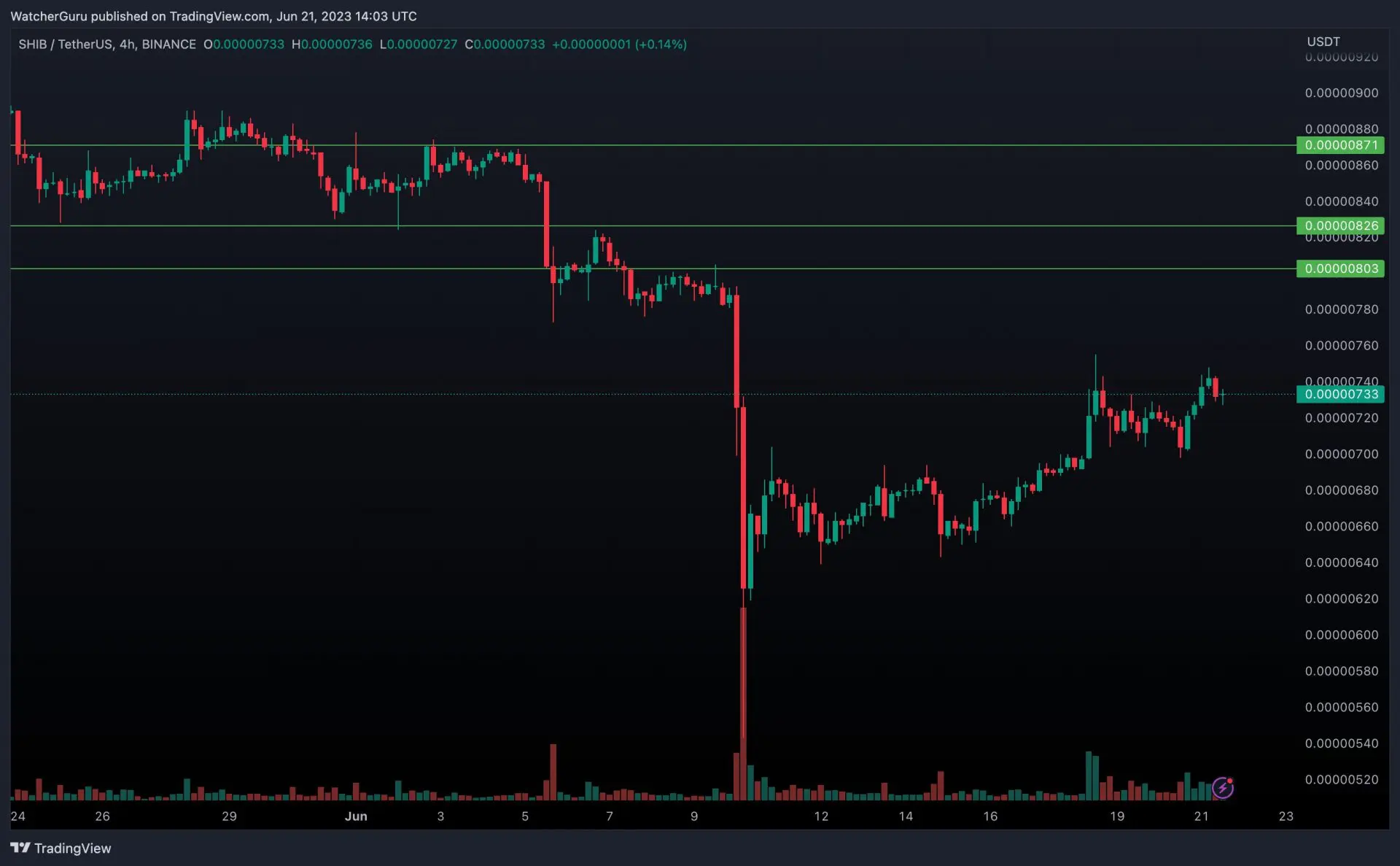 The chart displayed above illustrates the nearest resistance level, which is situated at $0.00000803. Following this level, two additional resistance levels are identified at $0.00000826 and $0.00000871. These three levels have consistently acted as significant barriers in the past few weeks.
Should Shiba Inu successfully surpass these levels and sustain its positive momentum, it would enhance the likelihood of achieving a significant milestone—specifically, the potential for a "deleting a zero" event. This would additionally put more SHIB holders in profit while bringing down the percentage of those facing a loss.