Large and mid-cap altcoins have significantly lost value over the past few hours. At press time, Solana was down 5% on the daily, while Dogecoin had depreciated by 8%. Amid the price dip, SOL managed to flip DOGE on the market cap front. The gap started widening right after, with Solana's lead accelerating to $220 million.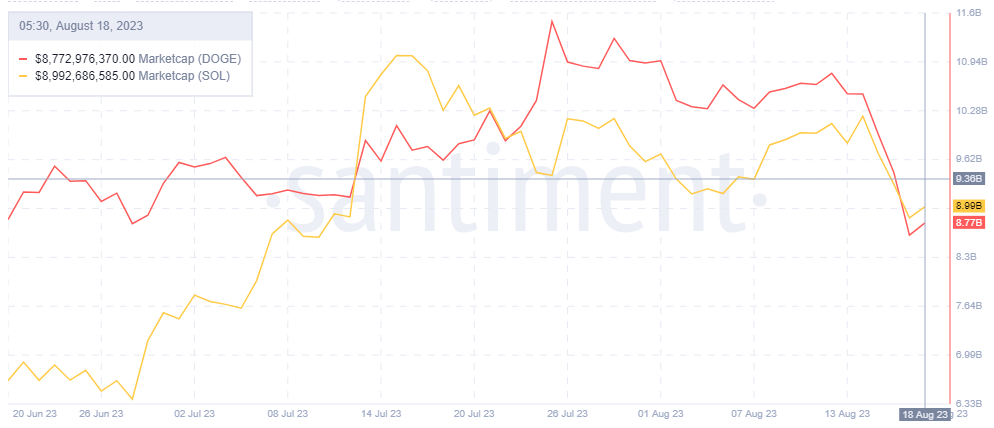 Also Read: $1 Billion Wiped Out Of Crypto Market Amid Bitcoin, Ethereum Crash
Solana recently became the most liquid altcoin on Coinbase. It recently crossed the $3 million threshold, as DOGE was trying to establish a foothold at around $2.5 million. Other altcoins like MATIC and XRP were seen struggling around the $1 million mark. Increased liquidity usually connotes increased market participation. It also means that an asset can be bought and sold without causing significant price movements. Thus, when compared to Dogecoin and other assets like XRP and MATIC, Solana suffered relatively fewer losses.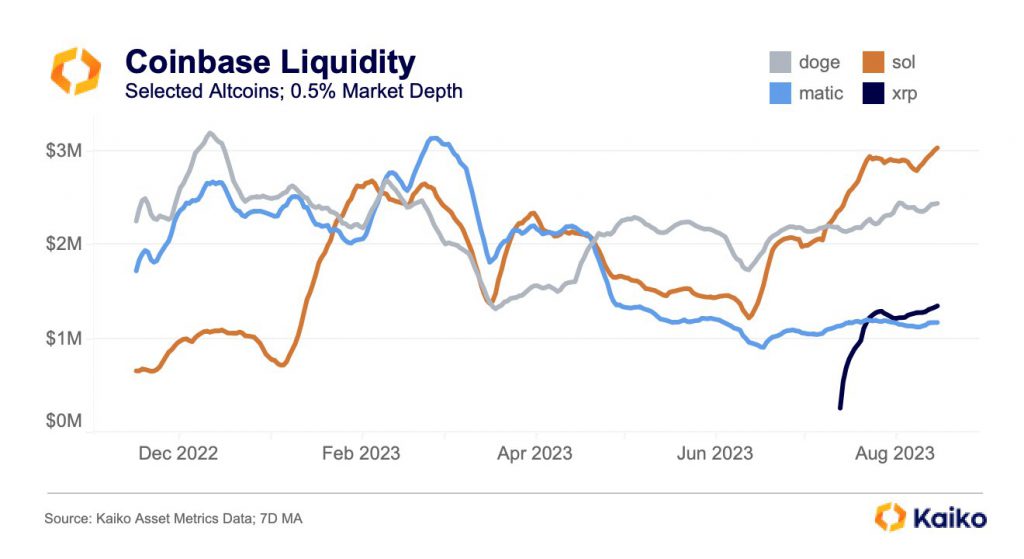 Also Read: Ethereum: Whale Dumped $41 Million ETH Before Crypto Market Crash
Will Solana Be Able To Continue Dominating?
There are several fundamental weaknesses surfacing for Solana at the moment. So far in August, the new addresses added to the network [1.45 million] are not even half of what was added in July [3.27 million].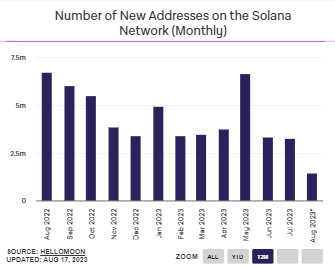 Parallelly, users have started suctioning out funds from the protocol's DeFi ecosystem. On August 15, Solana's TVL stood at $327.1 million. However, data from DeFiLlama pointed out that the number had now shrunk to $308.9 million. Thus, in just two days, users have removed $18.2 million worth of funds from Solana. Thus, with new users being reluctant to join the network and DeFi participants pulling out funds, Solana could find it tricky to continue asserting its dominance.
Also Read: Coinbase: Base Scammers Earn $2 Million Profit From 500 Scam Tokens