According to a report by Morgan Stanley, the stablecoin market cap is shrinking again. The financial giant's report highlights that the contracting market cap of the two largest stablecoins, Tether (USDT) and USD Coin (USDC), is a sign that the crypto market's quantitative tightening has begun.
Morgan Stanley's report said that the shrinking market cap of the two largest stablecoins paused briefly in mid-August. However, the process has begun once again. The market cap is about 10% lower than what they were in April, which was its peak.
According to the bank, stablecoin availability and demand are indicators of cryptocurrency market liquidity and the need for debt. The crypto version of quantitative tightening occurs when market capitalization declines.
Furthermore, the bank observes that fluctuations in USDC's market capitalization appear to be two months ahead of price movements for Bitcoin (BTC). This could be because of stablecoins being lent against by crypto firms to buy other cryptos, the bank highlighted.
Why are stablecoin market caps contracting?
The Federal Reserve Chair, Jerome Powell, stated that interest rates will continue to rise in attempts to curb inflation. Increased interest rates have hindered investments in crypto projects in general. Moreover, Senator Elizabeth Warren believes that the FED's moves will tip the economy into recession.
According to Morgan Stanley, lending on decentralized finance (DeFi) networks has decreased by 70% this year.
Additionally, a JP Morgan report found that stablecoin issuers hold more US debt than Berkshire Hathaway. As of May 2022, stablecoin companies Tether, Circle, and others held $80 billion in short-term U.S. government debt.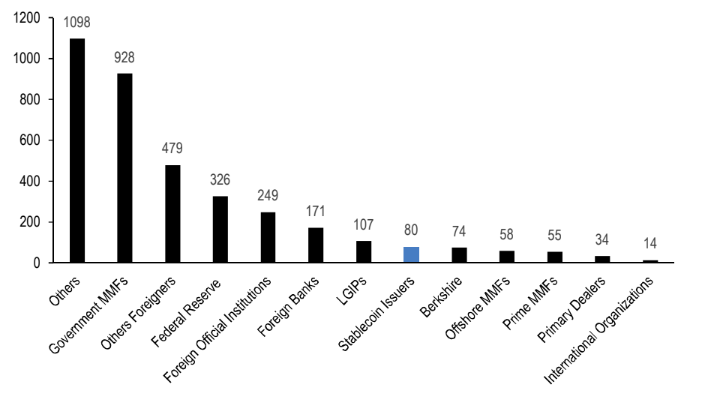 JP Morgan further highlighted the falling dominance of Tether (USDT), as compared to USDC.
The bank stated,
"Market confidence in Tether as a stablecoin has been gradually eroding, with the events over the past few months accelerating that dynamic."
The bank claims that the greater transparency and asset quality of USD Coin's reserve assets have been one of the main forces for the transition.
Nonetheless, according to a Forbes analysis, stablecoins continue to top spot-Bitcoin trading activities. USDT is currently the biggest, followed by the US Dollar.