Similar to other currencies, Stellar has encountered a series of fluctuations in recent periods. Nonetheless, the beginning of this trading week appears to have revitalized XLM. The remarkable 10% surge witnessed today has captured the attention of traders and investors, igniting conversations regarding the cryptocurrency's forthcoming potential.
At press time, the asset was trading at $0.1232, with an 8.36% daily surge. Through this, Stellar is clearly reaffirming its presence in the cryptocurrency market. This particular price level carries significance as it signifies a substantial rise from prior levels.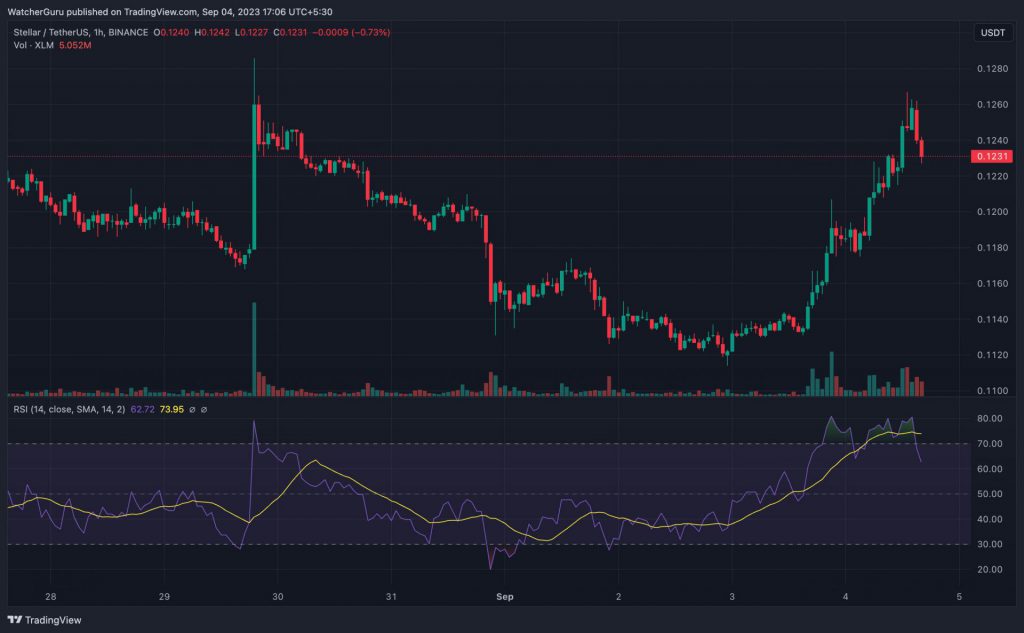 The uptrend is clearly visible when examining the asset's one-hour chart. Furthermore, the Relative Strength Index [RSI] indicator signaled that there is currently heightened buying activity in the asset. The RSI indicator has remained in overbought territory throughout the day.
The latest price surge in XLM coincides with a tweet or social media post from the weekend, alluding to an upcoming announcement scheduled for ten days from now. The post encourages its audience to prepare for a significant shift that has generated excitement among all involved.
Also Read: XRP, Solana, Stellar Crypto Products See Upto 60% AUM Hikes
XLM persists in its negative funding rate
The latest surge could also align with findings from a recent Santiment report, which emphasized that the asset has been experiencing heightened bearish sentiment and increased pressure from the crypto community to engage in short selling. Santiment said,
"Stellar is the notable asset that is showing mini breakout potential. XLM is an asset that has been consistently shorted by the crowd, and liquidations could pump up the price."
However, funding rates have been negative in the XLM market. This further highlighted the prevailing bearish sentiment in the cryptocurrency market during the time frame. This bearish inclination is further corroborated by the decreasing Open Interest rates that were observed. These trends indicate a decline in demand for XLM that began in August.

At present, the XLM OI-weighted funding rate stands at -0.0269%. A negative funding rate signifies bearish sentiment, suggesting that short positions hold more dominance. Hence, the recent rise in XLM's value appears somewhat unstable since it is primarily driven by hype.
Also Read: Stellar Correlation With XRP Tightens: 40% Bets 'Bullish'