Despite the effect the pandemic had on most currencies, Bitcoin has been on a massive bullish rally. Its prices soared in February when Tesla announced that they had bought $1.5 billion worth of Bitcoins. Also, the company said that they would start taking Bitcoin payments. This announcement caused the price of Bitcoin to almost double.
After two months of the announcement, Tesla announced that it had sold 10% of its Bitcoin holdings. This summed to more than $100 million. In May, Tesla boss Elon Musk gave Bitcoin a whiplash by announcing his company will no longer accept Bitcoin payment. The prices of Bitcoin reacted to this news by dropping by more than 50%. Since then, the prices have been struggling to return to the all-time high of $63 000.
Let's look at how much Tesla's Bitcoin holding's worth.
Tesla Announces its Q2 Digital Holdings
Tesla released a report of its second-quarter earnings on Monday. The report shows that the electric vehicle manufacturer has a net value of $1.311 in its digital assets. This is several million lesser than its initial Bitcoin value that was about $1.5 Billion worth. Is Tesla making losses?
In depth Look at Tesla's Bet on Bitcoin
Tesla purchased $1.5 Billion worth of Bitcoin in March. It then recorded $101 Million in profits from Bitcoin sales in the First Quarter. The Q1 statement shows that Tesla sales had proceeds of about $272 million. This means that Tesla sold products worth $171 million for $272 million, making the $101 million profit. At the time of this sale, the price of Bitcoin was about $55 100. To do $272 million in sales, Tesla has to sell around 4800 Bitcoin. Since Tesla's initial Bitcoin investment was $1.5 billion, which is about 4300 Bitcoins, it remains with about 38300.
In April, the prices of Bitcoin rallied to $54 000, raising the value of Tesla's Bitcoin assets to $2.07 billion. This is a profit of about $741 million from the price rising. Adding the previous $101 million gain from March sales gives Tesla a profit of $842 million.
In the same month, Bitcoin hit its all-time high of $64 000. Tesla made a profit of almost 1.5 billion dollars in its Bitcoin holdings.
After Tesla stopped taking Bitcoin payments, the prices went bearish to as low as $29 360. Tesla lost its $ 1.5 billion profit. The Bitcoin prices have struggled to reach the all-time high. June 30th, the end of the quarter, Bitcoin price had moved to $35 041, taking the value of the Bitcoin assets to about $1.3 billion.
Tesla's $1 Billion Bitcoin Value
As of today, the prices of Bitcoin have been bullish. By mid-October, Bitcoin was trading at about $57 223. Since Tesla holds about 38 300 Bitcoins, its value is about $2.19 billion. This is $1 billion in profit.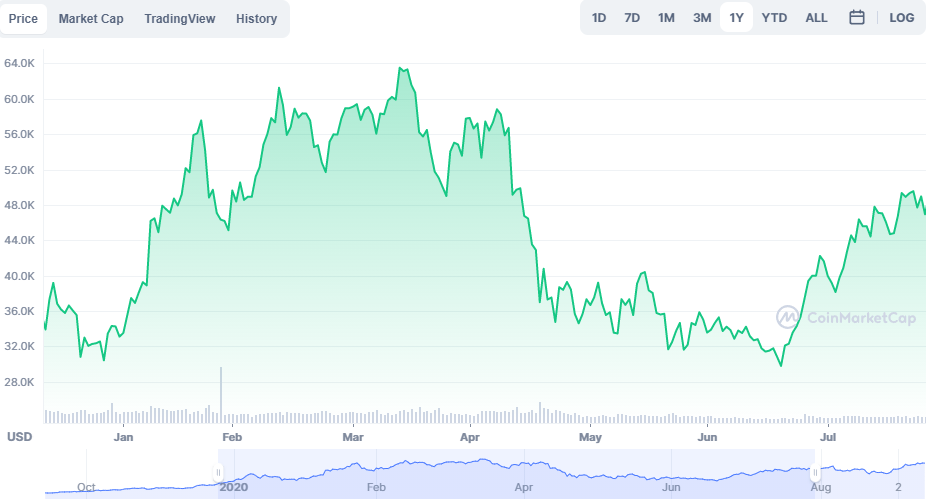 If the prices continue to be bullish and break the high of $64 000, then Tesla will add more billions in its earnings. Analysts predict that Tesla might see a better Q3 which will pump its profits even higher. If we are to follow the current Bitcoin trend which is showing to be bullish then Tesla will make even more billions in Bitcoin profits in the coming quarter.