After the weekend crash to $19.5k, Bitcoin has started recovering. On Tuesday, it was comfortably trading above the psychological $20k benchmark, post noting a 2.3% incline over the past day. However, on the extended timeframe, Bitcoin is yet to negate its losses. Over the past 7-days, for instance, the largest asset was down by almost 3% at press time, while on the monthly, it was down by 13%.
Institutions selling Bitcoin?
Downtrend phases are usually considered to be a great time to accumulate cryptos like Bitcoin. Institutions, however, haven't necessarily been doing so. Per CoinShares' latest weekly report, digital asset funds noted negative flows. The same now marks three consecutive weeks of outflows, summing up to $46m. Per CoinShares,
"While history indicates this is in part due to seasonal effects, we believe it also highlights continued apathy following recent price declines."

As illustrated below, Bitcoin was almost the only the focus of the outflows. Conversely, short Bitcoin products have noted additional demand in the said period. Outlining the implication of the same, CoinShares noted,
"Both imply minimal but continued caution from investors which we believe is due to the ongoing hawkish rhetoric from the US Federal Reserve."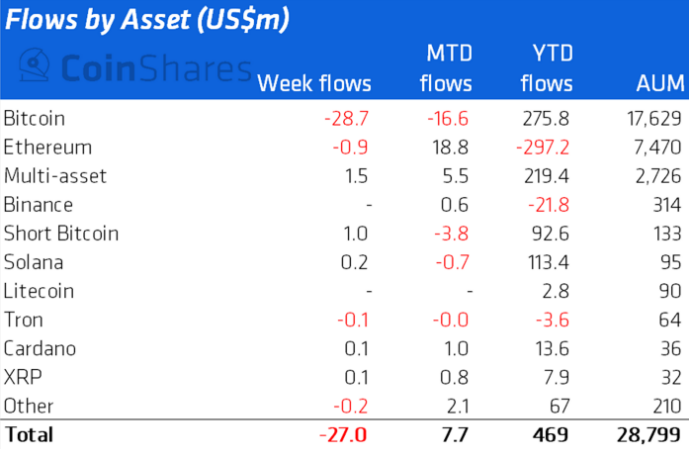 Whales shuffle, accumulate
A day back, a particular dormant whale shuffled nearly 5001 BTC from the original wallet to a new wallet. Per Colin Wu, the floating profits of the same currently stand around $96 million.
Alongside, there were also three Bitcoin addresses of the same origin—two with a balance of 5,000 BTCs and one with 6,071 BTCs. Until yesterday, they hadn't yet been transferred. However, during the early hours of Tuesday, a shuffling happened. Chalking out the same, Colin Wu tweeted,
"Another address holding 5,000 bitcoins transferred bitcoins out at 00:41:07 a.m. (UTC+8) on August 30, worth about $100 million, and has since split into multiple 148 BTC transactions."
Leaving aside these shufflings, large Bitcoin addresses have collectively been on an accumulation spree. As highlighted in an article yesterday, the Bitcoin ecosystem has witnessed a surge in whale addresses over the past month. Addresses HODLing 100-10,000 BTC have jumped to 15,847, with 103 added over the past 30-days.
Read More: Bitcoin shaves 20%, but Whales might be on a recovery mission
Retail observes
Retail participants, however, seem to merely be observing the show from the sidelines. Per ITB's data, the balances of addresses HODLing <1 Bitcoin have collectively remained flat of late, signaling that this genre of participants are waiting for a recovery sign before stepping in.

Footnote
As highlighted, participants are clearly divided at this stage, and there's no explicit common trend in play. Right from accumulating to selling, and shuffling—everything is happening within the ecosystem.
However, there's one common thread. Despite following different trends, the profitability numbers are on the fall. At press time, the number of addresses in profit had reached a 1-month low. Goes without saying that the same is bleak from the RoI point of view.