The U.S. Dollar and Bitcoin have been moving in inverse directions. Throughout 2022 as Bitcoin shed value, the U.S. Dollar index grew stronger. Interestingly, the DXY's 2023 high nearly coincided with Bitcoin's 2023 low. According to the thumb rule, Bitcoin tends to benefit from a weak greenback. Usually, DXY's downtrend helps strengthen Bitcoin's value, and vice versa.
Can U.S. Dollar Help Bitcoin Rise Like a Phoenix?
Over the past few months, a few interesting trends have been observed on the DXY and BTC charts. Primarily, both assets have been trading within a horizontal channel. While Bitcoin stepped into it by mid of last year itself, the Dollar Index caught up a few weeks later.
In Q1, whenever DXY was seen trading around the ceiling of the setup, Bitcoin had been hovering around lows [1]. Contrarily, whenever BTC traded around the roof in the April-May period, the DXY ended up creating lows [2]. Now, the Dollar is trading below the setup as observed in the chart. This bearish movement opens up the door for significant losses. Contrarily, Bitcoin has been attempting to break above the upper trendline. So, if the momentum follows through, we may witness another upward trend for BTC.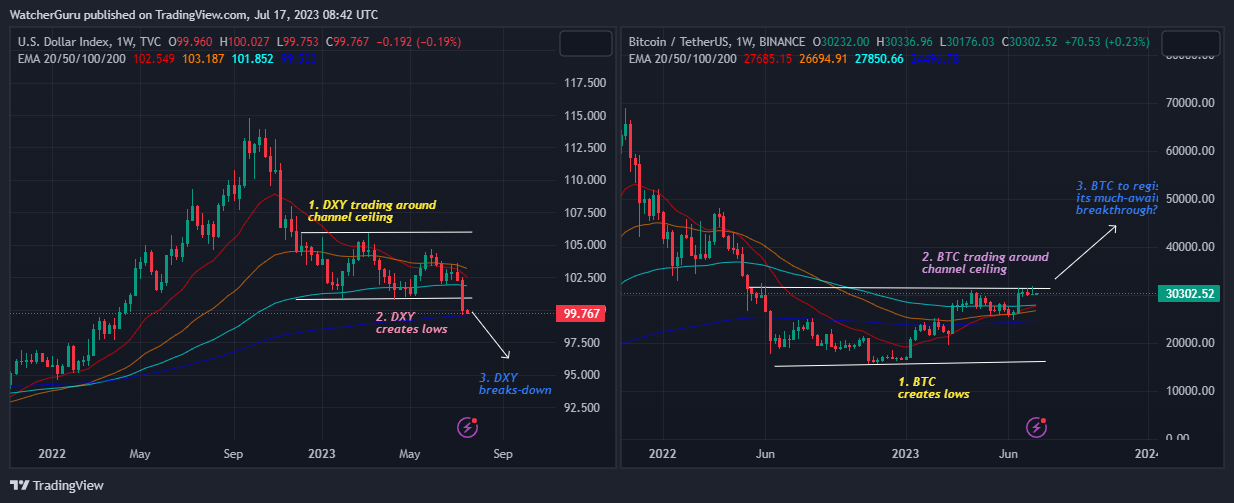 Also Read: Ethereum: Users Holding 1000+ ETH, Drops to 5-Year Low
Market Pulse Check
Before jumping to conclusions, it is essential to keep in mind the current market conditions and sentiment. Over the past few weeks, the market has seen several bullish catalysts, including the BTC ETF filing spree and the Ripple case verdict. Several records were created initially, because of the rallies that unfolded. However, most of the excitement seems to have fizzled out.
Bitcoin's stablecoin supply ratio [SSR] recently created a 2023 high but right after, a pullback was observed. Such conditions are usually looked forward to during periods of recovery. The SSR basically compares the coin's market cap against the aggregated market cap of all stablecoins. Usually, low SSR values are deemed to be healthy, for they indicate a high stablecoin supply.
Thus, it can be contended that the current downward deviation is typically setting the stage for the buying pressure to re-sprout, making way for a potential price breakthrough. However, a proper turn-around from Bitcoin can be expected only when the downtrend on this front solidifies.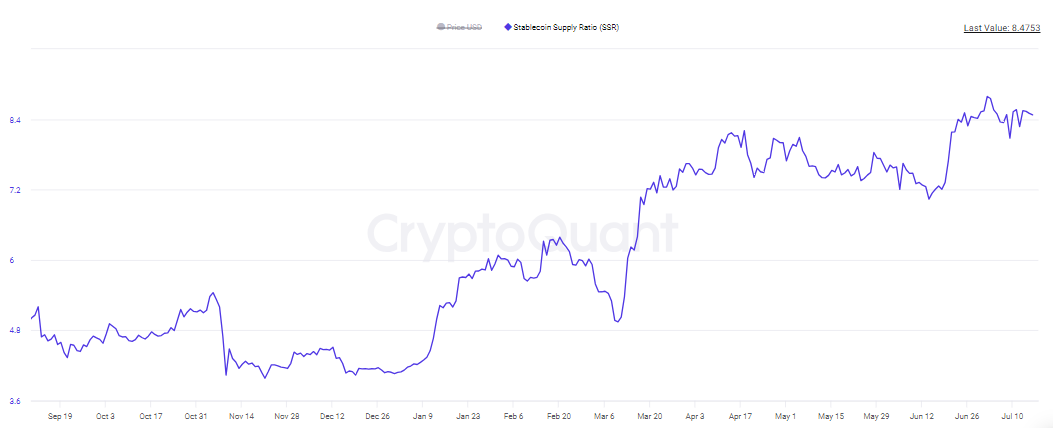 Also Read: Solana, Cardano, MATIC Rally Upto 50% Post XRP Ruling