Despite being in the midst of a banking crisis, Bitcoin has been able to fare well and gradually rise up on its charts. In fact, the largest crypto's dominance as a percent of the total crypto market cap has risen from the end of February's 43.9% to 47.7% at the end of March. Reasoning out why, a recent Coinbase research analysis noted,
"Part of the reason is that the stress in the banking system reinforced bitcoin's "store-of-value" properties. That is, because bitcoin largely exists outside of the traditional financial system, it offers a hedge against current conditions."
Alongside, it should be noted that the U.S. Dollar Index continues to be on a macro-downtrend, despite the brief recovery noted from early February to early March. Bitcoin, on the other hand, had quite a fruitful Q1 and has been gradually inclining. In fact, the U.S. Dollar Index's 2023 high nearly coincided with Bitcoin's 2023 low.
Thus, the converse trends clearly bring to light to the inverse correlation that DXY and BTC share. In fact, according to the thumb rule, Bitcoin tends to benefit from a weak greenback. Thus, it can be said that DXY's downtrend also ended up strengthening Bitcoin's case, alongside the macro turmoil.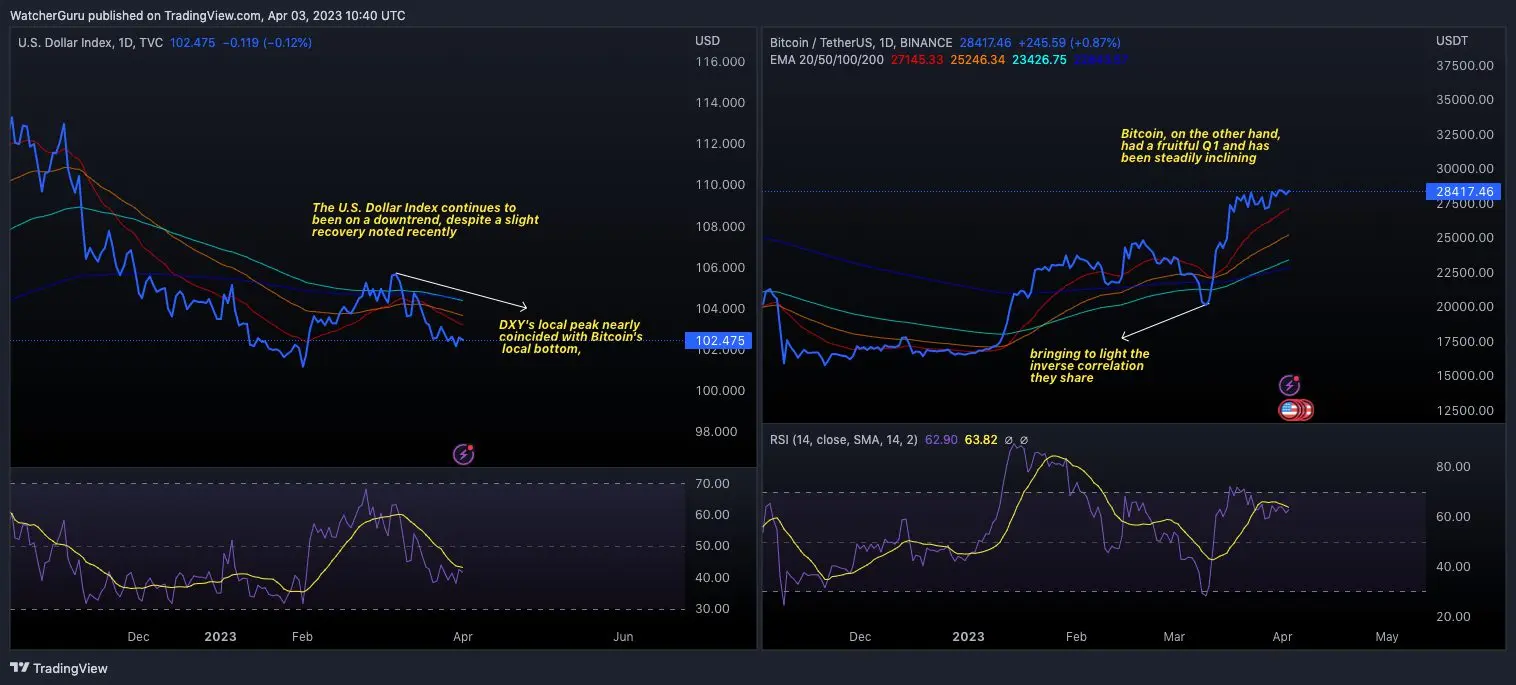 Also Read: Eclipsed by Ethereum, McDonald's Shuts U.S. Offices Temporarily, Preps for Layoffs
The correlation factor
It is interesting to note that the S&P 500 Index and Bitcoin's correlation has dropped significantly over the past few weeks. According to Coinbase,
"Bitcoin's correlation to US stock returns (proxied by the S&P 500) has fallen from a peak of 70% in May 2022 to 25% as of March 30 (i.e. relatively uncorrelated)."
Over the past month, the stock index has merely risen by 1.5%, indicating that the decoupling is perhaps been a boon for Bitcoin.
Bitcoin's other crypto peers, however, haven't essentially been tagging along. According to Coinbase, this could be because of concerns about the official status of other tokens. The security vs. not a security debate remains to be evergreen. While XRP's case against the SEC seems to be on the verge of wrapping up, other prominent companies from the space continue to be scrutinized. Only with an official ruling would some sort of clarity be established.
Alongside, Coinbase noted that non-Bitcoin cryptos have not been riding the same wave due to "thinner liquidity" issues. In fact, this remains to be a concern for many regulators around the world.
Also Read: U.S. Failed At Regulating Crypto: People's Bank of China Official