The crypto community has been eagerly awaiting the final verdict in the SEC v. Ripple lawsuit. The case was initially filed by the regulatory agency back in December 2020. According to Attorney John E Deaton, the Judge's ruling could come down "within the next few weeks." In fact, he also pointed out that a ruling be passed as early as "this week" too.
Also Read – Ripple's Policy Director: 'Clickbait Headlines' From Regulators Is Not Enough
Over the past few days, XRP has been defying the broader correction spree and has been registering green candles on its price charts. In fact, it emerged to be a top gainer a couple of times last week. Alongside, even institutions have been accumulating XRP, over other top cryptos.
At press time, the social sentiment associated with XRP was quite positive. The social mentions and engagements have inclined by 13.6% and 53.2% respectively over the past week. Moreover, the bullish sentiment has glided up by 22%, while the bearish sentiment has shrunk down by 31.2%, bringing to light the community optimism.

Also Read – Ripple CEO: SEC's Enforcement Actions Are 'Not Healthy'
XRP 'returns'
XRP's price has seen a steady incline over the past fortnight. Since mid-March, the $24.05 billion market-capped asset has noted a swift 32% incline. If the bullish momentum and buy pressure persist, XRP would be able to break past its immediate test levels and head toward creating new local highs.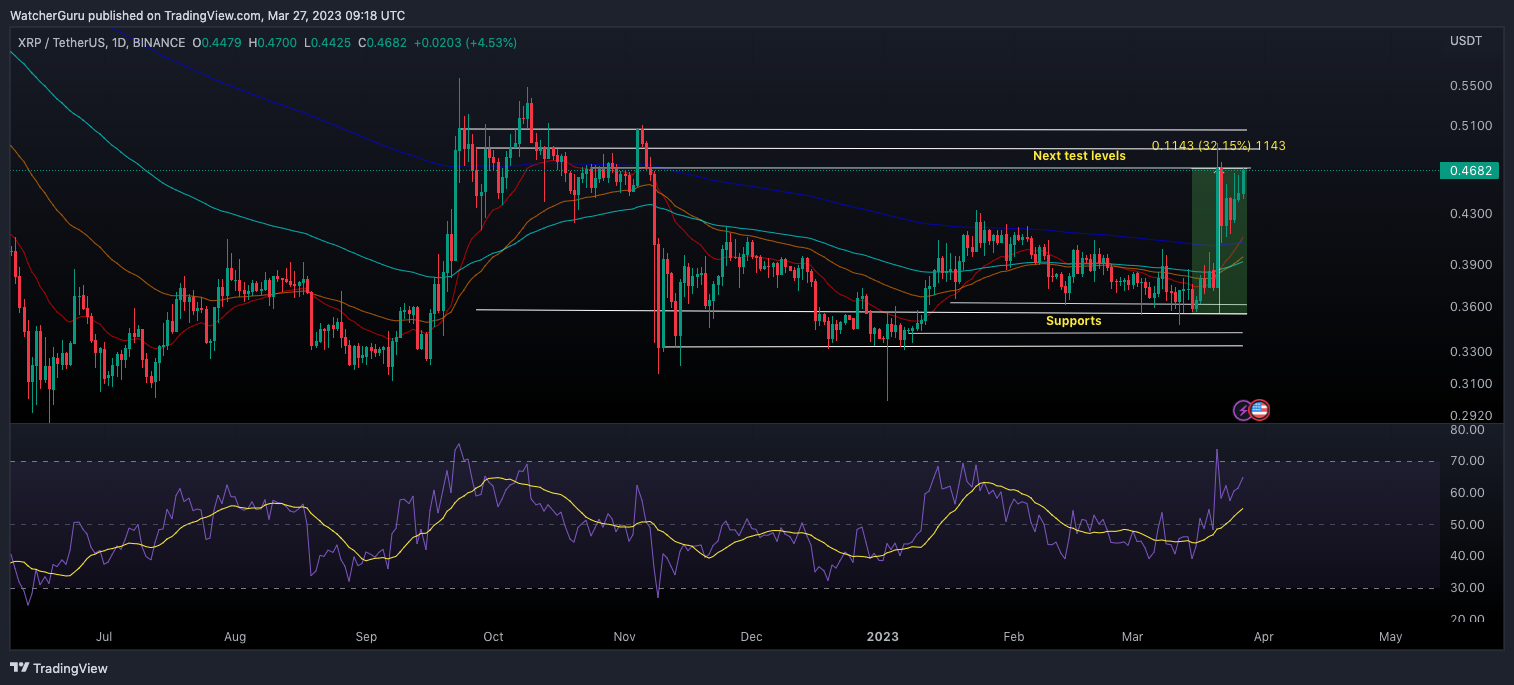 Also Read – Ripple: NFTs on XRPL Increased Txns by 3M
Investors, at this stage, are in quite a comfortable position. XRP's Sharpe Ratio has gradually registered an uptick over the past few days, bringing it up to 2.5. Simplistically, this metric helps in gauging the rewards earned by investors against the risk borne.
For context, Ethereum's Sharpe ratio currently stands at 1.65. On the other hand, for altcoins like Solana and Cardano, the ratio is hovering in the negative territory, around -0.85 and -0.98 respectively.
The higher the ratio, the better, for it indicates that investors are being fetched with significant returns. Thus, XRP seems to have an extra edge over others. In fact, in his tweet, John Deaton went on to acknowledge that XRP's risk/reward ratio is quite attractive at the moment.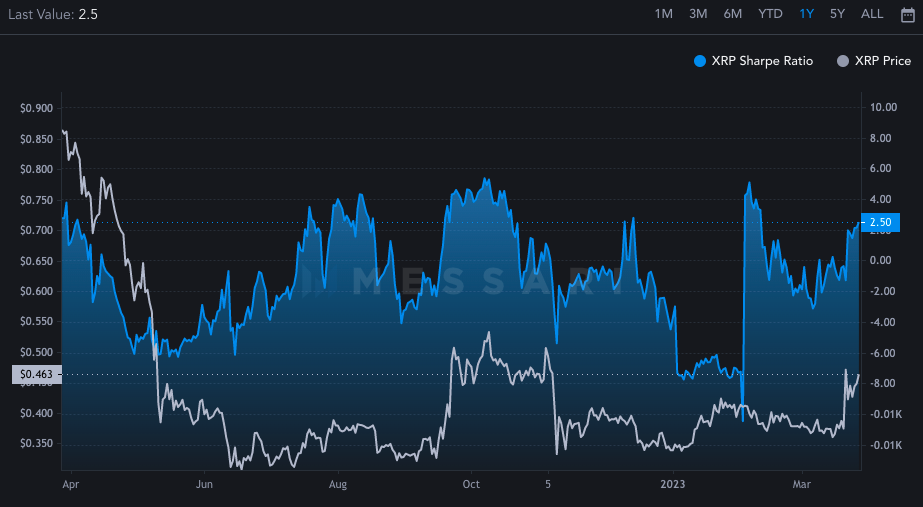 Also Read: 97% of Payment Firms Optimistic About Crypto: Ripple Report