After consistently rising over the past few days and attaining new local highs, the market's top cryptos, i.e. Bitcoin and Ethereum, were seen taking a breather on Tuesday, March 21. The effect of the same was reflected in the global crypto market cap, which was down 1.2% to $1.16 trillion at press time. Barring a few exceptions, most other cryptos followed Bitcoin and Ether's suit and were trading at minor corrections within the 24-hour timeframe.
Also Read: Has Bitcoin Finally Entered Into its Bull Phase?
XRP
On Tuesday, most of the 100 assets were borderline trading in the red. However, XRP was not one among them. At press time, the market's sixth largest crypto was up by around 4.8% on the daily time frame. Like most assets, even XRP recently broke past its downtrend. Using the same bearish trendline as support, the asset recently went on the knock on the doors of $0.4.
The asset's buying momentum has not yet reached its saturation point, for the RSI continues to hover around 55. So, if bulls keep the ball rolling, XRP could end up testing $0.44 after surpassing its 200 EMA [dark blue].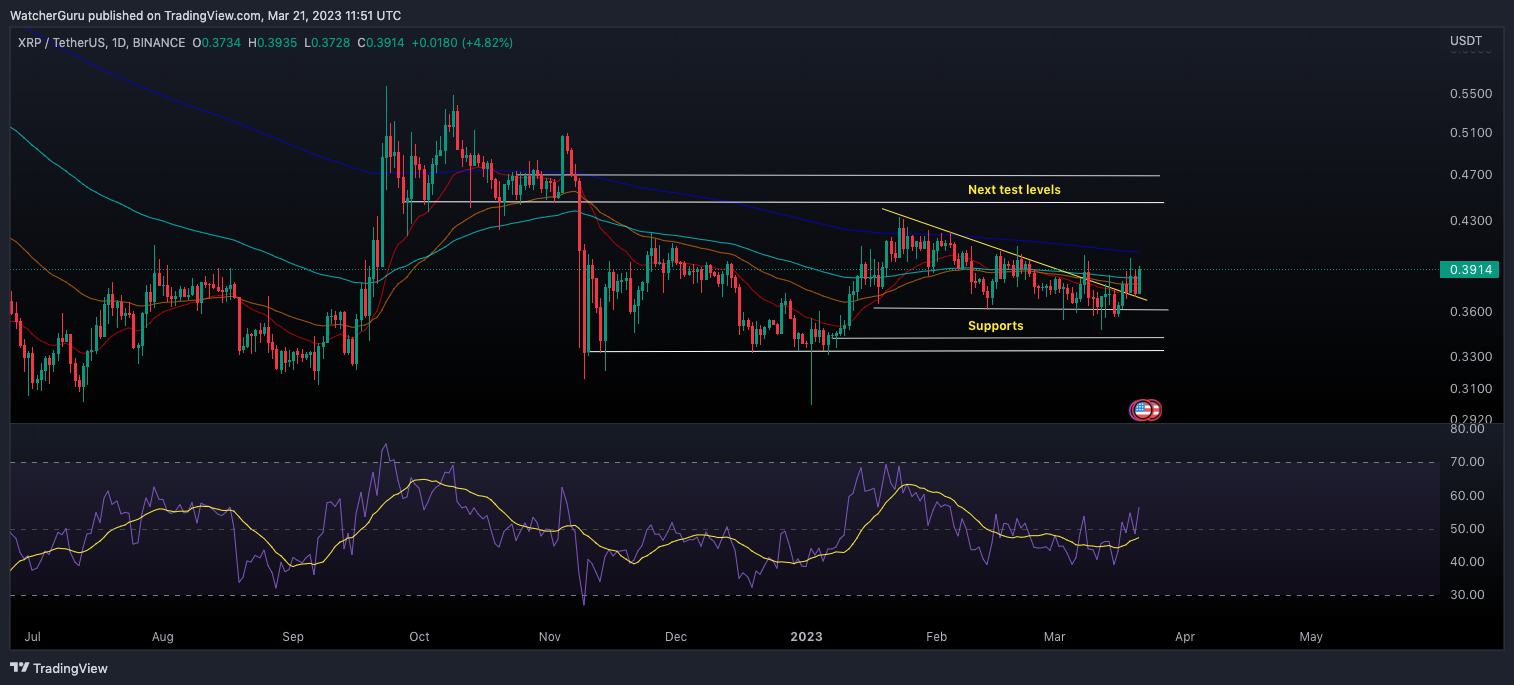 Also Read: Institutions Dump $126 Million Bitcoin & Ethereum But Buy Solana, XRP
Cardano [ADA]
Cardano was another crypto that was trading in the green on Tuesday. At press time, it was up by 2.2% on the daily and was hovering around $0.3394. As shown below, the asset is currently in the midst of a make-it-or-break-it situation.
Over the past few days, the $0.3515 level has acted as a strong resistance and hindered Cardano from rising further. So, if ADA fails to test the level over the next few trading sessions, it could drop down to $0.3261 or $0.3076 to collect liquidity before re-initiating an incline.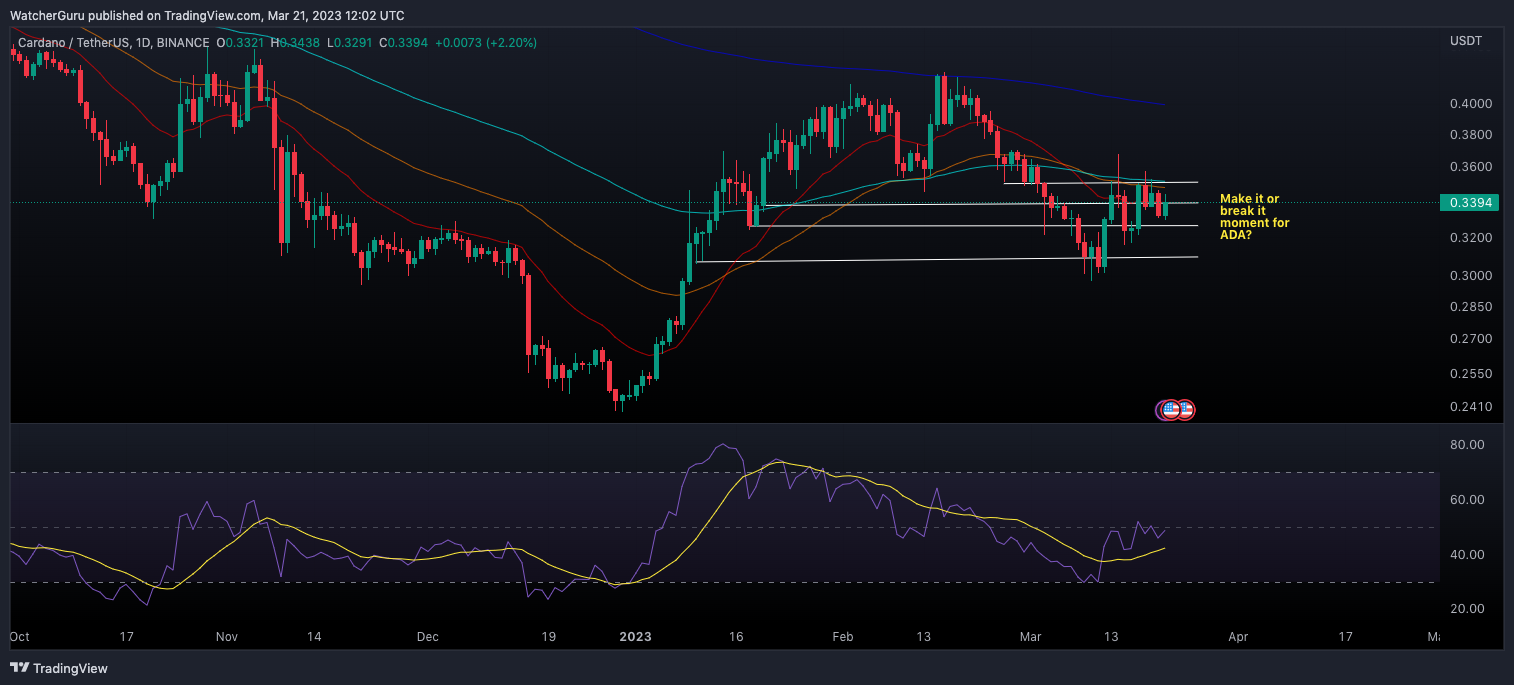 Also Read: Why "Ethereum to $2000" May Soon Become a Reality
Chainlink [LINK]
Chainlink has always been a whale-favorite token. Of late, LINK has been on the radar of large market participants. A recent tweet from WhaleStats revealed that Chainlink made it to the top 10 traded tokens list among the 2000 biggest ETH whales in the last 24 hours.
On one hand, Bitcoin and Ethereum recently clinched new 2023 highs. However, none of the aforementioned altcoins, including Chainlink, have been able to do so. As shown below, LINK is currently being roadblocked by its resistance of around $7.2. In retrospect, it has not yet been able to surpass its Feb. 2023 highs. Post noting a minor 0.6% incline on the daily, LINK was priced at $0.709 at press time.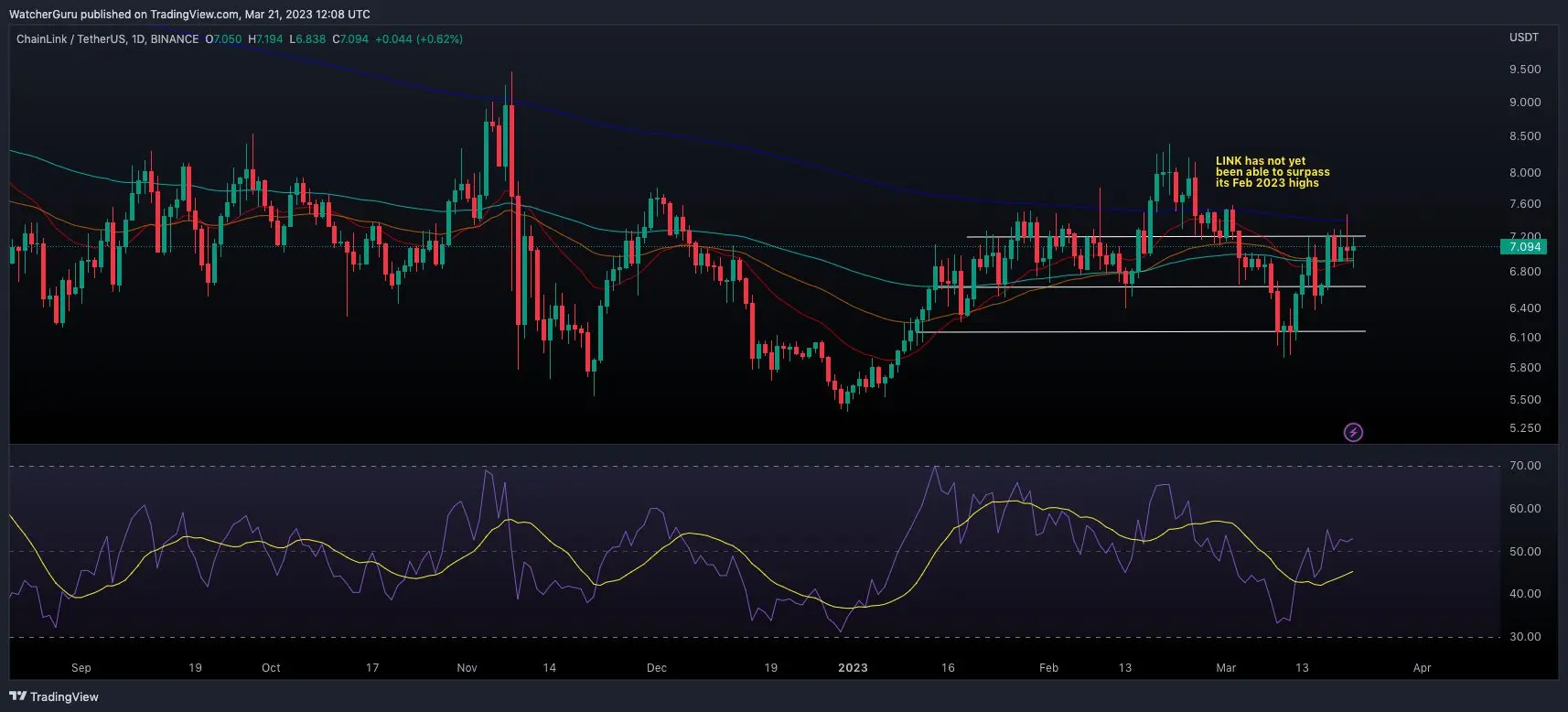 Also Read: Bitcoin Could Reach $100,000 Within 12 Months: Messari Founder