Until a day back, Bitcoin ETFs were the talk of the crypto town. Now, Europe gearing up to launch its first-ever spot BTC fund managed to re-ignite the spark. However, after the verdict in the SEC v. Ripple lawsuit was passed, the narrative shifted to how altcoins are not securities.
Also Read: Europe: First Bitcoin ETF to Go Live After 1 Year Delay
Leaving aside institutional sales, XRP was off the security hook. In recent lawsuits against Coinbase and Binance, the SEC deemed a host of other cryptos to be "securities." The list included several top-ranked assets like MATIC, Solana, and Cardano. However, post the latest ruling, the community has started contending that "SEC cryptos," with similar fundamentals, can also get away with the security label.
In fact, right after XRP, the other three top altcoins on LunarCrush were Solana, Cardano, and MATIC. In fact, even price wise they were the biggest beneficiaries.
Taking inspiration from XRP's pump, Solana rallied the most among other altcoins. Apart from the regulatory catalyst, SOL had also been projecting an "incredibly bullish" setup on its weekly chart that set the stage for its latest ~50% incline. Cardano followed suit and appreciated by almost 33%. MATIC's pump was comparatively less, for it rose up by only 25% on the back of the XRP development. Nevertheless, like COMP, even MATIC has been in a bullish trend, owing to the Polygon 2.0 upgrade.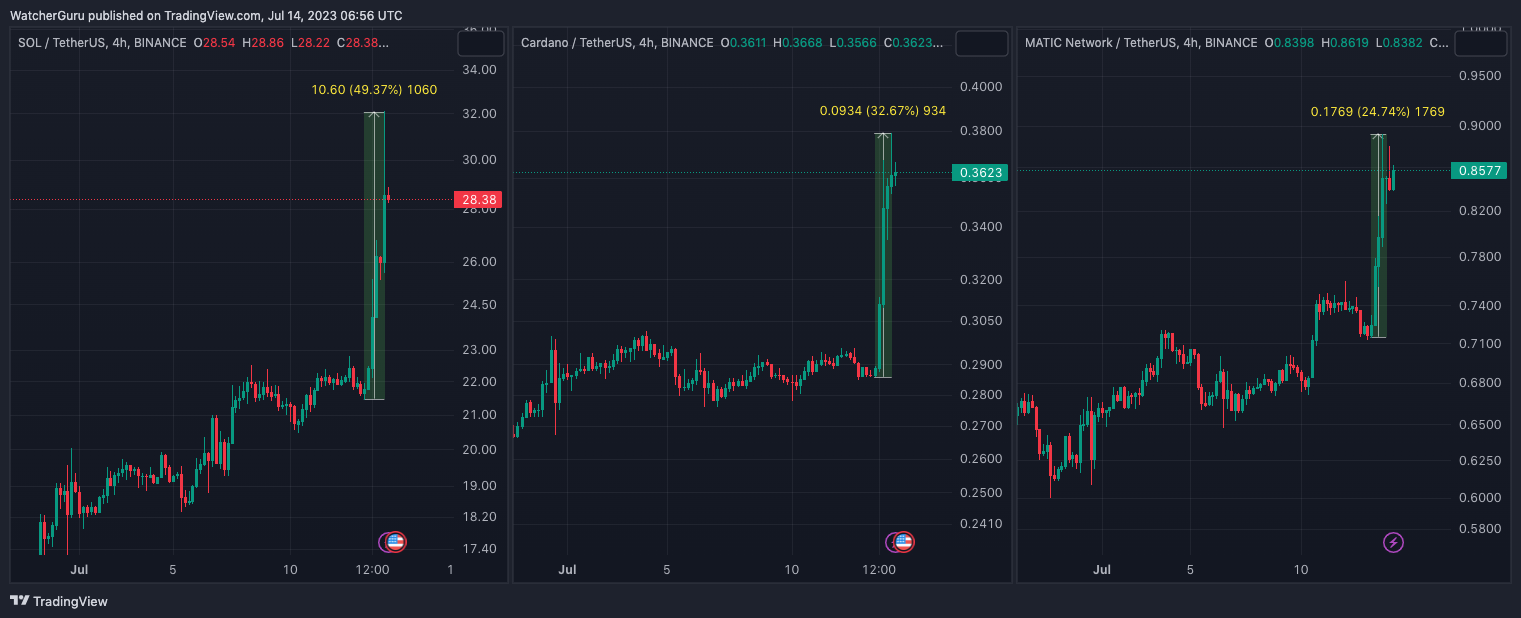 Also Read: Coinbase Volume Spikes to $2.7 Billion: XRP Chips In Only 3%
Bitcoin price creates 13-month high: Dominance dips
Amid the altcoin rally, Bitcoin dominance registered the steepest one-day drop of 2023 yesterday. From a high of 51.55%, BTC.D created a low of around 49.92%. Nevertheless, the latest dip did not pour water over the asset's macro uptrend.
Without stealing XRP's thunder, Bitcoin is playing the underdog game at the moment. For the first time since June 1, 2022, BTC surpassed the $31,800 mark yesterday. Parallelly, mid-tier traders are showing the "greatest" sign of accumulation at the moment. A recent Santiment analysis pointed out that dolphins, sharks, and fishes were "growing" as BTC went on to claim its 13-month high. Cautioning investors, it tweeted,
"Other assets may have bigger returns, but don't overlook BTC's significance."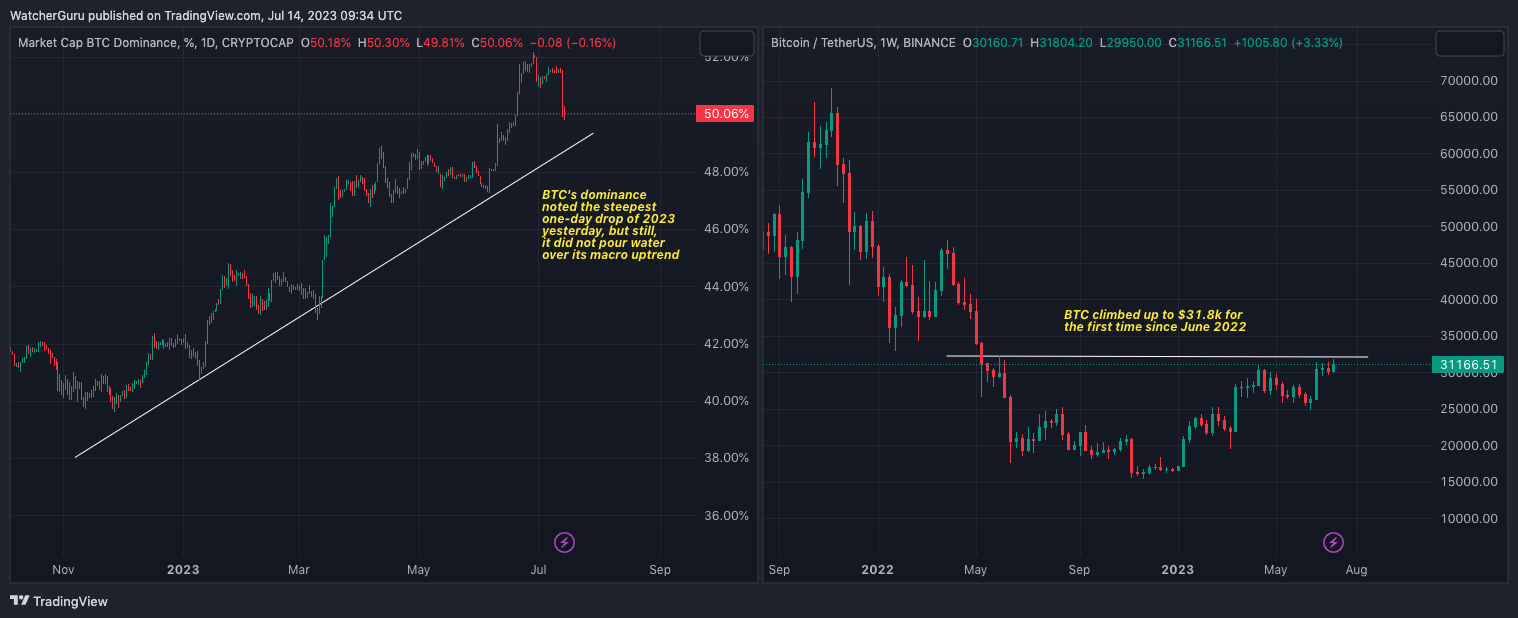 Also Read: Bitcoin: This Could Be Investors' 'Golden Chance' to Buy BTC