On the heels of the ETF development, BITO traded more than $800 million worth of shares. This marked the highest spike in volume since its launch day figure of $1 billion. The U.S.'s first futures ETF, ProShares's BITO, registered a 7.3% spike in price and claimed a high of $14.51 on Aug. 29. However, the hype did not sustain itself, owing to the latest delay calls. Just a few hours ago, the SEC delayed BlackRock, Valkyrie, WisdomTree, and Invesco's spot applications. BITO ended up erasing most of its gains. During its close on Thursday, Aug. 31, BITO was trading at $13.44.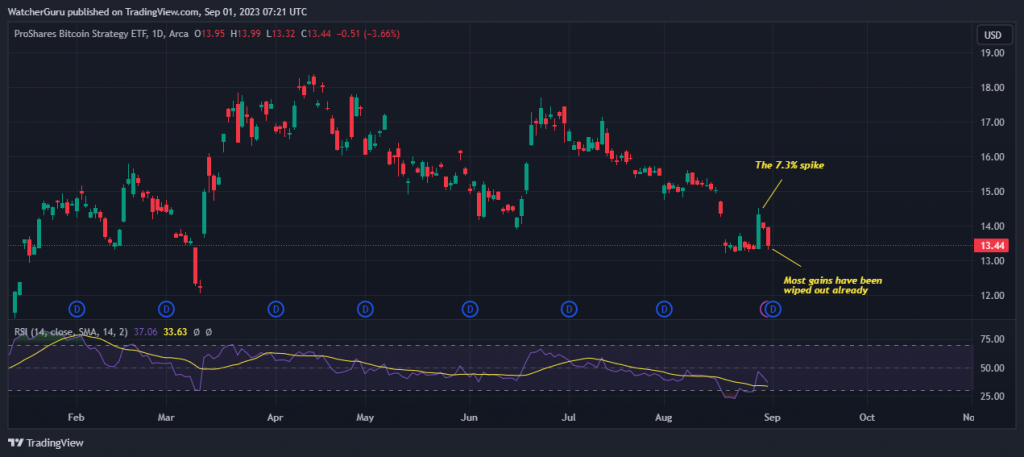 Also Read: Grayscale Investors Can Get Exposure to Bitcoin Cash At Merely $0.007
According to several experts, including Bloomberg Intelligence's Senior ETF Analyst Eric Balchunas, when the spot Bitcoin ETFs eventually get the go-ahead, investors will flock from BITO to the new vehicles. This could result in a business share loss for the U.S.'s first futures BTC ETF. Spot delays are conducive for BITO because it can continue commanding a significant share of the BTC ETF market. So, why is BITO's price reacting ironically and dropping?
Also Read: Bitcoin Derivatives Volume Rises to $1.4 Million
BITO-BTC Correlation
First, the SEC's 'delay' call was not something that just happened out of the blue. It was expected and perhaps already priced in. Additionally, it is important to keep in mind the fundamentals. BITO is an ETF that tracks the price of BTC fairly well. In fact, it shares a correlation of 0.99 with BTC's spot price. Even historically highly correlated assets like Ethereum do not share such a close bond with BTC.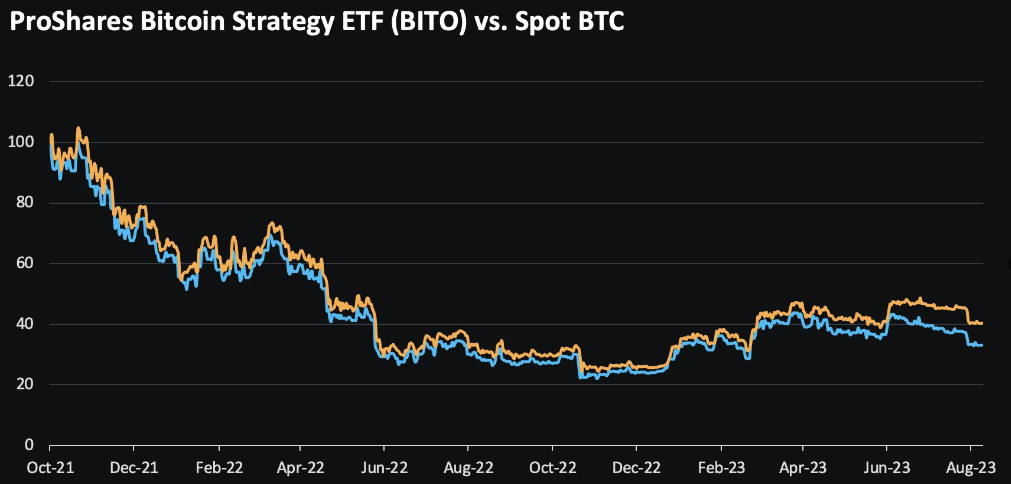 Also Read: Binance to End BUSD Support by February 2024
Furthermore, institutional sentiment continues to be bearish, with offloading numbers rising. Last week, Bitcoin-related investment products registered close to $150 million in outflows. Thus, as long as the sentiment is pessimistic and weakness in the macro BTC market persists, BITO will likely continue dropping.
Also Read: Stroom to Launch Bitcoin Staking on Lightning: Raises $3.5 Million