With Bitcoin and Ethereum reaching a new all-time high, it is only a matter of time before other Altcoins join in the rally. VeChain is currently exhibiting similar bullish momentum with a growth of 26.4% over the past week. However, it is important to analyze if the hype surrounding VET is fundamental or simply momentary. With respect to both market sentiment and fundamental structure, VeChain suggested it might be making serious moves over the next few weeks.
VET; Here to stay or Fade away?
VeChain has registered a return of 115% since the 4th week of September. Initially, in 2021, it registered similar bullish momentum when the price action was extremely aggressive. But during that time, most Altcoins were rallying in a collective manner, hence it was difficult to distinguish between good and average projects. For VeChain, the jury might be still out but it is making important moves in the market.
According to VeChain, the protocol's decentralized exchange or DEX is going to launch its governance token today at 13:00 UTC. In addition to the DEX announcement, the protocol will also roll out a yield farming program. It is evident that the VET ecosystem is trying to maximize the current DeFi market, to capitalize and introduce new reward opportunities for its users. The announcement mentioned,
"Unlike Uniswap & Sushiswap the DAO will be expected to be more actively involved in managing the parameters of VexchangeV2. This ensures that swap fees are set appropriately and liquidity is adequately incentivized (via platform fee & subsidies). This type of optimization & decision-making would not be possible with Uniswap's hardcoded 30bp swap fee & 1/6 platform fee."
Is the community picking up on the development?

Not yet. As illustrated by the chart above, Social volumes and Social dominance are still at moderate levels in comparison to early levels in 2021. VET can expect an extended bullish action once retail volumes increase in the market.
Market Structure; Poised to re-test its ATH?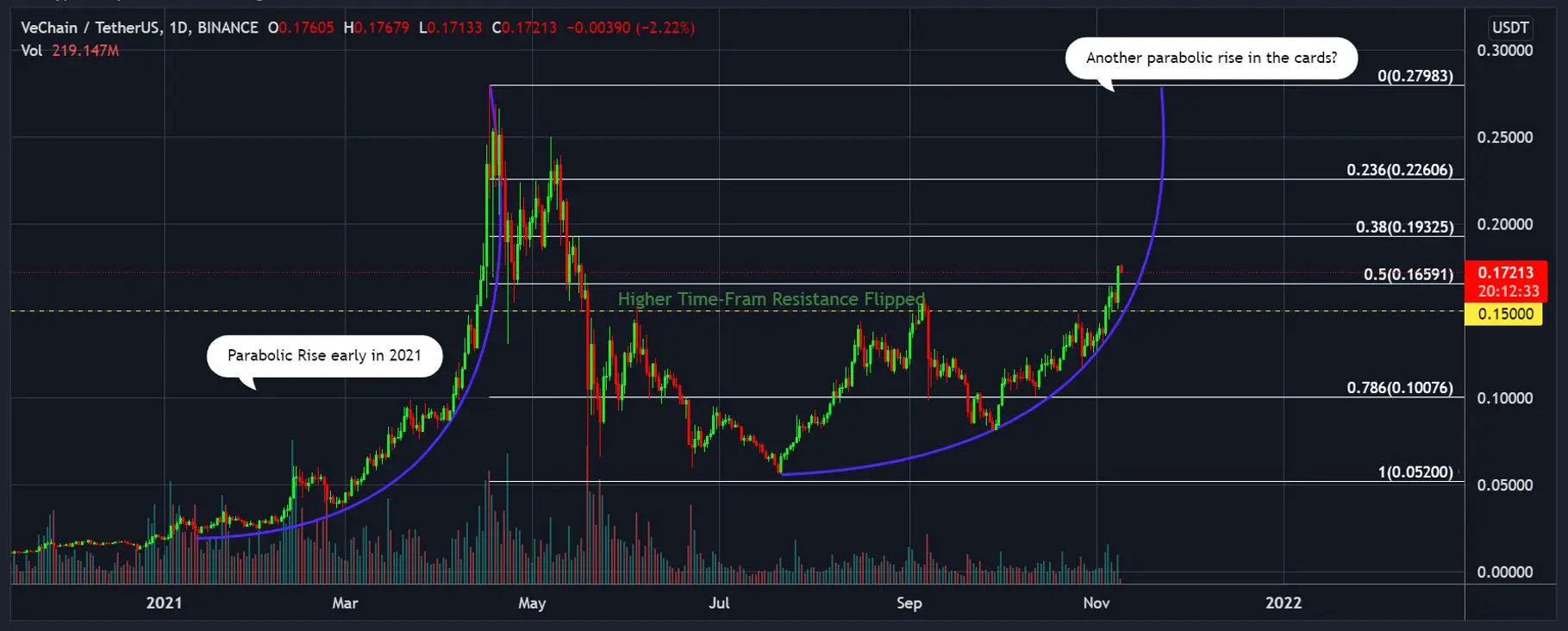 Although retail performance might be lacking for VET, the market structure is displaying a strong bullish position. VET is currently above its HTF-resistance(high time frame) of $0.15. VET hasn't consolidated at this current range since May 15th, and presently it is suggestive that it may undergo another possible parabolic rise. At the beginning of 2021, its parabolic rise caused an ATH value of $0.28. A similar turnaround would allow VET to re-test the same value again, however, it is important to consider corrections as well.