VeChain and Dogecoin
VeChain is a cryptocurrency that uses Internet-of-Things (IoT) technology to create an ecosystem that solves problems with supply chain management. On the other hand, Dogecoin is simply a meme coin that Elon Musk wants to make the main crypto coin.  VeChain is a blockchain-powered supply platform that disrupts traditional supply blockchain to change how industries conduct business. Therefore, will VeChain flip Dogecoin?
VeChain Use case Comparison
VeChain has a unique feature that is VET, its native token. The holders receive dividends of the token as THOR or VTHO, VeChain's second native token. Dogecoin's unique feature is low in price and unlimited in supply. However, VeChain will flip Dogecoin because it is also low in price. VET is $0.1677 and Doge is $0.268355.
VeChain also uses a proof of work authority system and burns tokens. When using VTHO, VET burns 70% of it and retains the other 30% for authority master nodes. Dogecoin has no token burn but a limitless supply. Anyone can mine Doge, but not anyone can mine VET. VET token burn also decreases its supply, therefore, increasing its price by day. Dogecoin value reduces as more people hold the coin. Authority master nodes are the only tokens in supply validated to produce full nodes on VET's blockchain.
VeChain has been growing its partnerships as the platform announced a new partnership with DHL, an international courier, package delivery, and express mail service company, to issue non-fungible tokens (NFTs) on its blockchain.
Dogecoin has no existing NFTs, only the one's fans mint. The only rare Doge NFT is the doge Kabosu, the original name for the actual dog behind the currency. On the other hand, VET is growing partnerships with DHL to issue an NFT on its blockchain. DHL is a courier service company.
DOGE and VET Tokenomics Comparison
VeChain's native token, VET, is currently trading $0.1677, up 7.04% as of the time of writing this report. VeChain and Dogecoin are coins that have been up for the past 24 hours. VeChain has had a 7.04% gain, whereas Dogecoin has had a 4.77% gain. VET's market cap is $10,768,619,745, and Doge's is $37,057,755,206.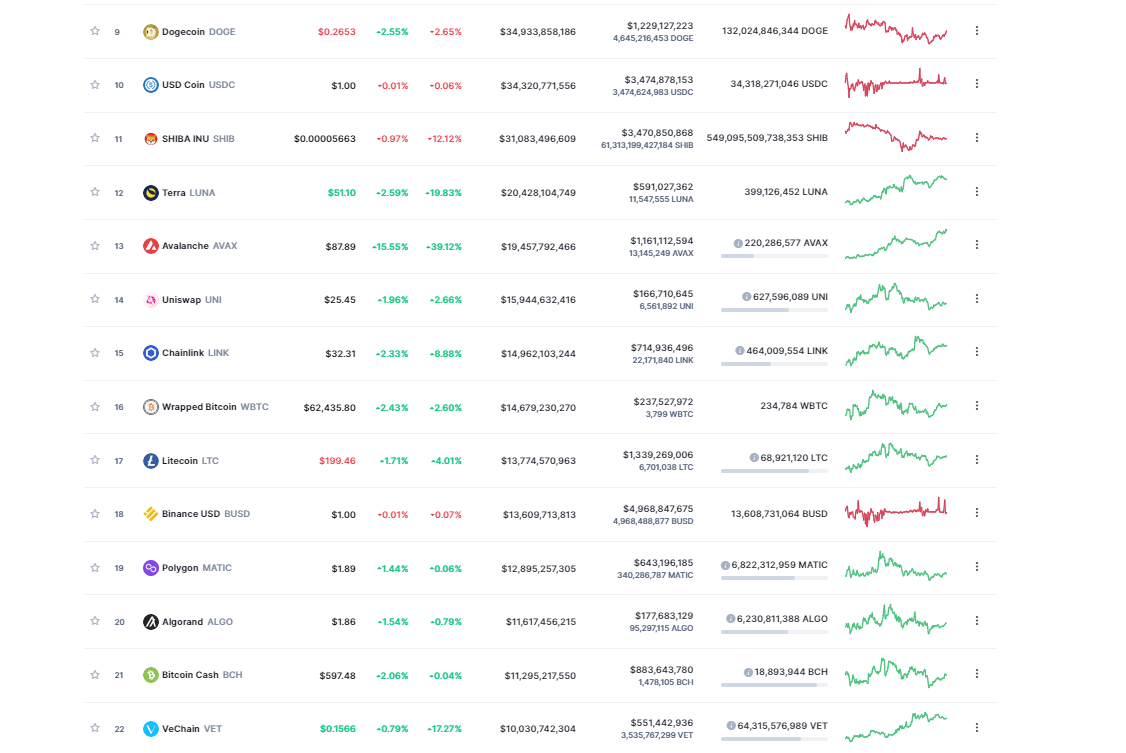 VeChain Will Flip Dogecoin?
VET is on an uptrend to flip Dogecoin. The coin has a clear use case value. It has gained over 20.5% percent within the past seven days, and this is only the beginning. Dogecoin has made a 10% gain within the past seven days. Many people are looking into VeChain because it incorporates an emerging technology, IoT.
IoT is a new trend that is profitable and solves many real-life problems. Integrating IoT into supply chain management is an ingenious idea. Many tech investors will rush to support the technology. The only supporter of Doge is Elon Musk and the Doge Army.
However, the support has been little to almost zero lately. Other altcoins get more hype and zeal. Without the mention of Doge, its value continuously drops, and it simply remains a meme coin.
Future of VET and Dogecoin
VET will keep rising and flipping coins even with a use case. The coin solves an immediate problem in society; therefore, its use is inevitable. However, we as the Dogecoin Army remain bullish because Elon Musk is full of surprises.