An unidentified wallet has heavily accumulated Bitcoin over the past three months to emerge as the third-largest holder of the asset. The accumulation started in May, when Bitcoin's price was hovering under $30,000. Over the next few months, the addresses' holdings kept rising. At press time, the wallet had a total of 118,300.20 BTC, worth over $3.08 billion.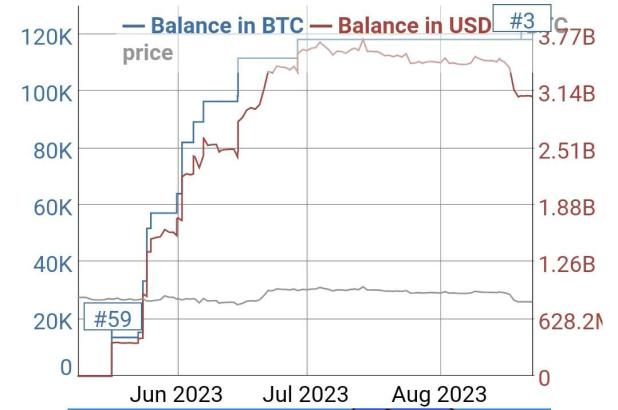 Also Read: Ethereum is Down 30% Against Bitcoin As Vitalik Buterin Moves 600 ETH
Several observers pointed out that the wallet could be associated with an exchange or big entity. Nicoya Research's Founder, Jason Hamlin, has specifically suspected BlackRock. Drawing parallels with the timeframes, another community member highlighted,
None of the aforementioned claims are based on concrete evidence, they are merely speculations at this stage. According to BitInfoCharts, the top two addresses holding Bitcoin belong to Binance and Bitfinex. The aforementioned mysterious wallet occupies the third spot and is succeeded by another Binance cold wallet in the fourth place.
Bitcoin Profitability Sinks
Bitcoin whale transactions soared to a month-high recently. Despite the latest flash crash, the number of large wallets has not dropped. As illustrated below, the number of addresses holding 10+ BTC continues to stay high.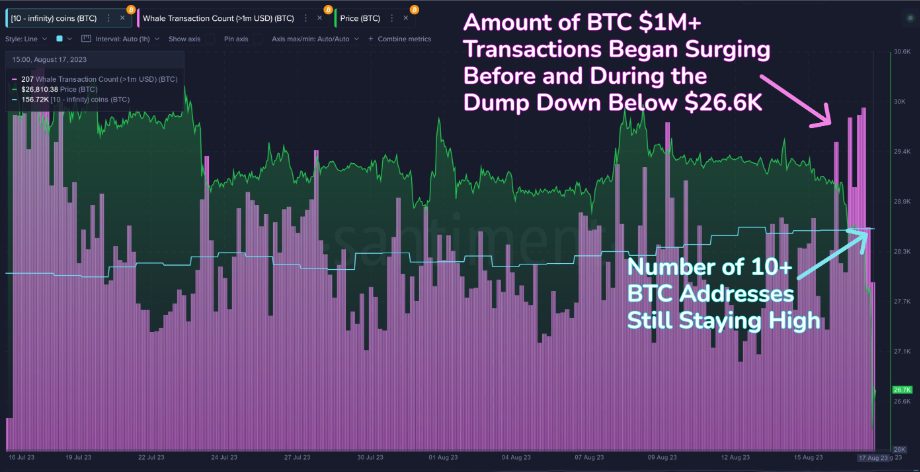 Also Read: Ethereum: Whale Dumped $41 Million ETH Before Crypto Market Crash
The profitability numbers, however, are indicative of investors' plight. According to data from Glassnode, the Bitcoin supply in profit reached a 1-month low of 12,394,421.364 BTC a few hours ago. Parallelly, the relative unrealized profit also created a similar trough by falling to 0.414. The accumulation spree going on even amid the turbulent conditions indicated that the bearishness has not essentially fractured the Bitcoin whale sentiment. At press time, Bitcoin was trading at $26,000, down by 11% on the weekly timeframe.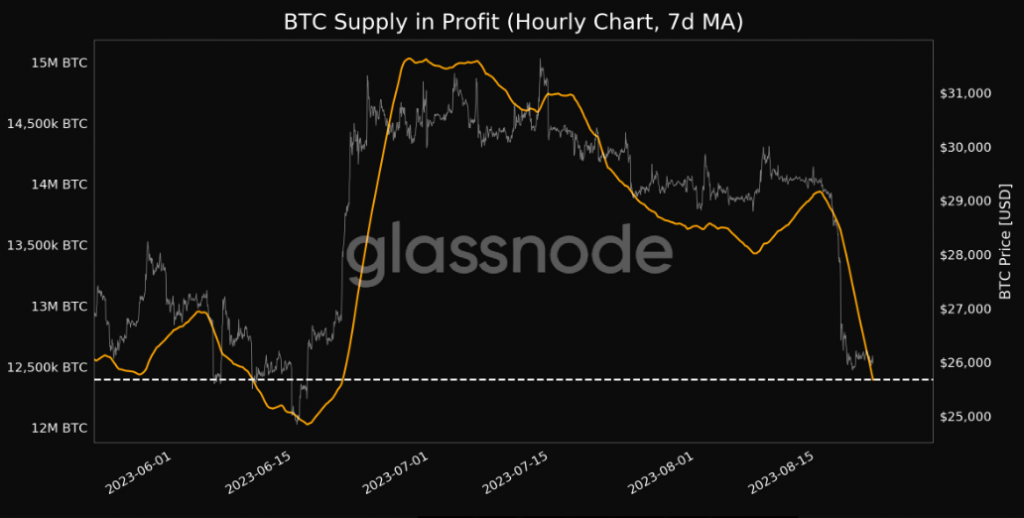 Also Read: Binance: BNB Bridge Hacker Loses $63 Million