The crypto markets took another hit today. 2022 has not turned out to be a good year for the larger finance industry. The year began with the Russia-Ukraine conflict which wreaked havoc on global supply chains. Moreover, there is also an energy crisis, especially in Europe, owing to the ongoing conflict. However, just as the crypto markets had begun to breathe a sigh of relief, the markets took another tumble. All major projects such as Bitcoin (BTC), Ethereum (ETH), etc. have plummeted overnight, as was expected by many.
The reason for the latest downtrend is most likely the CPI (Consumer Price Index) numbers which were released yesterday. Although US inflation fell to 8.3%, the lowest since April, it is still higher than what was anticipated. Experts expected the headline inflation to drop by 0.1%.
The markets were bracing themselves for a 0.75% rate increase by the Fed, in the following week. However, given that the CPI index is higher than expected, there is a stronger chance of a 100 bps interest rate increase.
Bitcoin and crypto markets react
Bitcoin (BTC), the original cryptocurrency, fell by 8.5% in the last 24 hours. Nonetheless, the token is still up by 7.9% over the last week. Ethereum (ETH) on the other hand fell by 5.9% in the last 24 hours. The second largest crypto by market cap has one of its biggest events just around the corner. Users, investors, and developers are on the edge of their seats as ETH undergoes the merge. According to Watcher Guru's real-time merge tracker, less than 24 hours remain for the big switch.
At press time, Bitcoin (BTC) was trading at $20,368.48. While ETH was trading at $1,616.51.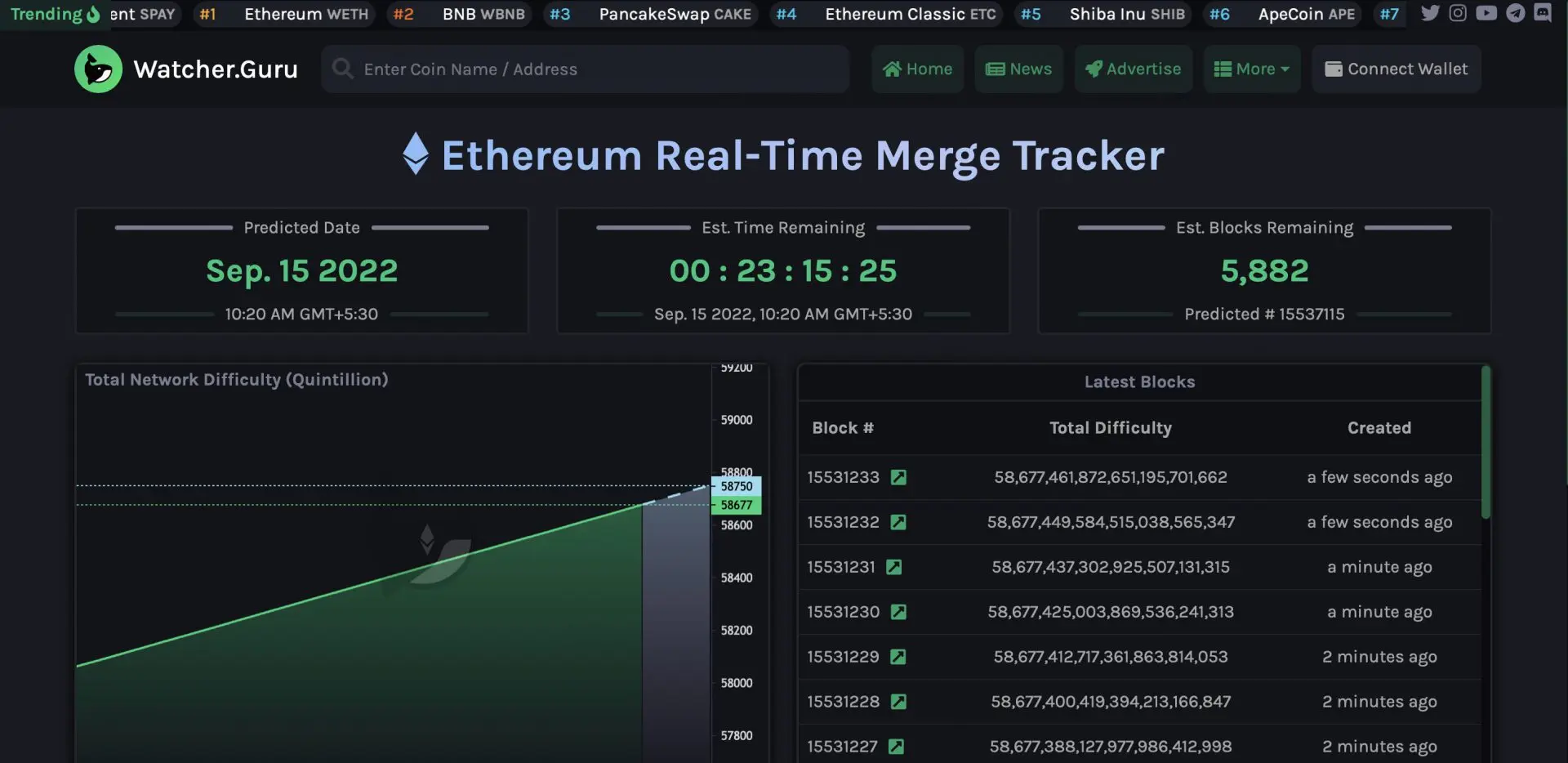 Apart from the two largest cryptos Solana (SOL) took the brunt of the latest fall. The project fell by 13.3% in the last 24 hours. According to a recent report, over the last three months, the TVL on Solana's DeFi space has trended downward in U.S. dollars. It has lost a total of 45.9%, going from $3.94 billion to $2.13 billion. At press time, SOL was trading at $33.74.
However, the Terra projects continue to rally. LUNA is up by 2.8%, after triple-digit gains in the 7-day charts. LUNC is also up by 3.3% in the 24-hour chart. Additionally, UST, the de-pegged stablecoin, is up by 2.9%.