Cardano has seen more downs than ups over the past 4-months. After today's crash, most coins were seen testing their late-September levels, but Cardano's ball was in an altogether different park.
After losing more than 10% on the daily time frame, Cardano was trading at $1.241 at the time of this analysis.
Will the 'life-saver' come to Cardano's rescue?
Well, the $1 mark has been a crucial support for this coin. Over the past year, Cardano has dropped down to this level more than half-a-dozen times, and on all the occasions, it has managed to stay afloat and not dunk further. In fact, it commenced its rally in August last year after visiting the very same benchmark.
READ ALSO: Cardano Price Prediction: Hold off on long bets until…
Only after shedding around 20% more from its current value, Cardano would reach the $1 mark again. Given the fact that the coin shed only half the said value over the past day, the dip-down scenario over the next few hours seems to be pretty unlikely. More so, because the coin has started consolidating on its shorter timeframe charts.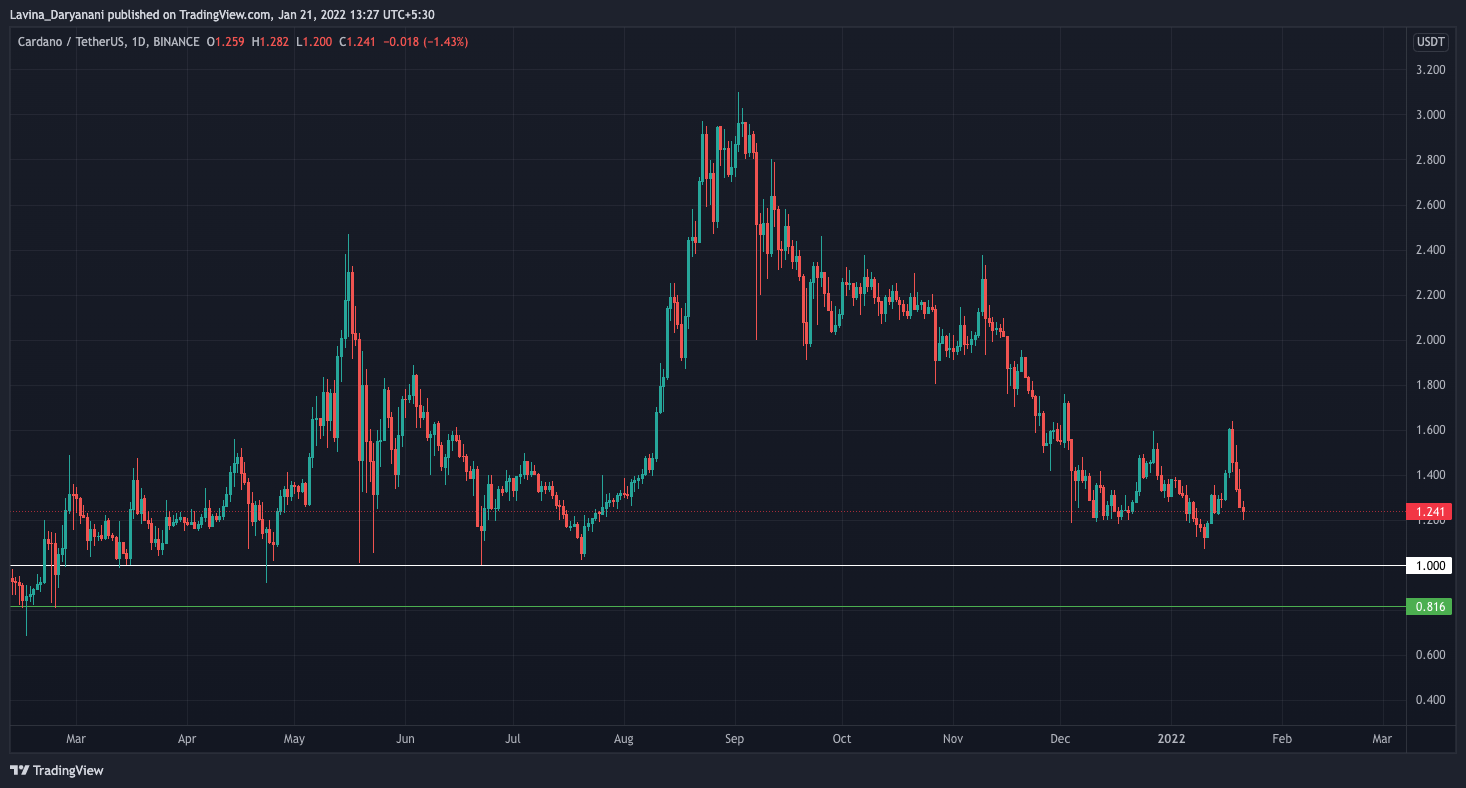 It, of course, doesn't make sense to remain overly optimistic amidst the current state of the market. So, in the worst-case scenario, if the broader market led by Bitcoin subjects itself to another crash and ADA dunks below $1, it would then re-find solace only around $0.816.
Ascertaining the trader sentiment
Owing to the price crash, weak hands did mass-sell their tokens initially. However, with time, the sell-pressure has been declining. The same was justified by ITB's buyer-seller trades difference data.
READ ALSO: Ethereum losing its NFT ground to this altcoin: JP Morgan
Over the past 12 hours, the number of sold tokens exceeded the ones bought by 41.7 million. However, the same reflected a shrunk down value of 8.1 million on the 6-hour frame. The degree of bearishness has sort of remained the same post that.


Even in the futures market, the long-short ratio was gradually seen climbing back above 1, implying that traders have started placing long bets again on ADA and expect it to pick up its pieces and provide them some respite.
So, bearing in mind the aforementioned trends, the odds of ADA slipping below $1 over the next few hours seem to be quite minimal. It would rather continue consolidating around its current price range.