In eight days, Ethereum will go ahead with its backward-incompatible Shapella hard fork or Shanghai upgrade. The update will allow stakers to unlock their staked ETH. There is a lot of fear among investors that the event will lead to a mass sell-off for Ether on exchanges. Some estimate that the subsequent boost in selling pressure could be worth several billion dollars.
Since the Beacon Chain went online in December 2020, the network has seen staked ETH of more than 18 million. Once the upgrade is complete, it is important to note that users cannot unstake the full balance. Nonetheless, 1.1 million of the coins acquired as staking incentives are immediately withdrawable. Moreover, according to analysts at K33 Research, Celsius will probably sell 158k of its staked capital as part of its bankruptcy filings. This brings the total to almost $2.4 billion worth of Ethereum facing the market.
Additionally, popular crypto exchange Kraken might also unstake its 1.2 million ETH due to regulatory pressure from authorities. Yet, a massive sell-off is probably unlikely as we will discuss in the following section.
Why a big Ethereum sell-off is unlikely?
The anticipated increase in the supply of more than $2 billion is only 20% of Ether's daily trading volume on average. According to 21Shares research, partial withdrawals will probably take 5–6 days to process, while full withdrawals will probably take 3–4 months. As a result, the selling pressure will likely be spread out over several days. This will give buyers time to absorb the impending sell pressure.
Furthermore, according to Max Eberhardt, a crypto analyst at Saxo Bank, most stakers will likely not liquidate their holdings. This is because most of them are in for the long-term game.
According to K33 research, most of the staked ETH is currently at a loss. Only 46.31% of staked ETH is in profit. Therefore, most of the stakers might not liquidate their staked ETH.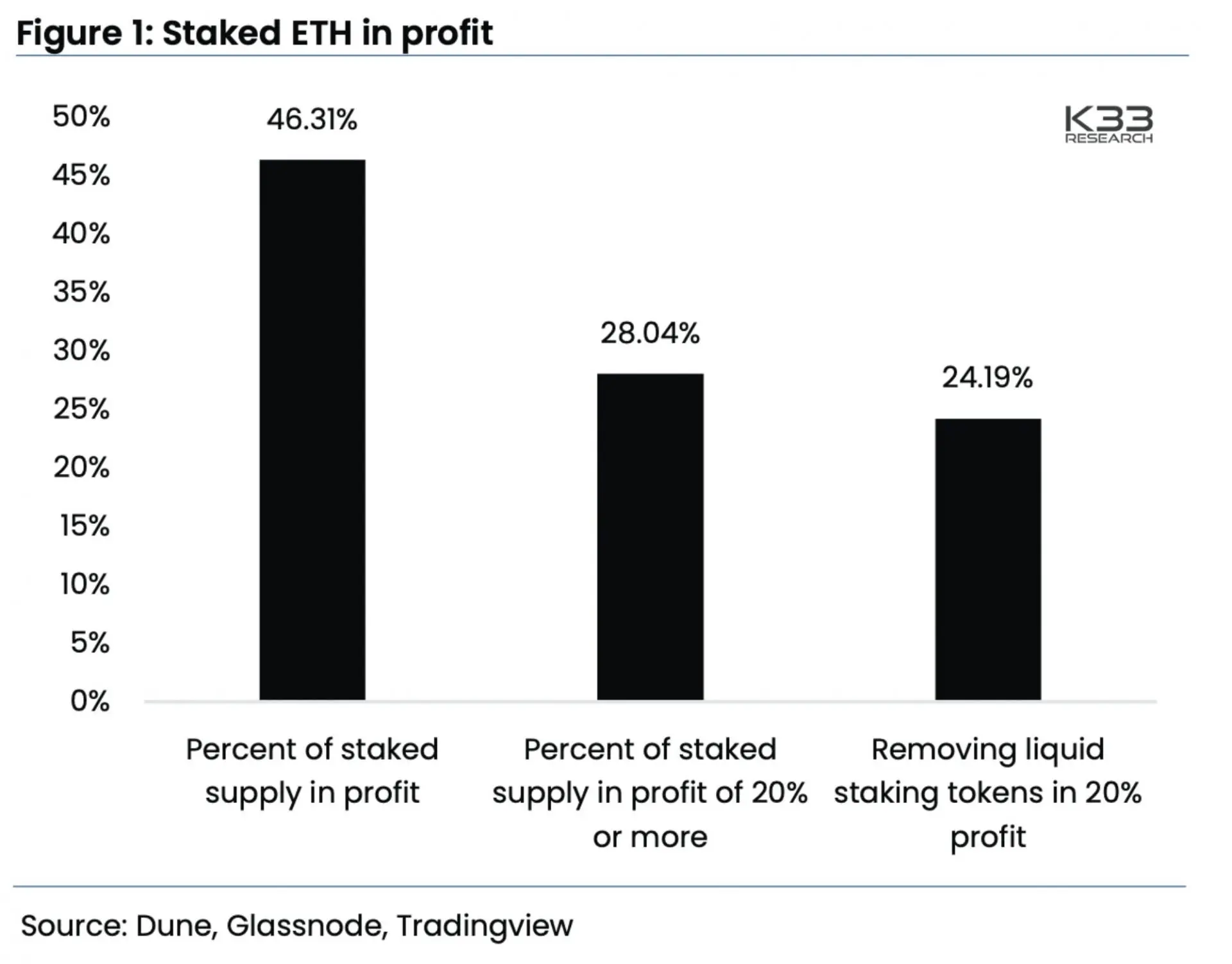 On the other hand, the number of addresses holding over 10k ETH reached a 4-month low. It is possible that a lot of investors booked their profits after the second-largest crypto by market cap began to make gains. It is also possible that the investors are worried about Ethereum's Shanghai update and expect a sell-off to take place.
Additionally, according to DefiLlama, a majority of the staked ETH is owned by Lido Finance (74.35%). This gives Lido Finance a big say in the workings of the Ethereum network. Therefore, it is unlikely that the protocol will willingly give up its control.