Alongside large-cap coins like BTC, ETH, BNB, ADA, and SOL, the market's meme-coins too were victims of Friday's crash. While Shiba Inu and Dogelon Mars shed 7% and 11% on the daily time frame, their leader Dogecoin, managed to restrict its losses to 6%.


Assessing the state of Dogecoin's strong suits
Leaving aside the broader market instigated 6% dip, Dogecoin has been in a sluggish phase over the past few days. As per data from CMC, the largest meme-coin has lost more than 22% in the past 7-days.
READ ALSO: Kanye West gives his take on the NFT wave with paparazzi
Despite that, the state of its fundamental metrics seems to be getting polished with every passing day.
The address activity curves that remained flat since mid-November have now started registering spikes. In the past 7 days alone, the new addresses have risen by 6.5%, the active addresses by 5%, and the non-zero balance addresses by 2%.
This, to a fair extent, indicates that the DOGE ecosystem has not been devoid of activity of late. On any day, this is quite an encouraging sign.


Quite parallelly, the coin's Sharpe Ratio has also managed to get better, despite the not-so-favorable price trend. From reflecting a value of -7.5 towards mid-December to stepping into the positive territory within a couple of weeks, DOGE's bounce-back couldn't have been better.
Over the past day, this ratio has slid down from +0.22 to -1.43. But, looking at its recent recuperation, it shouldn't take much time for DOGE to re-establish itself in the positive territory.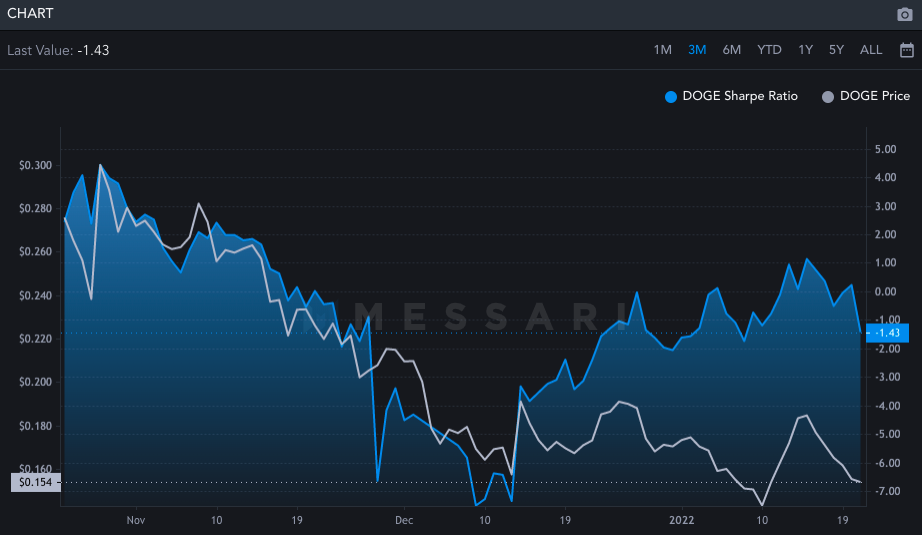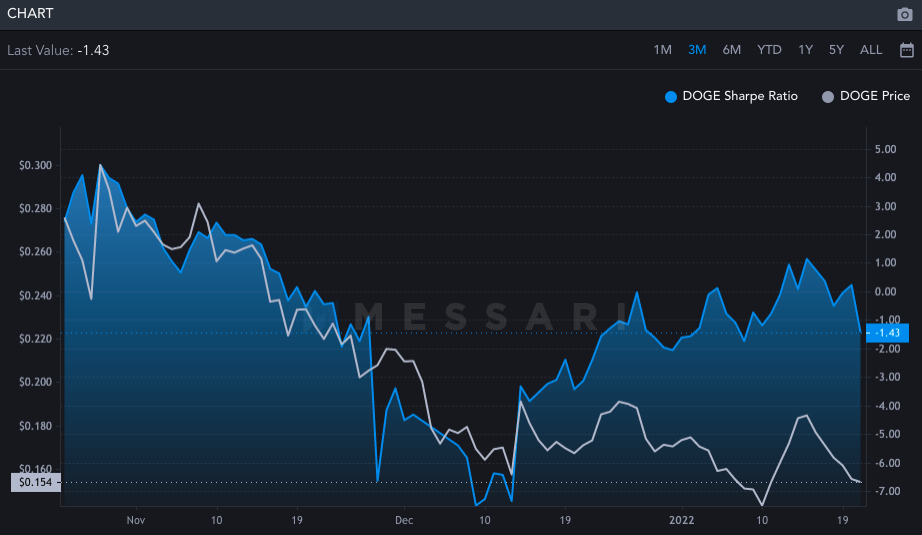 The aforementioned ratio, as such, measures any asset's risk-adjusted returns. A high ratio implies that HODLers are being fetched with adequate returns for the risk borne by them and vice versa.
READ ALSO: Ethereum 2.0: Why the term 'ETH2' is no longer favorable
Increasing returns usually tend to attract more investors into the market. And looking at Dogecoin's performance on this front, new investors can be expected to step into the market soon.
At the time of writing, the buying pressure was slowly creeping back into the market. Alongside, the bear: bull ratio too was narrowing down, indicating the Dogecoin market was receiving help from the buyers.
Recovery on the cards – Yay or Nay?
Now even though Bitcoin, by and large, dictates the broader trend of the market, it is quite a common tendency for the coins belonging to the same genre to move together, in tandem. So, if Dogecoin manages to negate its losses from here on and quickly recover, it does have the potential to lift the entire meme-coin boat.
So, considering all of the aforementioned factors, it does look like the meme-market will witness a DOGE-led recovery soon.