With the crypto market correcting over the past few days, Ripple's native token XRP has rallied leaps and bounds. The said behavior pattern suggests the Alt is on its own now. In fact, the daily and weekly correlation of the token is around lows with Bitcoin [0.6, 0.4], and Ethereum [0.5, 0.4], further justifying the said narrative.
From a low of $0.3216 registered on 16 September, the sixth-ranked crypto climbed to $0.5590 last week, resulting in an approximate 75% rally.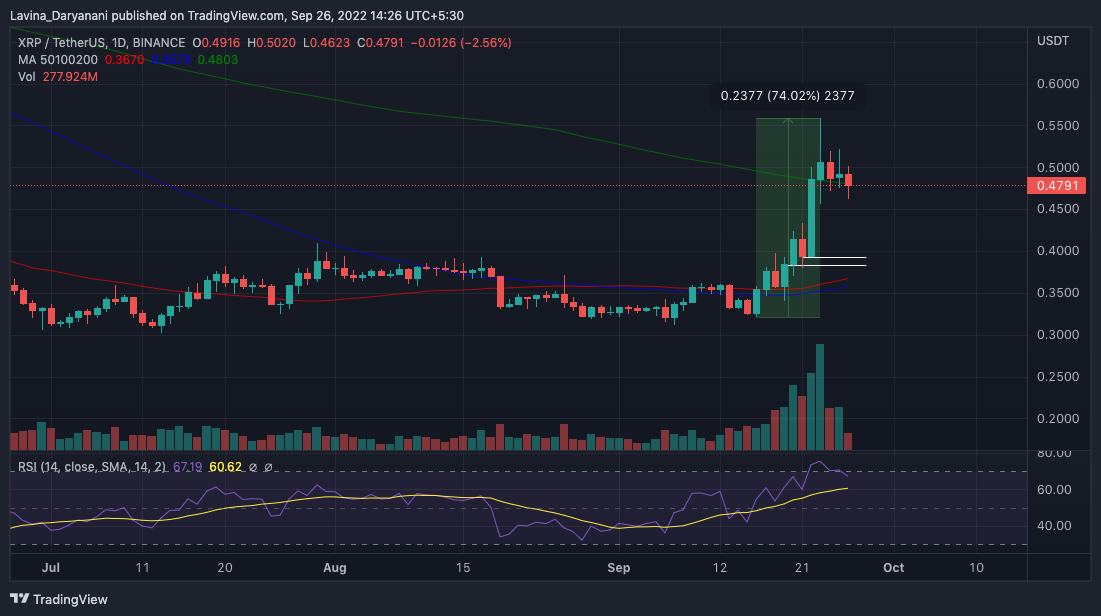 Analyzing current Ripple-centric trends
Volatility continues to hover around its quarterly highs in the XRP market. At press time it stood north of 1, indicating that price fluctuations will not essentially terminate anytime soon.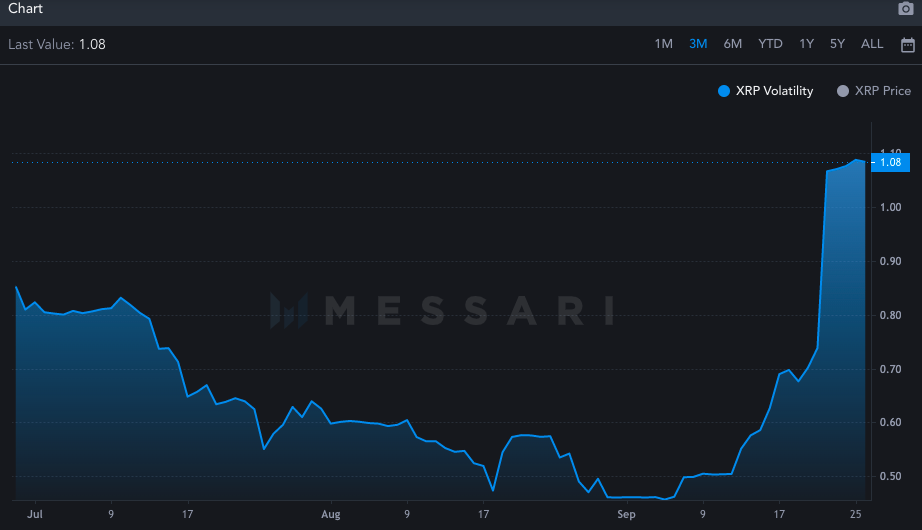 However this time, it seems like we might head in the opposite direction. Over the weekend Ripple's native token consolidated, but at press time, the market was seen gradually stooping down in its overbought zone. Over the last couple of days, the RSI reading has already dipped from 75.5 to 67.1, opening the doors for a brief XRP pullback.
Also worth noting here is that XRP's Sharpe ratio has been hovering around its YTD highs. The same suggests that the investors in Ripple's native token have fetched greater returns for the risk borne by them.
On any given day, investors tend to convert paper gains to realized gains along the way. Thus, this ratio hovering around its peak at the moment, suggests that profit-booking might soon start materializing in the XRP market, further paving the path for a downtrend.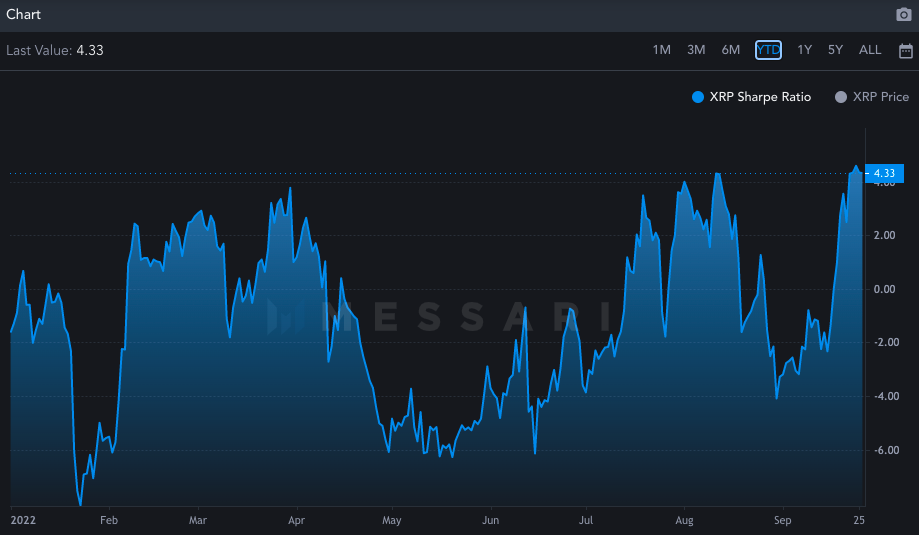 Before commencing its rally, XRP noted a boost on the network activity front. As reported recently, the said blockchain had outperformed Bitcoin, Ethereum, and Cardano on the on-chain front. Resultantly, it was the top-most active chain in the second week of September.
Read More: $304B: Ripple eclipses Bitcoin, Ethereum, Cardano on chain activity front
However now, its network activity has also started deteriorating. On 9 September, XRP settled transactions worth a whopping $304 billion. However, over the past 24 hours, only $349 million worth of transactions have been settled on the blockchain. In fact, from occupying the numero uno position, XRP was already down to number 5.

So, the said factors collectively point out that XRP is likely primed to note a downtrend going forward. At press time, Ripple's native token had already lost its 200 MA on the daily support [green on chart 1]. It will get a chance to bail itself out around $0.38-$0.39. If it fails to do so, then the token will head towards its 100, 50 MA at $0.35-$0.36.