According to Whale Alerts, an XRP whale transferred 50 million tokens from Crypto.com into an unknown wallet. The value of the tokens is around $21 million. This comes amid cryptocurrencies falling from their April highs, as long liquidations continue to increase.
However, the transfer from Crypto.com was not the only whale movement. Another whale transferred 113 million XRP tokens from one unknown wallet to another. The value of these tokens is about $51 million.
Meanwhile, a third whale transferred 29 million tokens from an unknown wallet to the Bitstamp crypto exchange. The 29 million tokens are worth roughly $13 million.
The movement of tokens from an exchange to a cold wallet is a sign that the holder probably want to hold them for a longer term. The movement of tokens from one wallet to another, also points to the holder wanting to continue to hold them. Both developments can be read as being positive, as they lessen the chance of the tokens being liquidated. The movement of XRP from a wallet to Bitstamp, however, is a little bearish as there is a chance that they might be sold to retail investors.
Despite the positive outlook of the whale movement, XRP prices continue to suffer. The token has dropped 3.3% in the last 24 hours, and declined 4.9% in the weekly charts. Moreover, according to the data on CoinGlass, the token has seen $2.77 million worth of liquidations in the alst 24 hours. Over $107 million longs have been liquidated, while around $7 million shirts face the same fate.
The asset is currently facing resistance at $0.4700, with support at $0.4247. If XRP falls below current support levels, it could fall to around $0.3732.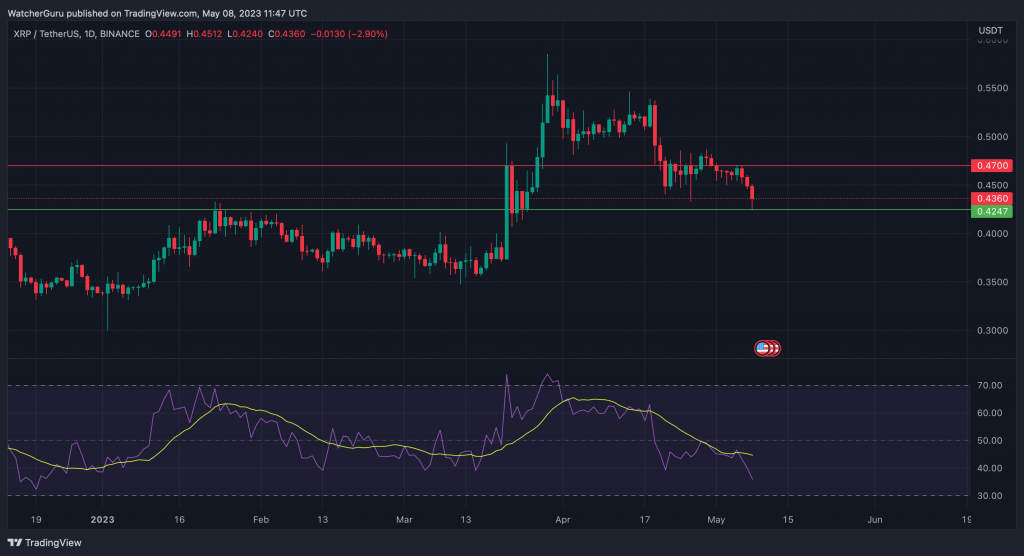 Are whales bullish on XRP?
Whales moving their holdings off exchanges is a sign that they might be bullish on XRP. It is possible that the rumors around the SEC vs. Ripple lawsuit reaching a verdict next year may have had something to do with it.
As per Mr. Huber (@Leerzeit), a prominent crypto influencer, Judge Torres might release the eagerly awaited summary ruling in 2024.
It is possible that rumors about pushing the verdict from 2023 to 2024 may have given the whales time to extend their trades. However, it is also possible that the giant wallets are at a loss and wish to hold the assets untill they break even.
At press time, XRP was trading at $0.4360, up by 0.3% in the last hour.