The 2023 Bitcoin rally has been a nice change in trend, after the 2022 winter. BTC holders, for instance, were seen bagging gains following its journey beyond $28,000. However, this wasn't limited to long-term holders. Short-term holders were also under this category. On-chain analytics firm, Santiment revealed that the average returns for Bitcoin holders were in a favorable zone for the first time in over a year. The network wrote,
"The average returns for #Bitcoin amongst long-term hodlers and short-term "new money" has blasted into positive territory for the first time in 14 months."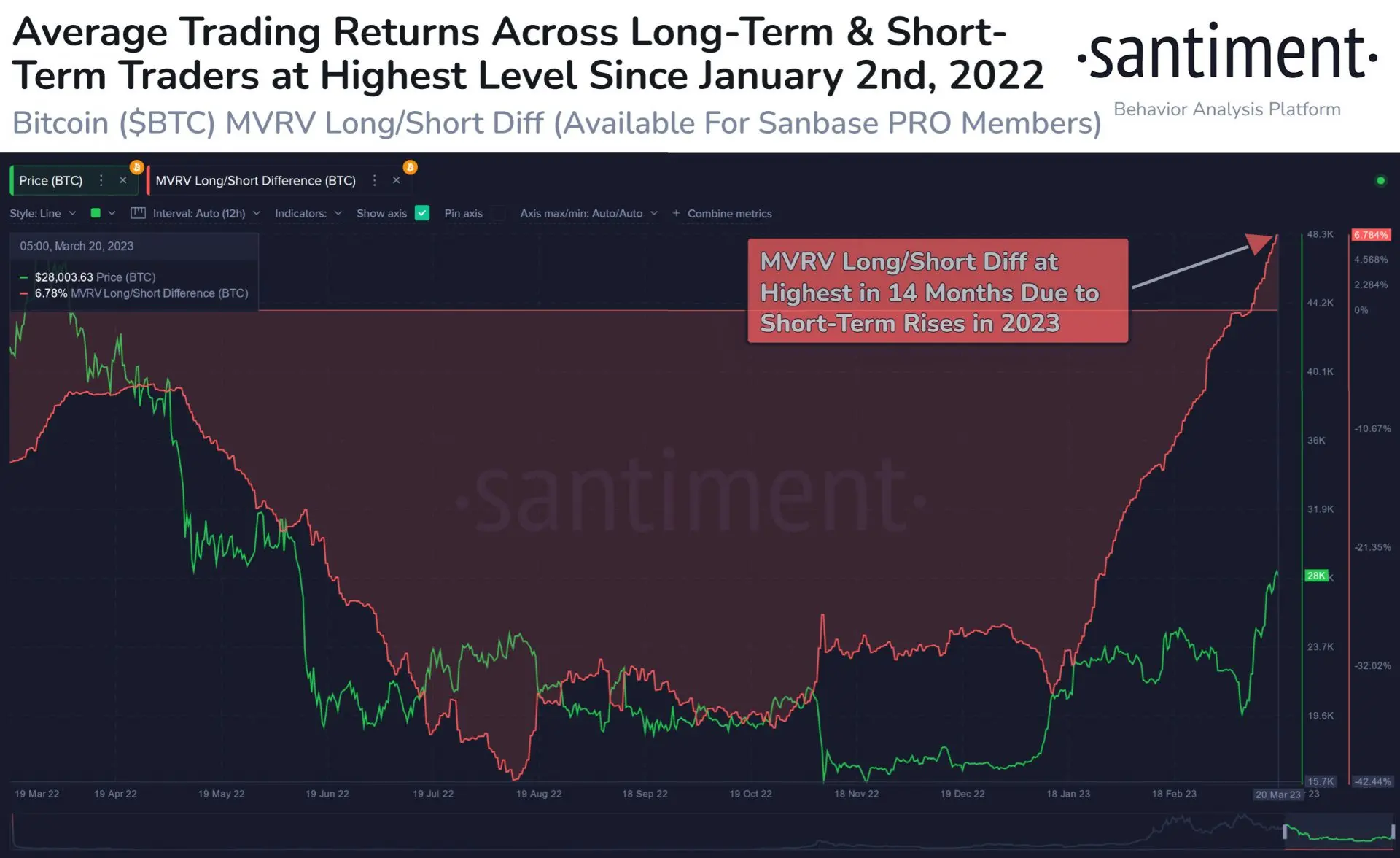 Furthermore, Into The Block highlighted 72% of Bitcoin holders were making money at the asset's current price. Only 26% of them were at a loss. However, does this mean that the bull market was officially here? Not quite yet.
Bitcoin: An impending market crash in the making?
According to another source, the MVRV indicator showed that Bitcoin was coming to the conclusion of its bear cycle. The Long/Short Divergence line has historically crossed 0 to signal the conclusion of a market cycle for Bitcoin and the beginning of the following bull cycle.

As seen in the above image, the line had crossed 0. It should be noted that the price level would coincide with these important MVRV levels since MVRV is a ratio that is obtained from the realized price. Bitcoin spot prices are inching closer to the $28k realized price level. The market is currently trading inside the neutral zone of 0.5 standard deviations from the long-term mean as Bitcoin prices broke above $27k this week.
This further noted that BTC is no longer trading at discounted prices. While Bitcoin is expected to surge in the long term, Santiment predicts a potential market crash before a prolonged bull run.
But the bull market narrative garnered more endorsements. ChatGPT, an artificial intelligence chatbot affirmed that the bull market was here.
As seen in the above tweet, the asset's jump from $15,500 to $27,000 was touted as a bull market.
At press time, the king coin was trading for $27,773 with a 0.43% daily rise.