A Shiba Inu whale has recently acquired SHIB tokens worth $500 million. This massive splurge by the whale happened as the meme coin's value increased to $0.00004095. Could these whales be preparing themselves for an approaching recovery Shiba Inu rally?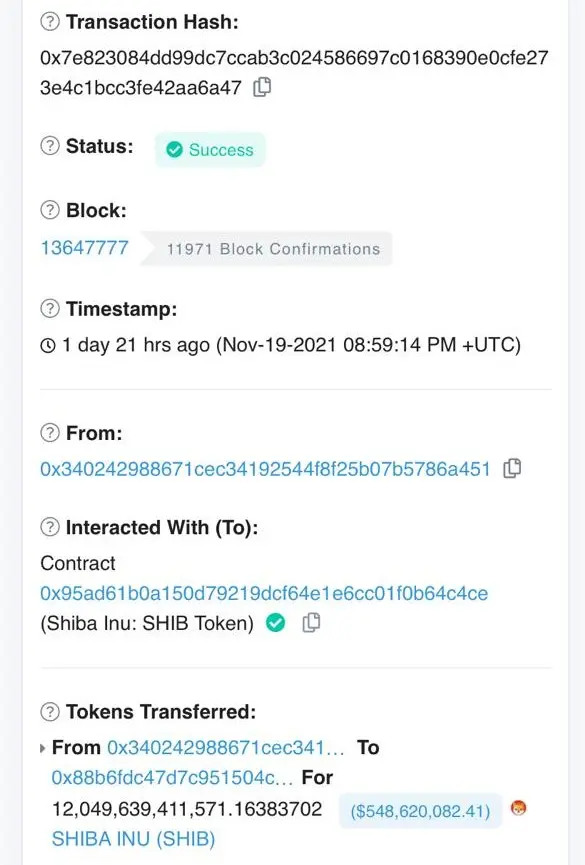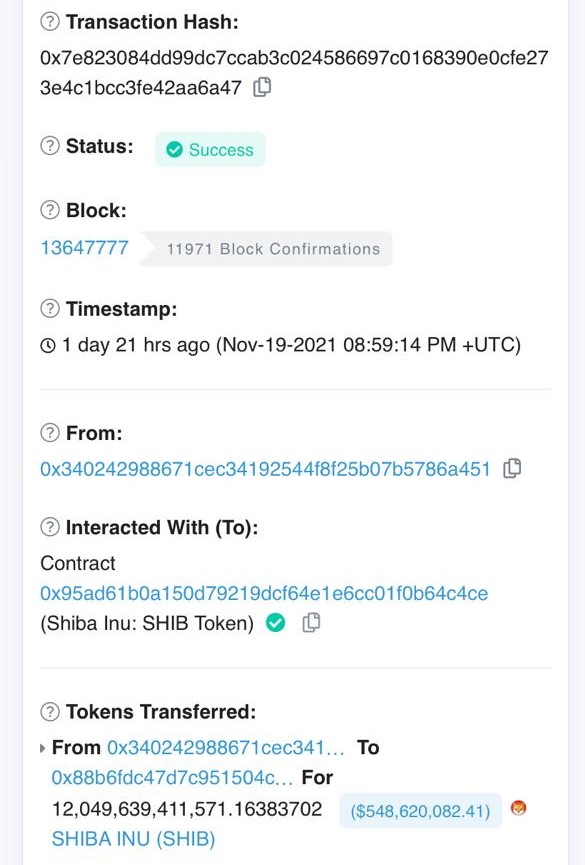 However, as observed in the chart below, SHIB's active addresses continue to decline. Out of a total of 984,555 addresses, only 14,645 addresses are active. The current decline in active addresses infers a lack of strong on-chain movement for SHIB on a larger distributed scale.
The Triumph of the Shiba Inu Coin
The SHIB token has had lots of ups and downs ever since its launch. One of the greatest milestones the coin has achieved was hitting an ATH record of $0.00008841. Compared to the giant BTC and ETH, this may not seem like much. However, this ATH value represents a 17,3000,000% gain since its debut.
The ever-supportive community has contributed to Shiba Inu's success. The community has helped spread the coin's fame on various social media platforms by using hashtags such as #ShibArmy.
Elon Musk's tweets have also helped the token's popularity. Elon Musk tweeted pictures of his dog, a breed of the Japanese dog that is also SHIB's mascot. Musk, however, revealed that he doesn't own any Shiba Inu.
SHIB coin is also popular since it is a meme coin. Jonathan Cheesman, head of institutional sales at crypto-derivatives exchange FTX, feels that memes are "valuable." While speaking to Bloomberg, Cheesman also shared that since SHIB is a lower dollar token, it appeals to investors who want quick gains.
Like Cheesman, Jordan McCreery, founding partner of Ingrained Media, is also quite bullish about the SHIB coin. He feels that the coin has "real potential" and can grow to "$0.01 or even greater." 
The coin has also benefited from its rumored Robinhood listing. Robinhood's CEO, Vladimir Tenev, shared that the platform will critically evaluate the addition of any new coins in a way that's "in line with the regulatory requirements and safe for customers."
The Downside to the SHIB Coin
A significant downside to the SHIB token is the fact that it is a meme coin. Meme coins are highly volatile, and investors can quickly lose all their money. 
Additionally, the digital coin at the moment has no utility in the real world. Although there have been countless suggestions to accept the SHIB coins for movie tickets, the coin is not famous among merchants. Only 137 merchants in the world accept SHIB as a form of payment. 
CEO of fintech firm Broctagon, Don Guo, shared that the coin can't reach its $1 milestone. According to the current trends, he shared, "SHIB will remain within its less than a fraction of a cent ballpark" according to the current trends.
More on Shiba Inu
According to the SHIB website, 50% of the token was burned to Vitalik Buterin, Ethereum's co-founder. The other 50% of the remaining SHIB supply is locked to Uniswap. Uniswap is a decentralized finance control that enables automated transactions of crypto coins on the Ethereum blockchain. 
SHIB's market cap is currently $25 billion, a 5.75% decline within the last 24 hours. Over the last year since its launch, the digital coin has surged by over 60,00,000%.