While crypto downturns cause excessive damage to the run-of-the-mill investor, venture capitalists seize the opportunity present at hand. A similar notion was presented by Andreessen Horowitz, which raised a $4.5 billion crypto fund despite the bearish worries present in the market.
On Wednesday, Andreessen Horowitz, a venture capitalist firm founded in the Silicon Valley by Marc Andreessen and Ben Horowitz, announced a $4.5 billion crypto fund to invest in cryptocurrency projects and Web 3 companies.
The latest $4.5 Billion fund was the firm's largest establishment to date, nearly double the size of its earlier fund The sheer value of the raise highlights the advancements in the industry, with new blockchains, DeFi platforms, and NFT-related projects coming up in spades.
"We think we are now entering the golden era of web3. Programmable blockchains are sufficiently advanced, and a diverse range of apps have reached tens of millions of users. More importantly, a massive wave of world-class talent has entered web3 over the last year. That's why we decided to go big." said Andreessen Horowitz in an official press release.
Bitcoin turmoil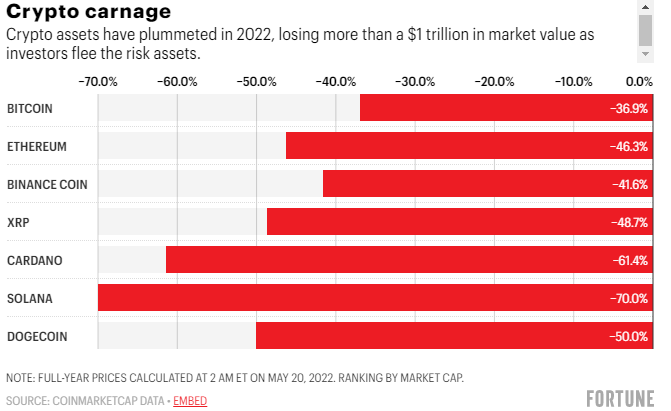 Interestingly enough, the announcement was made during an ongoing market turmoil, with prices of most altcoins trading well below their record levels. Investor sentiment weakened further this month after Bitcoin recorded its deadliest retracement this year following the LUNA-UST fiasco. A report compiled by Fortune revealed that crypto assets have lost over $1 Trillion in market value in 2022 thus far as investors offload crypto amid macro concerns.
However, firms reinforced with large capital have chosen to keep investing in the space, believing that fundamental growth would eventually outshine any short-term volatility. Andreessen Horowitz's last few raises were made during June 2021 and April 2020, both of which came soon after market retracements.
Michael Saylor's MicroStrategy was another prominent name that has been known to invest during crypto downcycles. Recently, CFO Andrew Kang reiterated that the company will stick to its buy and HODL strategy despite the market spiral.
Meanwhile, Bitcoin continued to consolidate on Wednesday morning, holding close to $29K support and $30K resistance. With the daily candles still trading below their 20-SMA, BTC's outlook was still bearish over the short-mid term.