The crypto-verse was started with just one cryptocurrency, Bitcoin [BTC]. Currently, the largest in market cap and value, BTC was introduced for an array of reasons. Satoshi Nakamoto intended to serve the underbanked and unbanked while bringing about financial freedom to people. However, as the industry evolved it seemed to be veering away from its ethos of decentralization or being borderless.
A recent series of tweets by Coinbase's CEO Brian Armstrong garnered hate for his comments about the crypto industry. In his tweet, Armstrong was seen pointing out how the US should stay ahead in the crypto game and went on to compare the same to semiconductors and 5G.
Noting how Bitcoin and other crypto businesses shouldn't go "offshore" he added,
"Regulation by enforcement has a terrible chilling effect, and rhetoric matters – we've already seen a huge amount of crypto talent, asset issuers, and startups go offshore."
The regulatory situation in the US has been more confusing than stringent. With the involvement of an array of regulators, the US crypto market seems to be having a tough time.
Veering back to Armstrong's tweets, he concluded by noting how Coinbase was a global firm. Yet, he intends to "fight to make sure crypto succeeds here [the US] for everyone."
The Crypto community hits back
As mentioned earlier, the goal of the introduction of Bitcoin was to free individuals from the constraints of centralized systems. But now since governments are involved, it looks like the crypto market as a whole is more centralized than ever.
In addition to being borderless, the sector was anticipated to be free of geopolitical boundaries. Armstrong's tweets, though, seemed to indicate otherwise. One Twitter user wrote,
"Crypto is supposed to be decentralized- no such thing as a free world. Crypto is not about the US or China or the UK it is about breaking free from the 'system'."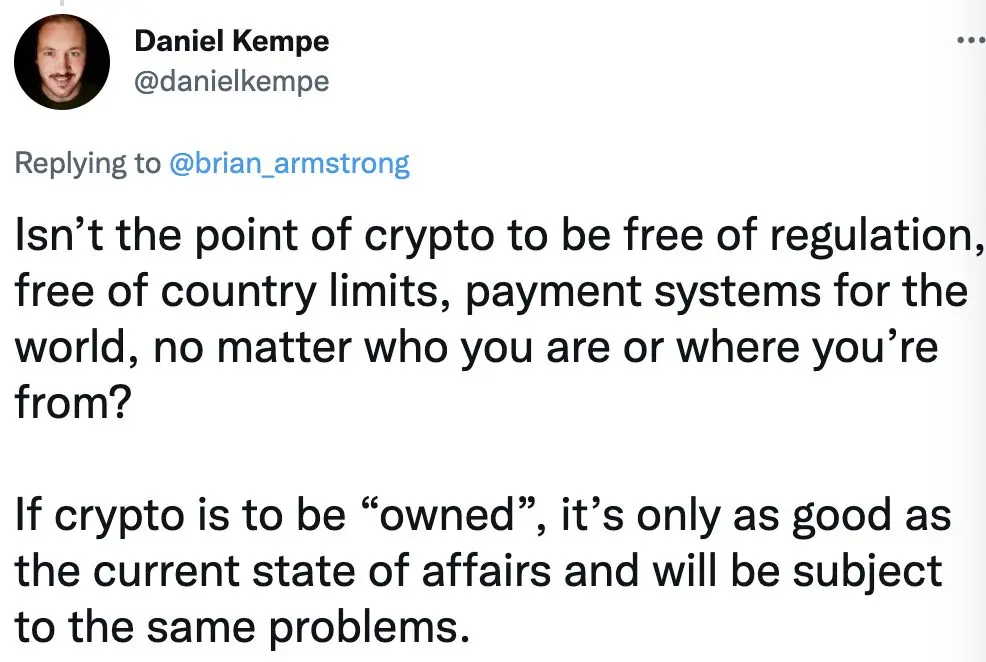 Furthermore, as seen in the last couple of years, governments across the globe have been fighting to get ahead in the crypto race. While some have dropped out, a few others intend to embrace technology to the fullest. In this race among governments, several in the crypto community believe that Satoshi's vision is being tampered with.