Nvidia has been one of the biggest beneficiaries of the AI boom. The financial numbers released a day ago are a testament to the same. The company registered Q2 revenue of $13.51 billion. This was higher than estimates of $11.19 billion. The company's EPS stood at $2.70, yet again beating estimates of $2.08. Furthermore, Nvidia expected its Q3 revenue to be around $16 billion, compared to estimates of $12.59 billion.
During the trading hours on Wednesday, August 23, NVDA shares rose 3.17%. During the pre-market hours on Thursday, August 24, the price was up 8.13%, and NVDA was seen exchanging hands at $509.45. Several investment banking companies, including Rosenblatt, BofA, JPMorgan, Morgan Stanley, and Deutsche Bank, have raised their NVDA price target range to $560-$1100.
Also Read: Bitcoin Must Surpass $98,000 for Miner's Sustainability in 2024
Crypto Tokens' Rally
Bitcoin reached a low of around $25,800 a day ago. However, after Nvidia's results were out, it went on to create a high of around $26,800. AI-related crypto assets were the biggest beneficiaries. Tokens like GRT, INJ, RNDR, AGIX, and 0x0 were all up 2% to 22% on the daily timeframe. Brush Creek Digital's founder Andrew Parkerson said that if NVDA's after-hours gains extended by more than 5%, a crypto rally could transpire over the next few days. He added,
"Conditions are ripe for a relief rally in risk assets, especially crypto."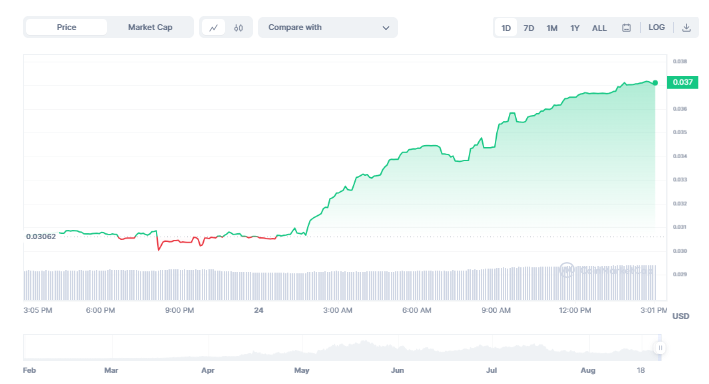 Also Read: Binance Might 'Not' be Manipulating the Bitcoin Market Yet
Crypto Miners Enjoy the Fruit too
Mining companies like Applied Digital [APLD], Hut 8 [HUT], Hive [HIVE], and Iris Energy [IREN] have already started to fortify their data centers to integrate AI. In fact, Applied Digital recently announced its 'Elite Partner' status in the NVIDIA Partner Network. The stocks of all of the aforementioned mining companies registered 6%-10% gains over the past day.
Several market participants took to Twitter to share that they believed that the crypto-mining industry would be confronted by headwinds. However, the latest Nvidia-instigated growth marked a re-birth of the mining industry. Danish Lakhani posted on X [formerly Twitter],
"I thought the whole crypto mining will be headwind along with slow down in gaming. They just reinvented themselves."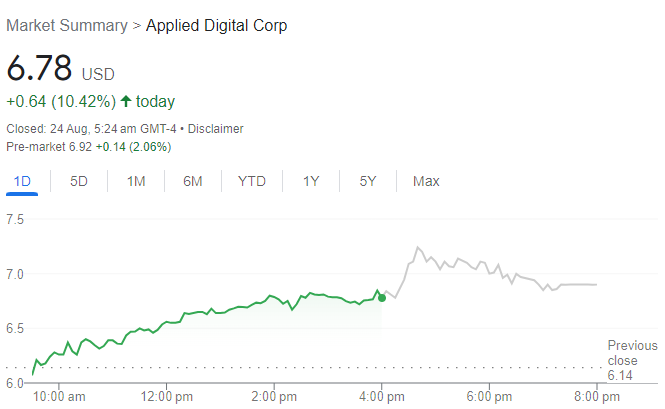 Also Read: Bitcoin Mining Difficulty Rises 6.17% to Claim New ATH