Bitcoin [BTC] has emerged as the uncontested front-runner among crypto assets, drawing the interest of investors, traders, and enthusiasts globally. BTC has transitioned from being associated with the dark web to being considered a potential alternative to the U.S. dollar, fueling its demand. As a result, investments in Bitcoin on various exchanges have experienced a significant surge. According to a recent report by Glassnode, over the past three years, the amount of Bitcoin held on the three leading exchanges has been steadily increasing.
But which exchange entails the highest number of BTC?
According to data from Glassnode, Binance has emerged as the clear leader in Bitcoin accumulation. The exchange witnessed a substantial increase of 421,000 BTC over the past three years. This remarkable growth has propelled Binance's total Bitcoin balance to 703,000 BTC. Following closely behind, Bitfinex secured the second position in terms of accumulation, with its BTC balance surging by 250,000 BTC. As a result, Bitfinex currently holds a substantial amount of 320,000 BTC in its reserves.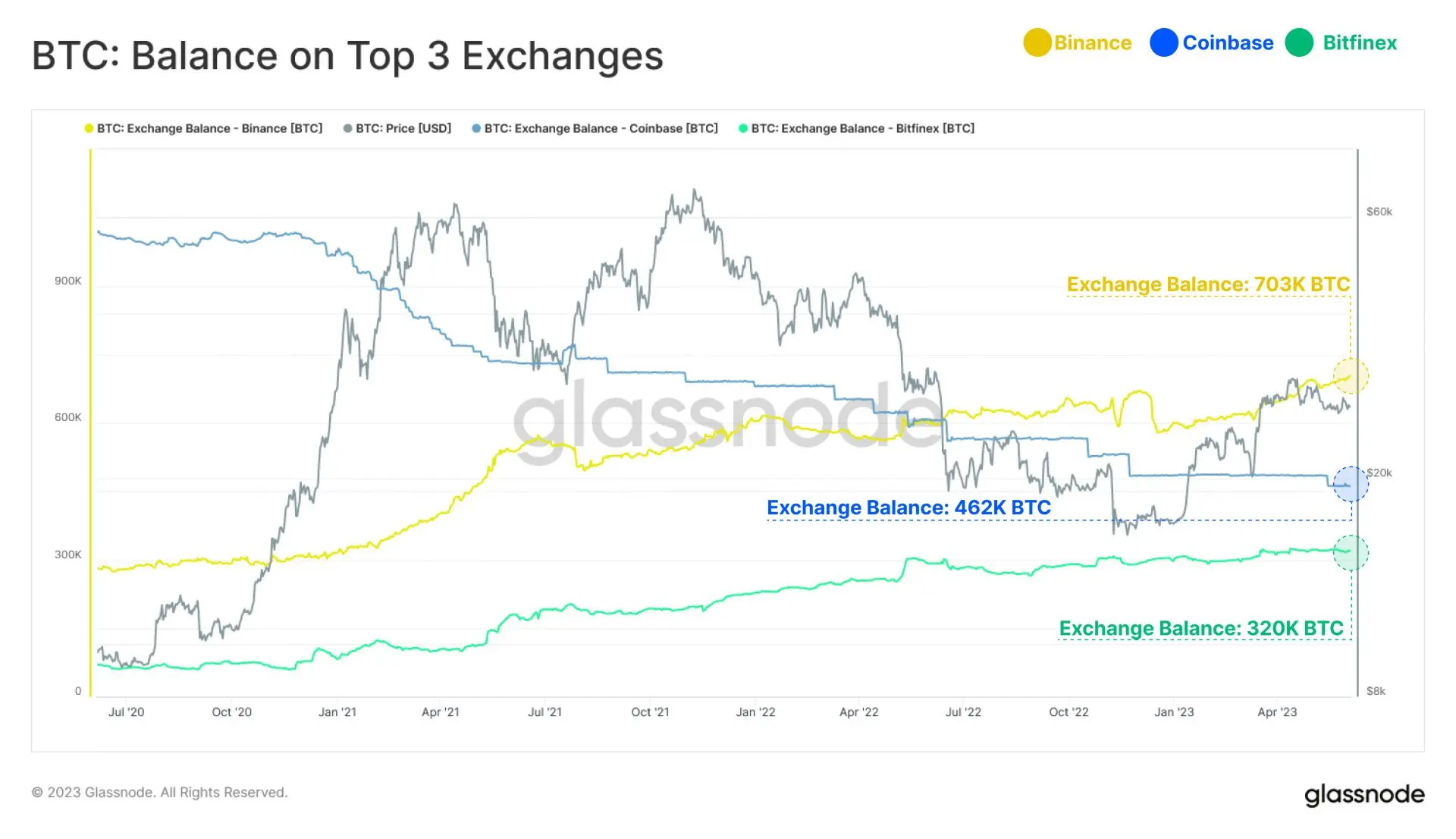 As seen in the above image, Coinbase has experienced a significant setback in terms of Bitcoin accumulation. The exchange's BTC balance has seen a substantial decline of 558,000 BTC over the past three years. Despite this setback, Coinbase has maintained an overall balance of 462,000 BTC. This is considerably higher than the BTC balance held by Bitfinex.
Why is Coinbase's BTC balance on a downtrend?
In recent years, cryptocurrency exchanges have experienced a notable increase in outflows. While this can be viewed as a bullish sign in some respects, it is important to recognize that these outflows were also influenced by the decline of certain crypto exchanges. However, it is worth noting that the observed shift in outflows appears to be correlated with demographics.
Glassnode has brought attention to a significant shift in Bitcoin supply, which carries substantial implications for the cryptocurrency market. This shift in ownership patterns has particularly noteworthy implications regarding the behavior of U.S. entities and Asian traders.
Dominance of #Bitcoin supply has seen a dramatic shift over the last two years.

US entities are now holding 11% less $BTC than they were in June 2022, whilst investors active during Asian trading hours have picked up 9.9%.

This is a distinct reversal from the 2020-21 bull cycle pic.twitter.com/GTvhewPBKB

— glassnode (@glassnode) June 5, 2023
As per the report, there has been a remarkable decline of approximately 11% in Bitcoin holdings by U.S. entities compared to June 2022. This substantial reduction in Bitcoin ownership marks a significant deviation from the trends observed during the previous bull cycle spanning 2020 and 2021.
Conversely, investors actively engaged in trading during Asian trading hours have experienced a noteworthy increase in their Bitcoin holdings, with a remarkable gain of 9.9%.
Coinbase primarily serves and operates in the U.S. The lack of regulatory clarity could be the reason behind the sudden plummet in the exchange's Bitcoin balance. Considering Binance and Bitfinex, serve outside the U.S., interest in these exchanges has been spiking.