The total crypto market valuation has been stagnant in the $1.1 trillion to $1.2 trillion bracket of late, with prices of most top assets noting merely 1% to 2% movements on the weekly. Bitcoin's YTD earnings continue to be positive, owing to 2023's bullish start. As analyzed in an article yesterday, investors fetched the most returns in January and March. Notably, the banking turmoil ended up being a blessing in disguise for Bitcoin and helped it climb up in both valuation and dominance. Chalking out the same, a recent K33 Research report underlined,
"The Bitcoin dominance has increased by 6% year to date and currently sits at 48%, with a majority of the increased dominance originating from the March banking turmoil."
Despite the rise, BTC's dominance is still sitting "miles below" the dominance of 2019 to 2020, as illustrated below.

Also Read: Bitcoin To Break 2023's Bullish Streak In May?
Stablecoins step up
According to the report, rotation from Altcoins to Bitcoin was a key trend throughout the 2018-2019 bear market. In effect, the BTC dominance attained peaks above 70%. This is "starkly contrasting" the current dominance of 48%.
That being said, it is essential to bear in mind that the market has matured with time. The role of stablecoins has increased, for they are now a far more "integral part" of the crypto market structure than in 2019. In fact, the collapse of banks like Silvergate and Signature paved the way for Tether and USD Coin to become "efficient" cross-exchange liquidity tools. The top two stablecoins, i.e. USDT and USDC, represent around 10% of the total crypto market cap at press time.
Also Read: Crypto Market to be 'Much Bigger' in the Future: Blockchain.com CEO
Role of Ethereum
Now, the equation gets even more interesting when Ethereum is added. When compared to the previous bear market, Ethereum's acceptance and adoption have grown by leaps and bounds. DeFi and NFTs gaining meaningful adoption is one reason that has fostered that same. Alongside, other developments like the Merge, CME's launch of Ether futures, etc. have also played a key role. When all three subsets are amalgamated, they represent the vast majority of the crypto market's dominance. Elaborating on the same, K33 Research's report noted,
"If we include stablecoin and Ether market cap to BTC's dominance, we see that the current state of the market closely resembles the past bear market with aligning dominance. The remainder represented a meager 22% of the crypto market cap."
So, with Bitcoin, Ether, and stablecoins' dominance standing around 80% at the moment, Altcoins are clearly losing their say. In fact, the market is nowhere close to its Altcoin season at the moment. Contrarily, it is deeply immersed in the Bitcoin season, with the current intensity at par with 2019's levels.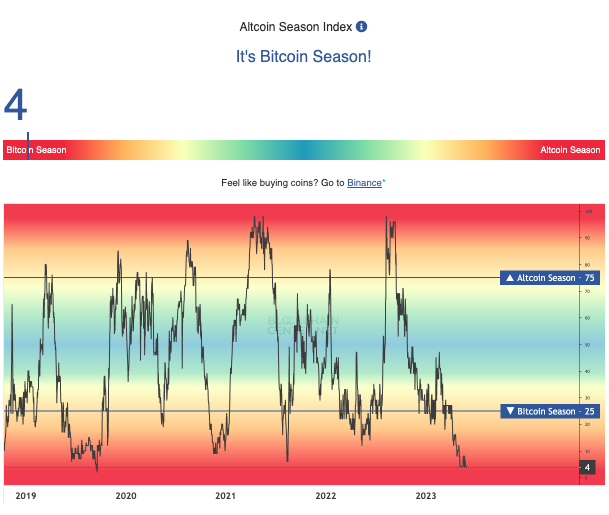 Also Read: 20,000% Vs. 11,000%: Bitcoin Beats Nvidia in 10 Year Gains