Canada-based Bitcoin (BTC) mining company, Bitfarms, has expanded its operations to the Latin American country of Argentina. The Argentine branch is the firms 10th Bitcoin mining site.
The firm has thereby increased its hashrate, or computing power, to 4.1EH/s (Exa Hashes per second). The hashrate seems to be synonymous with the rise in BTC prices which appears to slightly recover in the charts. The current hashrate is at an all-time high.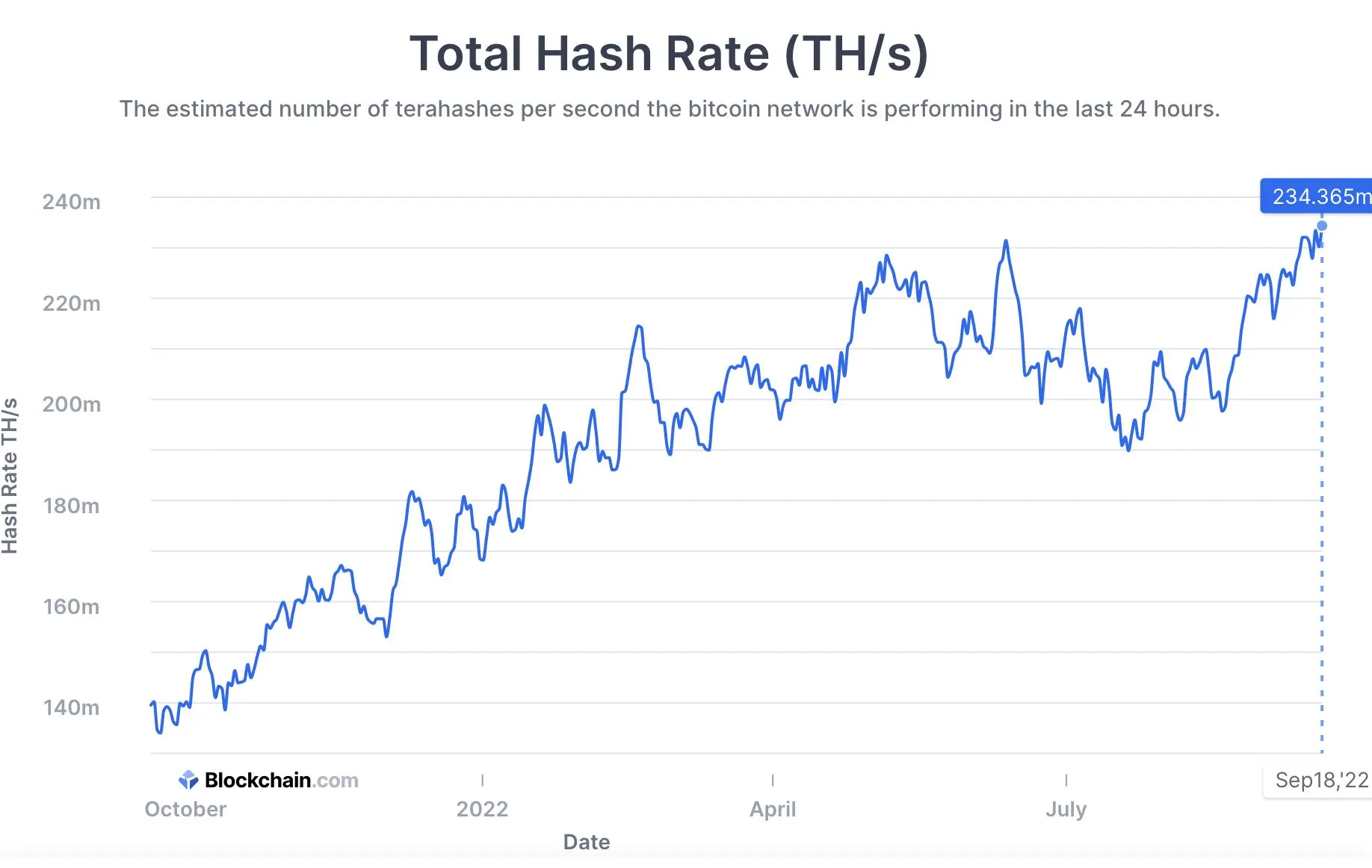 Apart from the computing power, the firm also added 10MW (megawatts) of power to the already enormous portfolio. Nonetheless, the firm plans to bring in a total of 50MW of power to the Argentine warehouse, in 10MW increments.
The company published a press release announcing the new Bitcoin mining unit. In the press release, Geoff Morphy, Bitfarms President and COO, stated
"With attractive electricity pricing established last year under an 8-year private party power contract, both facilities are expected to lower overall energy costs for our portfolio, despite rising commodity costs in the energy market."
The Argentine Bitcoin mining unit began construction in October of 2021. The Bitcoin mining facility's construction was estimated to complete by last September, but delays pushed the date to mid-2023. Nonetheless, when finished, the firm claims that this will be its largest and most advanced mining operation. Furthermore, the Antminer S19 Pro Hydro miners, which has water cooling for greater efficiency, will be housed in this facility, according to a prior announcement from Bitfarms.
Can Bitcoin mining help Argentina's failing economy?
There is no disputing the fact that Argentina is one of the worst hit countries, in regards to inflation. Argentine inflation has skyrocketed to 80% YoY. Furthermore, the Argentine Peso has fallen 25% against the dollar. The poor performance of their national currency has led citizens to adopt other currencies, such as Bitcoin and other cryptos.
According to a recent study by Mexican crypto exchange Bitso, 83% of Argentines know about crypto. Moreover, 34% have specific knowledge about these assets and tools. Off the 83%, 10% already own crypto, while 23% aim to own crypto sometime in the future. A major reason for wanting to own crypto such as Bitcoin is to use them as a medium of exchange, while preserving the value of their life savings. It is possible that cryptocurrencies can provide a safety to the falling value of people's life savings. But the crypto markets themselves are in the reds as of now.
At press time, Bitcoin (BTC) was trading at $18,821.30, down by 5.9% in the last 24-hours.