The cryptocurrency landscape has witnessed significant transformations in recent years, with increased adoption driving the market recovery. However, a notable shift has been observed in the importance of exchanges. Unlike in the past, exchanges are experiencing a considerable outflow of Bitcoin, indicating a mass exodus from these platforms.
Recent data from CryptoQuant revealed a major drop in the amount of Bitcoin held in exchange reserves. On July 31, 2020, the recorded BTC holdings on exchanges stood at about 2,941,655. However, currently, that figure has diminished to 2,086,034 BTC. This signified a withdrawal of 855,621 BTC by customers from centralized exchanges over a period of 1,075 days.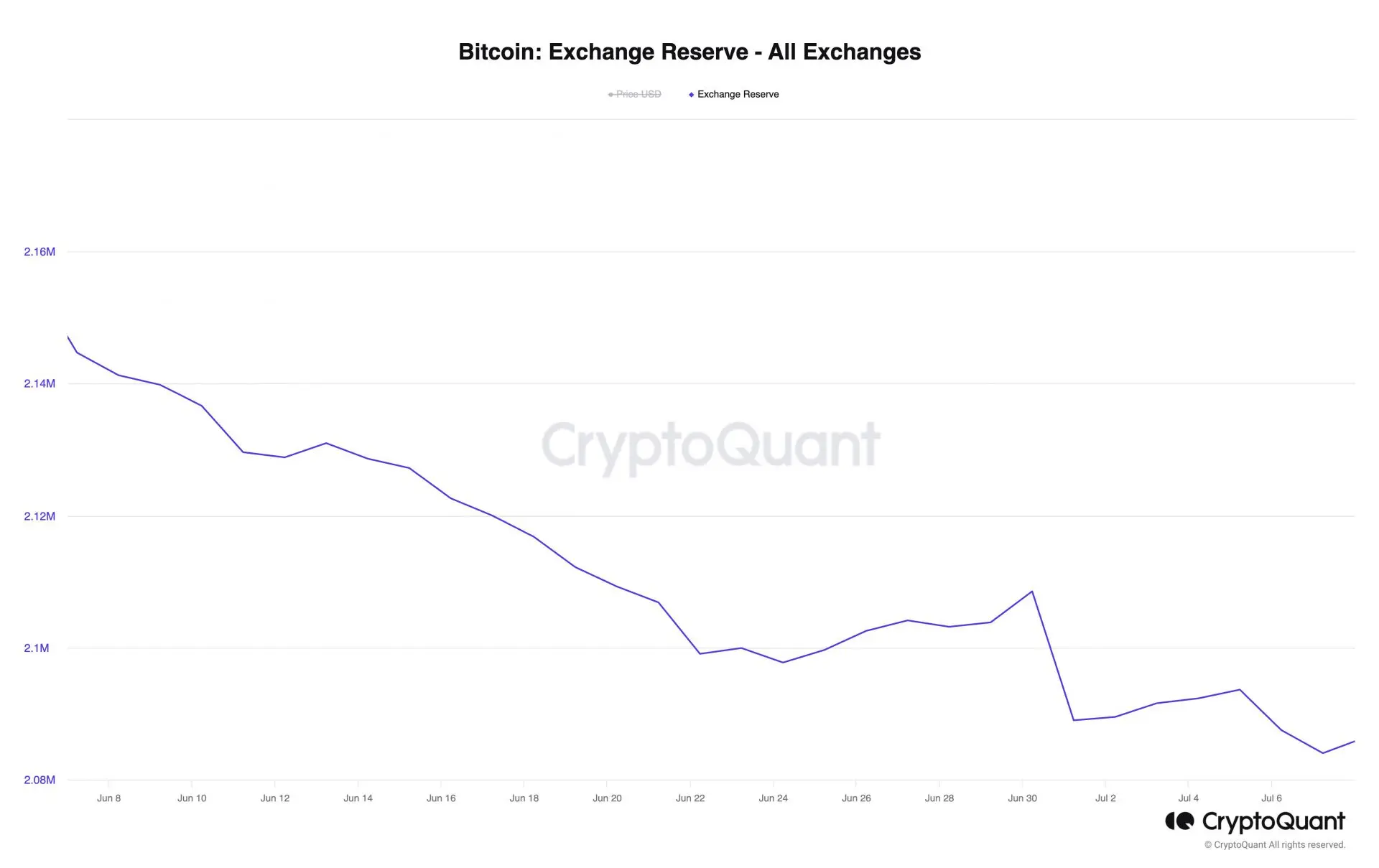 Additionally, from April 30, 2023, onward, nearly 154,160 BTC was withdrawn from exchanges. This further resulted in a decrease in their reserve holdings to 2,240,194 BTC.
There are several factors contributing to this decline, with one significant reason being the collapse of FTX. The plunge in Bitcoin held in exchange reserves mainly occurred during November and December 2022, aligning with the downfall of FTX. With this incident, the fear around centralized exchanges grew. Subsequently, there was a noticeable exodus observed across other prominent exchanges like Binance, Kraken, and Coinbase, possibly driven by the contagion fears that permeated the market. Over the last 30 days alone, Binance registered 16,908.30 BTC outflow from the exchange.
Meanwhile, hardware wallet providers like Ledger and Trezor experienced a significant surge in sales, reflecting this trend. This further highlighted the market's shift to self-custody.
Also Read: Crypto Volume on Binance, Coinbase Dips 50%-70%
Bullish path ahead for Bitcoin?
The dynamics of supply and demand are at play in this situation. It suggests that if the supply diminishes while the demand remains stable or increases, the anticipated outcome is an upward movement in price. Market participants interpret the decrease in the availability of Bitcoin for purchase on exchanges as a bullish signal since it indicated a reduced supply of BTC available for buying and selling.
Furthermore, in conjunction, the halving event is set to take place in 2024. Post-halving, there will be a notable reduction in the total supply of newly minted BTC entering the market. While these factors will aid in pushing the king coin to a new level, the increase in institutional investors will undoubtedly act as a major catalyst.
In the past month, there has been a notable increase in institutional interest in Bitcoin. This comes with various traditional financial institutions such as BlackRock, Fidelity, and others submitting applications for spot exchange-traded funds [ETFs]. Although the Securities and Exchange Commission [SEC] is yet to approve a spot BTC ETF, experts in the crypto industry swiftly embraced the positive market sentiment generated by the ETF applications.
Also Read: BlackRock and Fidelity to Meet with SEC Over Spot Bitcoin ETF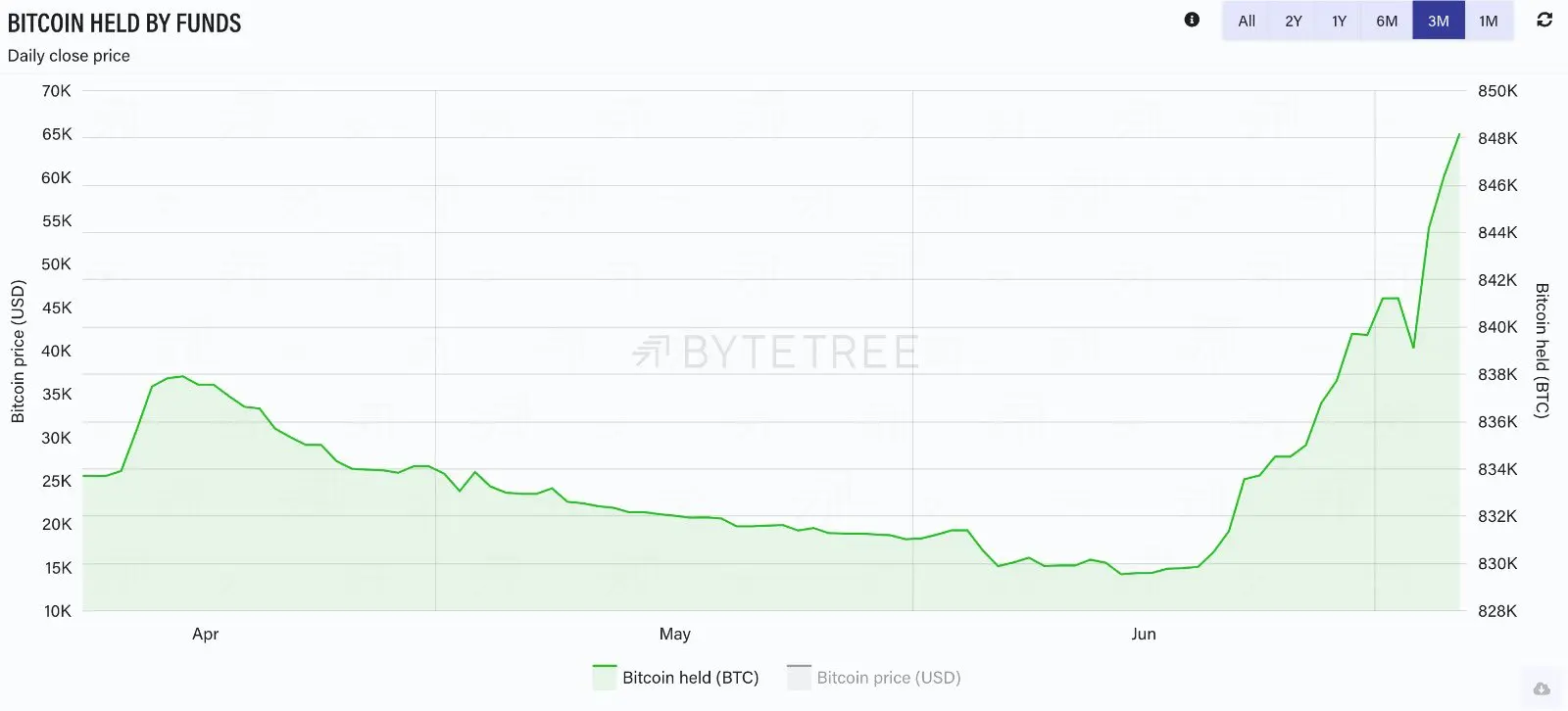 According to data from ByteTree, the quantity of Bitcoin held by funds experienced a prominent increase. This reached close to 850,000 BTC in June. Crypto analyst Miles Deutscher proposed that this growth signified the start of extensive institutional Bitcoin accumulation. Furthermore, crypto analyst Ali Martinez revealed that Bitcoin whales have pocketed a whopping 90,000 BTC over the past month. This is worth around $2.52 billion. With a bullish path carved out for Bitcoin, the asset was currently trading at $30,634 with a 0.58% daily surge.
Also Read: Bitcoin Halving 'Bullish' for MicroStrategy, Not Miners